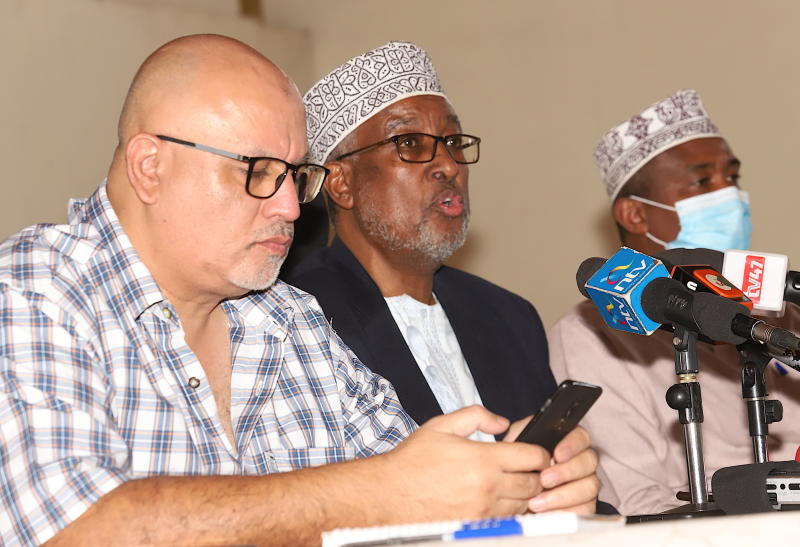 Muslim leaders are now demanding action and answers from the government following a spate of abductions and extrajudicial killings.
Speaking at a press conference on the recent abduction of Roba Abduba Sereka, the leaders led by National Muslim Leaders Forum (NAMLEF) chairperson Abdullahi Abdi gave the state a 48-hour ultimatum to produce the businessman who has been missing for five days.
Mr Sereka, a 60-year-old businessman and the Marsabit Municipal Council chairman was abducted on Wednesday, February 2 outside his house at South C within Nairobi in a manner that Muslim leaders termed a "forced disappearance occasioned by the police".
"The cases are too many and we cannot keep silent anymore. The assumption has been that the people who were being abducted are terrorists, but that is no longer the case. It is now affecting every community," said Abdi.
He said the recent chilling cases of bodies being recovered from River Yala is a reflection of rampant abductions and killings.
"The trend has been going on for a long time. Out of all the bodies identified from Yala, none is a Muslim. This shows that the issue has gone beyond terrorism and it means anybody who wants to eliminate someone can hire policemen to kill," said Abdi.
He faulted security agencies for being reluctant in investigating the unexplained kidnappings and killings of people.
A CCTV footage shows Sereka being bundled into a Landcruiser at gunpoint in Nairobi's South C Estate.
Abdi said their latest meeting with Interior Cabinet Secretary Fred Matiang'i on the abduction did not bear fruits on the businessman's whereabouts.
"We expressed our concerns on the kidnappings, but he gave the usual response that that it is criminal elements and not the government behind Sereka's abduction. Is the government failing in its mandate to protect the people?" he posed.
The NAMLEF chair said the trend of victims being picked up by armed abductors driving vehicles with fake numbers plates and subsequent sloppy investigations by police suggests the involvement of security agencies.
"This is a camouflage BY the government to avoid litigation. So they can arrest, detain and kill people and deny responsibility because you cannot prove it in a court of law. We are a country ruled by the law and it is clear that police can only hold a suspect for 48 hours and present them in court," said Abdi.
By December last year, more than 170 people had been abducted and about 40 bodies recovered.
"Our people are being killed and those who are released alive look like zombies. They are traumatised. They cannot even say what went on," said the NAMLEF official.
Alhajji Golicha, a NAMLEF official, said the abduction of the businessman could worsen clan rivalries and tension in the volatile Marsabit county.
"There is tention in Marsabit town, and if Sereka is not released, that town is going to burn. People think the incident is based on clan rivalry. This abduction is going to escalate the tension," said Golicha.