How lost ID almost implicated guard in Monica Kimani murder case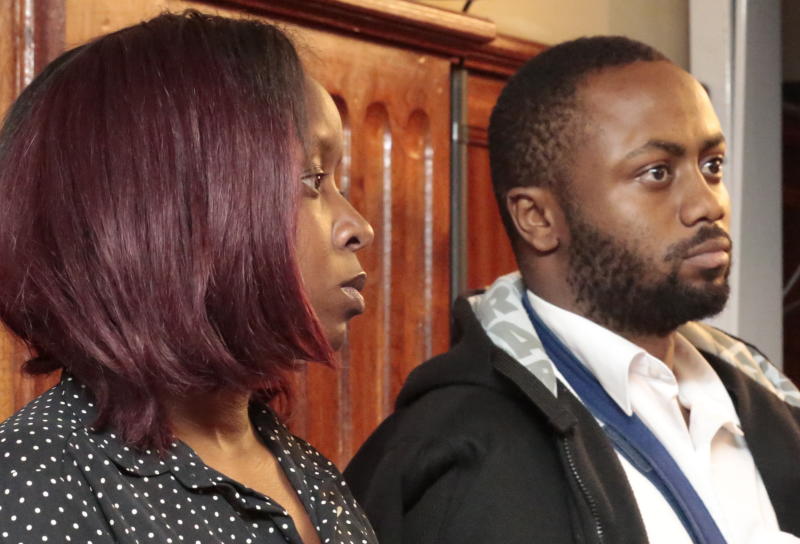 A security guard has narrated how his stolen identity card almost implicated him in the murder of businesswoman Monica Kimani.
Dominic Hosea told Justice Grace Nzioka that his identity card was stolen at Royal Park Estate within Lang'ata in Nairobi where Joseph Irungu alias Jowie and journalist Jacqueline Maribe lived. The document was discovered at Monica's apartment after her killing.
Hosea was testifying in the case where Jowie and Maribe are facing trial for allegedly killing Monica on September 19, 2018 at her Lamuria Gardens Apartment in Kilimani.
"I have never been to Lamuria Gardens Apartment. I don't even know where it is. I was shocked when I was summoned by police officers and told that my identity card had been recovered at a crime scene," said Hosea.
Hosea told the court that in September 2018, he was on annual leave for 25 days and needed some money for transport to take his family to their rural home in Kisii.
He requested his neighbour who worked at construction sites to help him find a side hustle, and on September 17, 2018 the neighbour notified him of construction works at Royal Park Estate within Lang'ata where Jowie and Maribe lived.
They went to the site where the security guards told them to surrender their identity cards at the gate before being allowed inside the estate.
"We were assigned work by the foreman and in the evening when we were leaving, all other workers got their identity cards but mine was missing. The security guard searched everywhere but he didn't find it," said Hosea.
The next day he went back to the construction site, but his identity card was still missing. He then gave his details to the security guards who promised to call him once they found the card.
After he received his payment, Hosea said he travelled to Kisii and returned to Nairobi on October 4 2018. He reported to work the following day at the University of Nairobi where he worked as a security guard.
"While I was at work, my supervisor called me to the security office where I met three police officers waiting. They asked me my name and identity card number and when I told them, they said they were looking for me and asked that I accompany them to Kilimani Police Station," he said.
On reaching the police station, Hosea said he was whisked away to the Directorate of Criminal Investigations headquarters along Kiambu Road where he was informed that his identity card had been found at a murder scene.
"They told me my ID had been found in the house of a woman known as Monica who had been killed. I told them I did not know her or where she lived. I also informed them about my lost ID before they released me," said Hosea.
Another witness, Yunis Mohamed, confirmed that Jowie and Maribe resided at Royal Park Estate in Lang'ata. The third witness of the day, Inspector Christopher Araman told the court that on September 25 2018, he conducted an identification parade where three witnesses positively identified Jowie.
The hearing continues today.