When House Speaker turned a blind eye to no quorum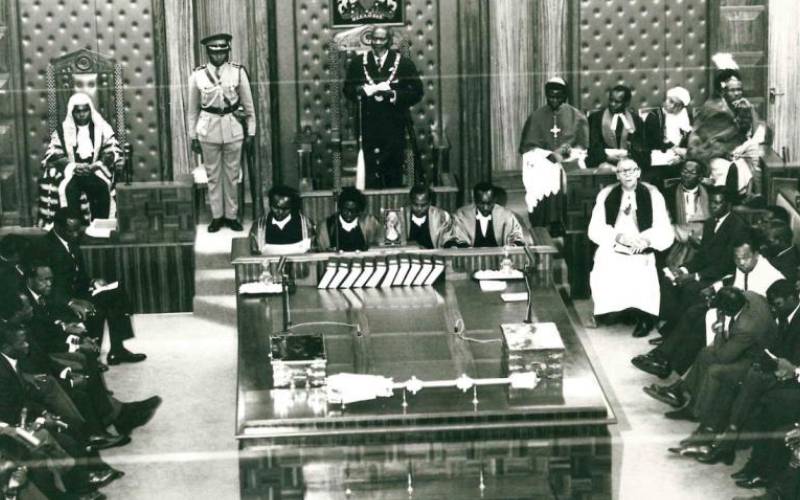 Assistant Minister for Water Development Wilberforce Kisiero made history on December 22, 1992 in Parliament when moving a motion on the Water Bill.
He was so engrossed in his notes and debate that he did not notice that he was literally talking to an empty chamber.
Apparently, other MPs had trooped out of Parliament leaving only Kisiero and the MP for Igembe South Joseph Malebe in the House.
Malebe doggedly contributed to the debate, giving his thoughts on how water should be accessed by all as well as methods of conservation.
The robust debate of the two was moderated by temporary speaker Muruthi Mureithi. He turned a blind eye to the absence of other Members and let the two have a ball. The parliamentary standing orders provide that a speaker cannot interrupt debate on account of quorum unless he or she is alerted by a member.
The surreal debate was however interrupted by Dagoretti MP Chris Kamuyu. As soon as he walked in, Kamuyu detected the anomaly and shouted to the Speaker.
"'This is serious! Mr Speaker there is nobody here and the Bill is very serious." It was at this point that Mureithi ordered for the bell to be rang. Since it was around 4.05pm, it took 15 minutes for another 27 MPs to amble into parliament and finally the 30 member quorum was achieved.
Earlier that day, the morning session had also been hit by lack of quorum for there were only seven MPs and there was no backbencher to ask questions. Kalonzo Musyoka who was Deputy Speaker, explained that most of the members were running up and down looking for Kanu nomination papers.
But across the street at City Hall on that same day, City Fathers were engaged in another form of debate where blows spoke louder than words. The city then was run by commissioners and they were divided over the disposal of council houses at a throw away prices.
They had convened for a finance meeting. Maina Kamanda and Alex Magelo had confronted the chairman of finance committee Gitau Ng'ang'a, demanding to know why he had ended the meeting prematurely. When Ng'ang'a snubbed them and started walking away, they grabbed him by the collar and demanded answers.
The fighting was caused by the sale of 12 houses to some influential people among them a commissioner for Sh800,000 a short while after they were renovated by the city council at a cost of Sh1 million per unit.