Engineers fault State over arrests at Kenya Power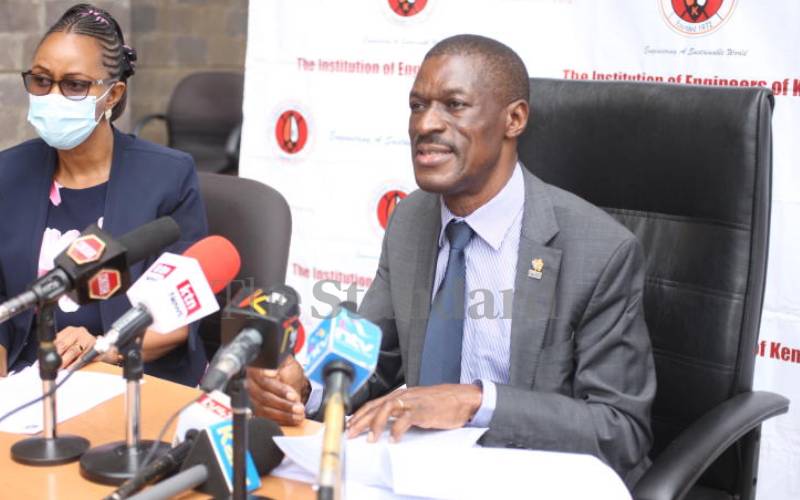 Engineers have faulted the government for the arrest of 10 Kenya Power staff. Last week, 10 Kenya Power officials were summoned to the Directorate of Criminal Investigations (DCI) headquarters in Nairobi and later arrested.
Among them were four engineers. The ten officials were arrested over the ongoing probe into claims of sabotaging electricity supply that affected most parts of the country last week.
This includes the vandalism of six towers along the Olkaria-Kisumu power line in Naivasha on Tuesday and the Kiambere- Embakasi line at Imara Daima.
Speaking at a media briefing yesterday in Nairobi, the Institute of Engineers of Kenya (IEK) said due process was not followed in the arrests.
"The IEK is at a loss to understand why these engineers were arrested. The cause and effect of the arrests are not clear at all," said IEK President Nathaniel Matalanga
A Kiambu court, on Wednesday, allowed police to continue holding the suspects for eight days as they complete investigations.
IEK called for the unconditional release of the four engineers, saying future arrests should not be done without consultation of the Engineers Board of Kenya (EBK).
Matalanga also applauded President Uhuru Kenyatta for banning the export of scrap metal and urged Kenya Power to put in place contingency measures and early warning systems to avoid such occurrences.
"Kenya Power should also look into internal factors such as shortage of rapid restoration towers, low maintenance budgets, non-replacement of retired staff, low staff morale..." said Matalanga.
He called for the upholding engineers to be in charge of key sectors of infrastructure agencies. Rodgers Andai, who worked at Kenya Power for 35 years blamed the removal of decision making powers from engineers for some of the problems facing the firm.