Isaac Aluochier: Layman who is not shy of taking on big lawyers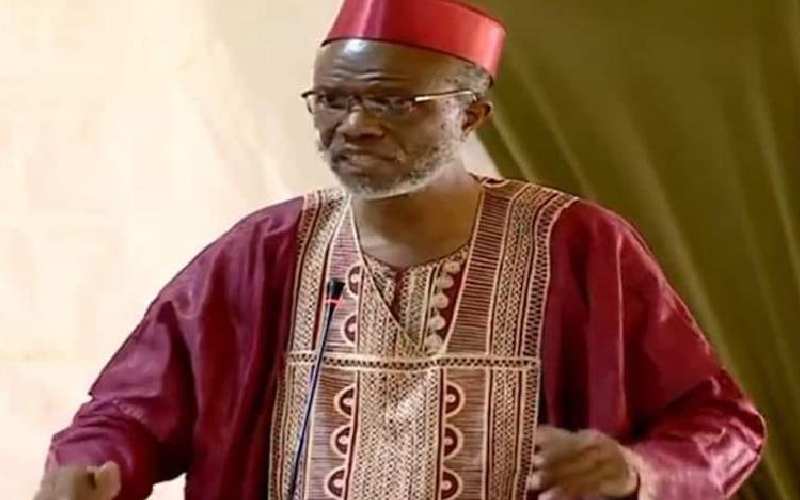 Whenever he stands to address the court, Isaac Aluoch Polo Aluochier leaves no doubt that he is a gifted orator with a good grasp of the Queen's English.
While lawyers appeared at the Supreme Court with designer suits while robbed in black gowns and white collars, Aluochier caught public attention with his trademark flowing African 'kitenge' attire with a cap to match.
Listening to Aluochier's arguments one would be forgiven to think he is a seasoned lawyer. But the man who styles himself as a legal activist has no training in law with his only passion being to defend the Constitution and the rule of law. During the just-ended Building Bridges Initiative (BBI) appeal case submissions, he caught the attention of many Kenyans, lawyers and judges when he posed a question:
"Who is the boss in this country? Is it Martha Koome, Uhuru Kenyatta, David Ndii or us the people? If we the people are boss then our word should rule and prevail. It is us the people who are boss. We simply don't have power to limit the power of us the people to amend the Constitution."
Speaking to The Standard on the sidelines of Supreme Court hearings, Aluochier said that he is a professional quantity surveyor with a master's degree in Project Management.
"I have not been happy with the way our politicians are violating the Constitution. That is why I turned to legal activism to bring up public interest cases to defend the rule of law," he said.
According to the activist, he decided to take after his late father John Linus Aluoch Polo who was a quantity surveyor and served as Rongo Member of Parliament from 1981 to 1983 and again from 1992 to 1997. Since 2012, Aluochier has filed more than 20 public interest cases and sued almost all the top politicians including President Kenyatta, his deputy William Ruto, ODM leader Raila Odinga and Wiper Party leader Kalonzo Musyoka for violating the Constitution.
Aluochier is known for his hardline positions when taking on the political big guns and says he does not fear the consequences of challenging what he believes is illegality.
At the Supreme Court, he opted to take a middle ground in the BBI battle by partially supporting Attorney General Paul Kihara's appeal and partially supporting the Court of Appeal decision declaring the constitutional amendment process as illegal.
Behind his legal fights in the corridors of justice where he takes on the top legal brains in the country, Aluochier says he is a humble family man with two families, one in Kenya and another family in the United Kingdom, where he schooled and worked for more than 20 years.
He is, however, not comfortable discussing much about his family, and whether he is polygamous with the two families apart.
Born 55 years ago in Nairobi, Aluochier says he went to Park Road Primary School before joining Strathmore High School.
Dalliance with ODM
"After High School, I went to Reading University in England where I studied Quantity Survey before joining Cranfield University for my Masters in Project Management," said Aluochier.
When he returned to Kenya from England in 1990, Aluochier says he set up a private investment advisory company which he operated until 1995 when he returned to England and worked as a self-employed quantity surveyor.
While in the UK, Aluochier says he was so impressed with the democratic ideologies of the Orange Democratic Movement (ODM), which made him develop interest in politics and became the party's UK branch chairman.
Aluochier says he was so much convinced that the democratic process in Kenya had matured especially with the passage of the 2010 Constitution but as the saying goes, some things look beautiful from afar but far from beautiful.
"I was shocked by the political rot in the country when I came back in 2011. I was not happy with everything the politicians were doing and at first, I tried to engage them through Parliament but when they refused to listen to me, I decided to be a legal activist and opted for the courts," he says.
In 2012, he began his legal activism by filing a suit against 100 MPs for violating the Constitution by shifting political allegiance to parties that did not sponsor them to Parliament in the 2007 election.
He followed with another suit against Independent Electoral and Boundaries Commission (IEBC) for allowing Uhuru, Ruto, Raila, Kalonzo and ANC party leader Musalia Mudavadi to run for political offices without resigning from positions they held before the 2013 elections.
It is the activism journey that has seen him receive threats and angered some lawyers who feel that he is taking their job of moving cases to court.
"I have been intimidated and threatened but I don't fear so long as I know I am doing the right thing to defend the Constitution. I cannot fear death because when the time comes, I will die. If I die in the line of duty to defend the Constitution, then I will be a hero," said Aluochier.
With the danger that comes with activism in challenging high authorities, Aluochier says his family at the beginning feared for his life but they have come to accept that it is his passion.
Having witnessed how poor people are mistreated in court, Aluochier says he took an arbitration course and registered with the Chartered Institute of Arbitrators to help them in resolving some disputes which should not go to court.
Just like his late father, Aluochier says he has political ambitions and will be running for the Migori Senatorial seat on a Justice and Freedom Party of Kenya ticket in the August General Election.