14,000 Kenyans in refugee camps to get ID cards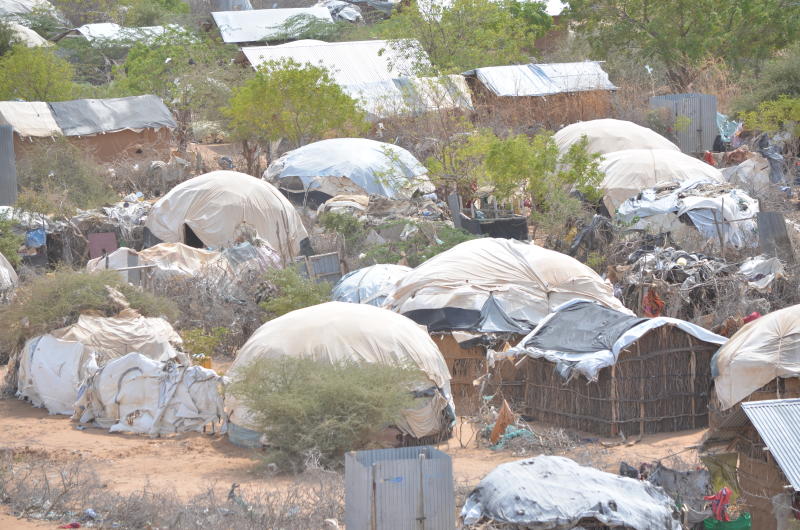 At least 14,000 Kenyans who lost their nationality and acquired refugee status can now celebrate after the government agree to issue ID cards to victims of double registration.
The decision to issue IDs to affected Kenyans in refugee camps came as a result of a directive by the Ministry of Interior.
Double registration refers to cases where genuine Kenyans in areas close to refugee camps such as Dadaab were registered as refugees so as to have access to provisions and necessities available to refugees like medical services and food.
Hundreds of anxious individuals whose finger prints were captured by UNHCR turned up at Garissa Primary playground. Already 12,500 Kenyans have regained their nationality in the registration drive.
Interior Chief Administrative Secretary Hussein Dado said another 1500 are being processed. Dado said the process was thorough and that vetting of victims involved all security apparatus, including Chiefs, elders, Intelligence, military, Directorate of Criminal Investigations among others.
"The registration of voters is ongoing. We ask you to take your voter card immediately you get your IDs," Dado urged locals.
Local leaders described the event as historic, saying it will end victims' misery. UNHCR representative David Mulbah said the issuance of ID cards to Kenyans who registered as refugees is a big step in resolving the matter in favour of the nationals.
He said this reduces their risk of statelessness given they already belong to a country.
"The situation had posed a challenge for these individuals because it could not enable them to exercise basic socio-economic and political rights as bonafide citizens. We are glad that it will enable them to exercise those fundamental rights," said Mulbah.
The government launched the vetting of the victims in December 2019 with a promise that all genuine Kenyans will have their ID cards. The process was being pushed by local leaders and civil society organizations.
Dado, who was accompanied by Reuben Kimotho, Director of National Registration, represented CS Fred Matiang'i.
They said the delay was occasioned by requirement to rope in experts as the process of deregistration was tedious and complicated. "There were components of legal hurdles that we wanted cleared. We apologise for the delays," said Kimotho. The issuance of the IDs comes at a time Independent and Electoral Boundaries commission (IEBC) has launched the second phase of voter registration.
"Today is a historic day for victims who were in the UNHCR database. They can enjoy every right like any other Kenyan," said former Garissa Governor Nathif Jama.
Yussuf Bashir the executive Director for Haki Na Sheria, a grassroots human right organisation that has been lobbying on behalf of the victims, urged the government to speed up the process.
Kenya, Uganda shame
Once again, a row between Kenya and Uganda is hurting people and businesses on both sides of the border.