Power agencies in the dark about collapsed transmission masts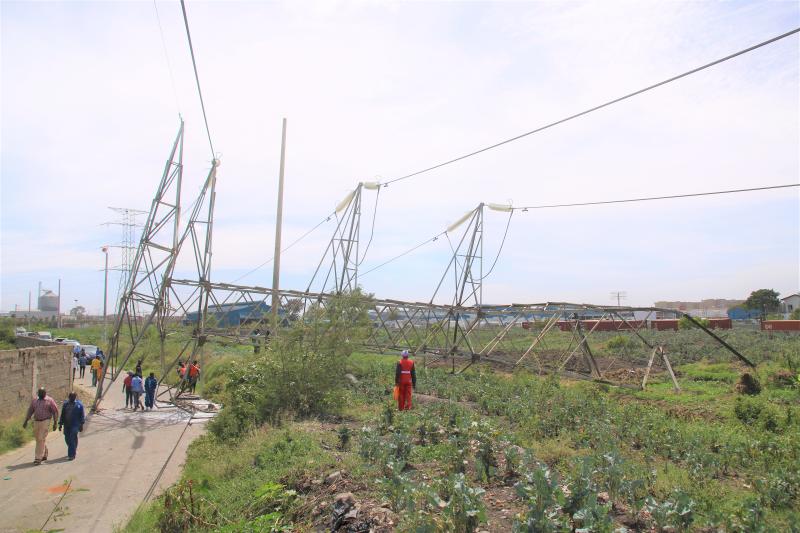 Power agencies are still groping in the dark and are yet to figure out what caused the countrywide power outage on Tuesday.
The entities say they are still looking into what caused the collapse of key transmission lines, an investigation where the Directorate of Criminal Investigation has since been roped in.
The outage started on Tuesday mid-morning, when according to Kenya Power, four pylons on the Kiambere-Embakasi transmission line collapsed. While electricity had been restored later in the day, there was a fault on another transmission line, the Suswa-Embakasi transmission line that was now being used to supply electricity to areas that had been affected when the other line collapsed, again plunging many in the dark.
The faulty transmission lines this week are in addition to Loiyangalani-Suswa line that also collapsed in December and resulted in Kenya Power rationing electricity to homes and businesses. This was due to a lack of adequate electricity generating capacity as power could not be evacuated from the Lake Turkana Wind Power plant.
The Kenya Electricity Transmission Company (Ketraco) yesterday said investigations are still going on to establish what happened across the three lines. It however noted that vandalism may have played a key role in the collapse of the towers on the Kiambere-Embakasi line (which is maintained by Kenya Power) and Ketraco's Loiyangalani-Suswa line.
Questions are however being raised on the quality of care that the key infrastructure gets from both Kenya Power and Ketraco. Experts note that missing parts on the towers should have been spotted early and fixed, averting the crisis seen this week.
Eng Joseph Siror general manager of system operations and power management at Ketraco said investigations are ongoing and would reveal what happened.
"There is an investigation going on to establish the root cause and once complete, it will be clear to the public what happened," he said.
He however noted that among the factors that could have caused the collapse include vandalism, explaining that vandals chipping away small pieces of a transmission tower over time can weaken. This is to the extent that it might not withstand even mild gusts of wind.
"In a situation where vandalism occurs and some of the tower members are removed, then the integrity and strength of the tower are compromised. With the missing members, the tower might not withstand even the wind that it was designed to withstand.
"It is a multiplicity of factors (that can cause a tower to collapse)… vandalism can play a key role," said Eng Joseph Siror.
He said the agency undertakes inspection on its transmission lines and substations every month but keeps a closer eye on areas that have in the past reported high incidences of vandalism.
"For places prone to vandalism such as Athi River-Isinya and Isinya-Sultan Hamud, we undertake inspection more frequently. Whenever we notice that towers have been vandalised, we replace the missing tower members," he said, adding that vandalism is "quite costly" for Ketraco.