Desmond Tutu brokered peace pact between Kibaki and Raila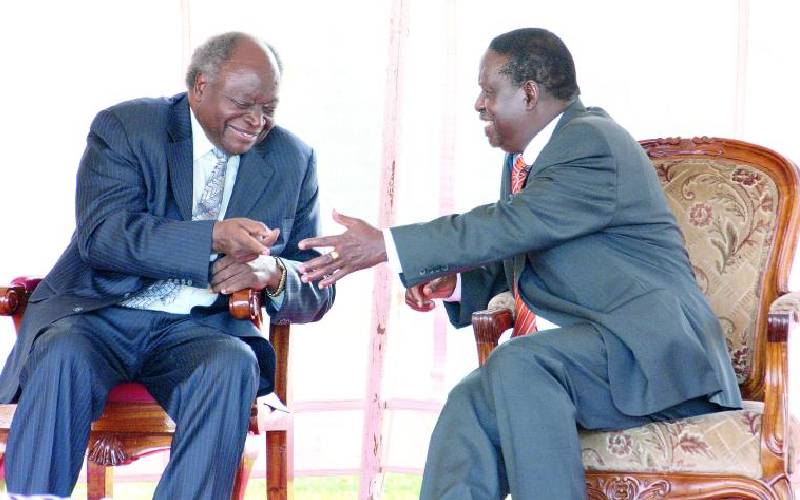 Archbishop Desmond Tutu, the cleric and freedom crusader who helped bring an end to apartheid in South Africa and championed inter-racial reconciliation, died aged 90 in Cape Town, yesterday.
The Anglican cleric and 1984 Nobel laureate was central to mediation efforts to end political violence that rocked Kenya after the disputed 2007 presidential election. He helped to broker a power-sharing deal between Mwai Kibaki and Raila Odinga.
Tutu separately met Kibaki and Raila in effort to break the political deadlock.
In South Africa, he led reconciliation efforts and chaired the 1995 Truth and Reconciliation Commission.
Widely regarded as "South Africa's moral conscience," Tutu was a fighter for the oppressed.
He was a spiritual leader and crusader for freedom who became known the world over for his opposition to the racist South African government.
While his activism earned him the respect of the world, Tutu was not always loved on the continent. In 2004, late Zimbabwean strongman Robert Mugabe reacted to the Archbishop's criticism of human rights and democratic abuses in Zimbabwe by labelling him "an angry, evil and embittered little bishop."
Tutu was the first African Archbishop of the Anglican Church in Cape Town and used his position to lead a non-violent resistance to racial segregation in South Africa.
His refusal to back the armed struggle to end apartheid often put him and the African National Congress (ANC) at loggerheads. He was a stern critic of the ANC government led by Thabo Mbeki and Jacob Zuma.
His criticism of ANC had him excluded from the state funeral of Mandela in 2013 before public outcry led to his inclusion.
South Africa President Cyril Ramaphosa yesterday described the passing of the Archbishop Emeritus as "another chapter of bereavement in our nation's farewell to a generation of outstanding South Africans who have bequeathed us a liberated South Africa".
Tutu's death comes barely two weeks after that of South Africa's last apartheid-era president FW de Clerk, who died at the age of 85.
"We pray that Archbishop Tutu's soul will rest in peace but that his spirit will stand sentry over the future of our nation," said Ramaphosa.
President Uhuru Kenyatta said Africa celebrated Tutu's success as a renowned peacemaker.
"The passing away of Archbishop Desmond Tutu is a big blow not only to the Republic of South Africa where he leaves behind huge footprints as an anti-apartheid hero but to the entire African continent where he is deeply respected and celebrated," Uhuru said.
UK Prime Minister Boris Johnson posted on Twitter that he has deeply saddened by the death of Tutu and would remember him for his leadership and humour.