Maendeleo Ya Wanawake wants more women in parliament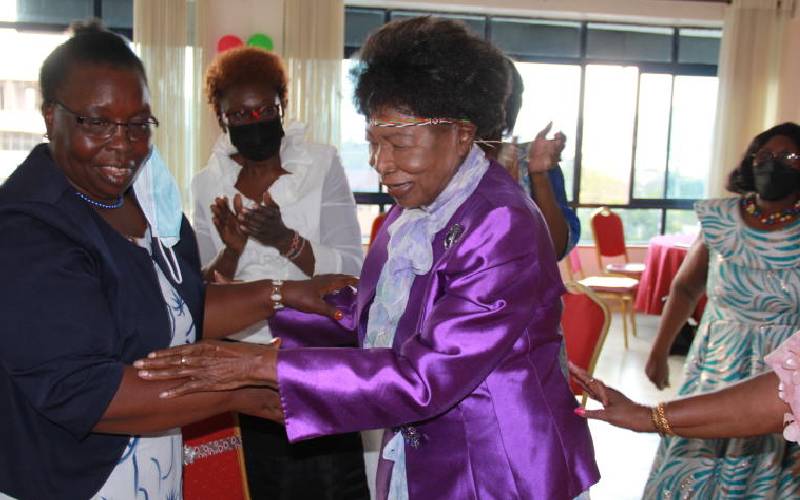 Maendeleo Ya Wanawake Organisation now wants the government and political parties to recognise its members by ensuring that more women acquire elective positions ahead of the next General election.
The women's organisation currently has more than four million members.
The organisation's leadership wants the State to create an enabling environment for women eyeing elective posts.
Maendeleo ya Wanawake patron Phoebe Asiyo, chairperson Rahab Muiu and founder Zipporah Kittony said the time had come for the government to recognise the significant roles women play in this country.
Asiyo, who is a former MP for Karachuonyo, said women have an equal opportunity like their male counterparts hence they should also vie for elective posts.
However, she told the government to create enabling environment for them to contest the seats.
"We encourage as many members as possible to contest for elective posts because we have seen women have the capability to lead like anybody else in this country. Let women compete with men," Asiyo said.
Speaking during her 90th birthday party in Homa Bay town, Asiyo said she will not get tired of advocating for women to get equal opportunities to men in the contest for political seats.
"Some men were saying empowering women in politics makes the latter grow horns but things have changed. Women too must lead," said Asiyo.
The leaders told political parties not to forget women in their nominations in legislative houses.
Kittony said Maendeleo ya Wanawake will sit within three weeks to decide their political stand.
"Our organisation has numbers and we are a force to reckon with. We will strategise properly and give our position on politics of this country," Kittony said.
She gave example with Tanzania which is headed by a female president, Samia Suluhu.
"Women are great leaders but many people are not aware because they have not been given enough opportunities," she added.