When officers go rogue and become danger to society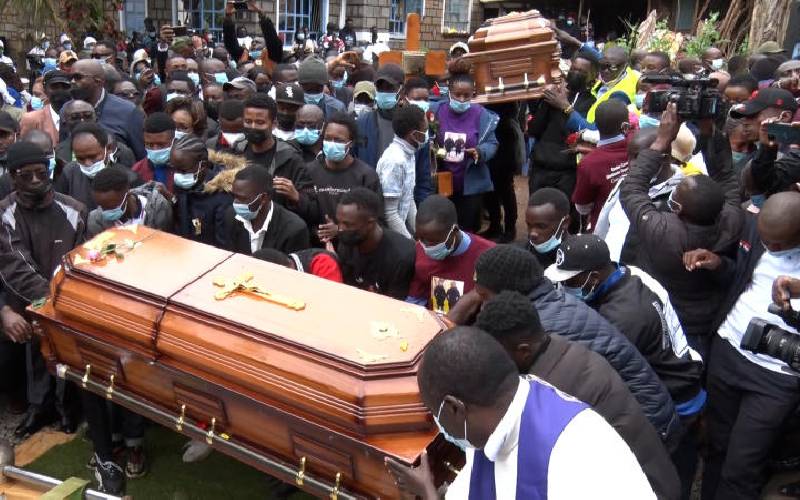 It has almost become fashionable for police officers to vent their anger or solve problems through guns.
Suicide and homicide cases within the National Police Service (NPS) comprising Kenya Police and Administration Police (AP) have shot up to an alarming rate in recent days.
This year alone, close to 20 officers have died through self-inflicted shootings. Add the number of civilians caught in the line of fire and the loss becomes bigger. Several civilians have died at the hands of rogue officers out to take own lives or those of colleagues.
The year started on a sour note. On January 2, Lawrence Ewoi shot dead Mourine Achieng before killing himself at Nairobi's Kamkunji police station.
There were claims the two officers were friends.
Ewoi, who was attached to the Quick Response Unit while walked to the station in civilian clothes and indiscriminately opened fire. He then turned the gun on himself. George Gitonga, an officer, survived with injuries.
Two days later, Kering Kipkosgei, the armourer at Mwea GK Prison, shot dead Boniface Mithamo, an Administration Police officer, before taking his own life.
The shootings was blamed on a love triangle. Kering was dating Mithamo's estranged wife, Esther Muthoni Mwangi, a sergeant at the prison. Mithamo was a driver attached to Kirinyaga East Deputy County Commissioner.
On the day the Mwea shootings happened, Peter Kiprono was suspected to have committed suicide using a G3 rifle at Garissa police station.
He had a bullet wound on the lower chin when officers found him lying unconscious in his house.
This has been the trend, with the latest incident occurring in Kabete where Police Constable Benson Imbatu went on a shooting spree before, turning the gun he had used to kill six people, including his girlfriend Caroline Amakove, on himself.
Imbatu allegedly suspected his girlfriend was cheating on him. The Kabete incident re-ignited the debate on what could be ailing the police service.
Experts and police officers interviewed trace the problem to flawed recruitment, outdated training methods, skewed deployment and poor leadership skills of commanders.
Indiscipline, according to John Omboto, creeps into the service at the entry point where little attention is paid to the personality traits of the recruits. Focus is usually on qualifications and physical fitness.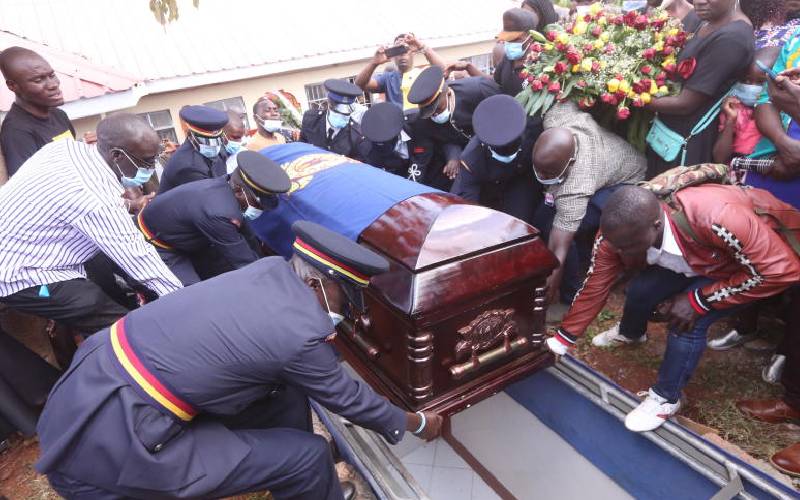 "Assessing the character of a prospective employee is key; it is imperative to take them (recruits) through aptitude tests first even if they have excellent academic papers," said Dr Omboto, a crime and offender expert.
There is a feeling that thorough screening during recruitment could eliminate characters with bad behaviour. The recruitment is, however, known to be abused, with the wrong individuals being enlisted.
The training is faulted for being physical-oriented at the expense of developing mental capacity of new recruits.
George Musamali, a former instructor at paramilitary General Service Unit (GSU) Training School in Embakasi, is more candid and brutal on the training methods, which he described as archaic and dehumanising.
"This is a colonial mentality since the British were training the officers to come out and deal with the Mau Mau, unlike in the current set-up where police are expected to offer services to wananchi. The nature of training, the hardness, the language, the shouting, and the insults turn a normal human being into a beast," said Musamali.
The outcome
And the outcome, according to Musamali, is what we keep witnessing.
"The recruits pass out believing they are superior and ready to deal with the public. They believe they can get away with anything. They give what was instilled in them in training," said Musamali.
Police spokesman Bruno Shioso, however, disagreed on the link between misconduct, and flawed recruitment and training, saying the problem is more complex than it is being perceived.
Shioso feels an in-depth analysis is needed in order to come up with appropriate interventions.
"We must look at the work environment, societal perception and attitude towards police. Are police appreciated by the public? And if police are bad, can they be conditioned by the public to be better? Society must invest in police if they expect good services from motivated and proud officers," said Shioso.
Varies studies have been linking bad behaviour to mental health-related issues, with stress being cited as the leading cause of homicides and suicides among officers.
A study by the International Journal of Current Research found out that more than 90 per cent of law enforcement officers who commit suicide have diagnosable psychiatric illnesses, which are caused or rather intensified by their work, relationships or drug abuse.
Police officers frequently get exposed to traumatic scenes.
The exposure affects their mental wellbeing. The National Police Service Commission has of late been identifying and monitoring officers who need mental help.
By September this year, 227 officers were on treatment, according to the commission's vice-chairperson Alice Otwala.
Criminologist Judith Tonkei said there was a need to examine issues that predispose officers to negative behavourial traits.
"Modern trends should be incorporated into the police service because we can't ignore the fact that times have changed and people have a different worldview," said Tonkei, a member of Professional Criminologists Association of Kenya.
A hungry armed officer is a danger to himself or herself and the society. From past incidents, officers open fire under the slightest provocation as was the case of Corporal Caroline Kangongo.
In July, the policewoman shot dead her male colleague, John Ogweno, in Nakuru and later businessman Peter Ndwiga in Juja. She went on the run for several days before her bullet riddled body was found in her parent's bathroom in Elgeyo Marakwet County.
This was a month after Constable Edwin Muhula of Ganga police post killed his wife on June 24, 2021 before killing himself using the same weapon.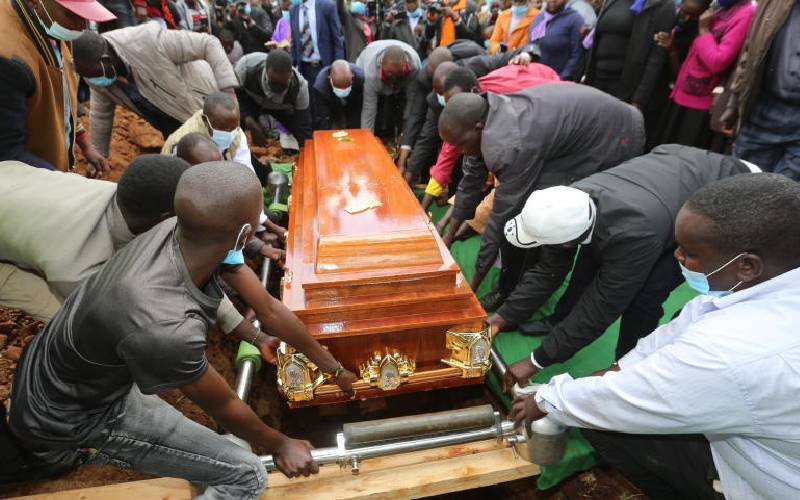 On April 7, 2021, General Service Unit officer Hudson Wakise shot dead his wife, fellow officer Pauline Wakasa, after a disagreement and then turned the gun on himself. Wakise was seconded to Interior Cabinet Secretary Fred Matiangi's security detail.
A few weeks earlier, Corporal Paul Kuria shot his colleague in Endebess of Trans Nzoia County on March 10 before using the same weapon to take his life.
A few days ago, Constable Rophus Mwandowe attached to Chaani police station in Mombasa died by suicide, citing stress and debts amounting to Sh81,000, which he was unable to repay.
It is clear from the few reported cases, when a police officer goes berserk, civilians sometimes become collateral damage. The figure of innocent civilians killed by officers is not clear but last year, 157 of them lost their lives at the hands of police.
The loss of innocent civilians due to ill-temper of officers is cause for alarm.
"We are getting worried about the way our officers are conducting themselves when solving personal problems and disputes. It is not good to use the power of the gun to cause harm or take life," said Samuel Mwaka, chairman, Mathare sub-county peace committee.
He is of the view the problem could be stemming from inadequate training. "Another lapse could be at the entry point where recruits are not subjected to thorough screening to establish their character and discipline," said Mwaka.
The frequent killings, according to the elder, are fast eroding trust between the public and the police. "And soon, the officers will not be getting information from wananchi who view them with suspicion," he said.
Police cannot afford to ruin relationship with the public at a time they are trying to win back trust from civilians.
Following a shift in housing policy, most police officers now live among communities.
The more police murders are witnessed, the more civilians become apprehensive about officers living among them.
Expressing concern over the increasing homicide and suicide incidents among officers, Shiosho said the problem was not confined to law enforcers.
"But true, police are more stressed understandably owing to the nature of work and occupational hazards they are exposed to. These are some of the drivers of this phenomenon," said Shiosho.
Other causes of the homicides and suicides have been identified as substance abuse, poor housing conditions, access to weapons, workplace bureaucracy, social isolation, workload and working hours.
"Police have to bribe to get a new set of uniforms, bribe to get promoted, bribe for transfers, bribe to be granted off duty. Everything has a price tag in police force. This forces the officers to go for bribes when serving the public," said Musamali.
Omboto, a former prisons officer, said the safety of civilians was compromised when police officers who are expected to protect them were not in the right frame of mind.
Relationship disputes
It has been established differences in relations contributed to the highest percentage of suicides.
International Journal Current Research found out that 44.4 per cent of the suicides were as a result of relationship disputes.
According to Musamali, the findings are not far from what officers undergo since they spend most of their working time away from families.
The constant transfers distabilise and detach them from their wives, husbands, children, parents and siblings.
"They have broken families. They move alone from place to place. They don't acquire any household goods due to these transfers and they cannot move around with their children who need to go to school. At the end of it all our men and women in uniforms rise strangers in the name of children," said the director of Executive Protection Services.
Other causes of suicide were identified to be crime-related issues, which contributed 12.7 per cent of the reported death, financial problems (10.5 per cent) job related issues (7.8 per cent), political reasons (7.8 per cent) and other unspecified reasons (16.6 per cent).
"Findings showed that majority of the respondents in the service affected by suicide were aged between 31 and 37 years," said the study.
Claims of frustrations from superiors in the rank and file of the service are rampant.
Avenues of channelling grievances are limited. Officers are trained to take orders without questioning or complaining.
There are instances when those who attempt to complain are punished. The punishment come in the form denial of deserved promotion, or being transferred to areas considered hardship, dangerous or not lucrative.
"The Police Service is rotten, only those who are in good terms with the bosses get favours while the unlucky ones like me, life is hell. We are just persevering for the sake of supporting our families, otherwise this is not a job I would love to do," an officer told The Standard.
Living conditions remain a contentious issue. The poor living conditions also contribute to conflicts. Officers share living spaces. For a long time, officers had been sharing living spaces – a situation that led to dispute over sharing of amenities and suspicion of adultery.
Omboto said it was time to abandon talk and establish the real causes of stress in order to prescribe the right solution to the endemic problem.