Willy Kimani killer tried to buy my silence, witness says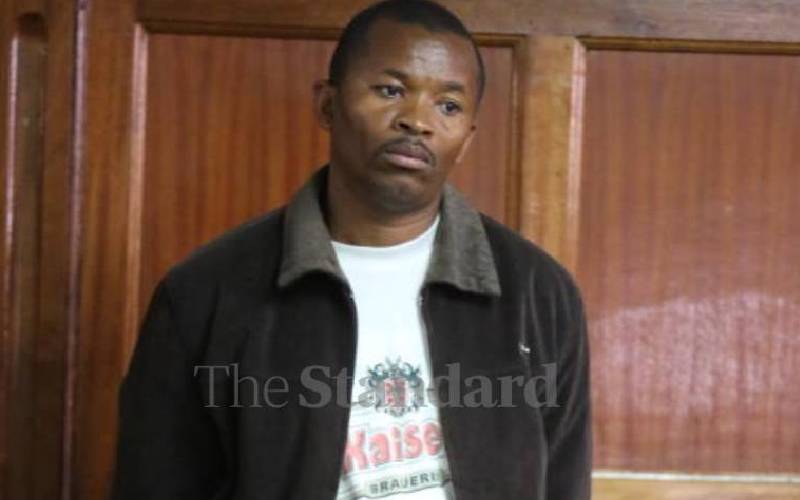 A police officer charged with the murder of lawyer Willy Kimani offered his co-accused Sh15,000 bribe not to confess about the cold-blood killing, a court heard yesterday.
Peter Ngugi told the court that Fredrick Leliman was pestering and threatening him not to disclose how Kimani, his client Josephat Mwenda and taxi driver Joseph Muiruri were killed and their bodies dumped in a river in exchange of cash.
"He has been prevailing upon me not to say these things and brought me Sh15,000 at Naivasha Prison to buy my silence. You can prove from Prison records at Naivasha Prison that he brought me the money to buy my silence," said Ngugi.
His revelation prompted trial Judge Jessie Lessit to issue summons to the officer in charge of Naivasha Prison to appear in court today and produce book records of money deposited for those held at the prison between November 1 and November 12 this year.
Leliman is suspected to have been the mastermind of the murder of Kimani, Mwenda and Muiruri on the night of June 23, 2016 at Soweto area of Mlolongo within Machakos County. He is facing the charges alongside Ngugi and three other police officers, Stephen Morogo, Sylvia Wanjohi and Leonard Maina.
Ngugi was being cross-examined by Leliman's lawyer Cliff Ombeta on the third day of his defence. He admitted he took part in the killing.
He also testified that he was promised a good reward by investigators from the Directorate of Criminal Investigations if he confessed to the killings and identified all the police officers who eliminated the lawyer.
"I did not expect to be charged with the murder since the investigators promised to have me as a witness if I confessed. They also promised to give me a house, pay me Sh30,000 per month and give my wife Sh200,000 to relocate," said Ngugi.
Ngugi, who at the time was a police informer, had claimed in his confession that he was recruited in the plot to eliminate Kimani by Leliman who felt that his job was not safe after Mwenda had reported him to the Independent Policing Oversight Authority (Ipoa) for misconduct.
He confessed that his task was to monitor Mwenda and Kimani's movement while they were at Mavoko Law Courts and give details to Leliman and Maina who then arrested the three and locked them up at Syokimau police post.
Ngugi then was assigned to dispose the taxi in Limuru and later joined the murder squad at a field in Mlolongo before driving one of the vehicles which carried the bodies for dumping at Ol Donyo Sabuk River.
Ngugi had, however, disowned the confession but the court dismissed his claims and admitted the confession as evidence.
When asked by Ombeta yesterday, he again disowned the confession saying he did not write or understand the contents of the confession.
"I did not write the confession and it was never read to me since I don't understand English. I only signed it after the investigators treated me well, supplied me with cigarettes and gave me chicken to eat while at the police station," said Ngugi.
He added that although he did not meet Leliman on June 23 2016 during the day, he met him at night when he gave them money to fuel the cars which were taking the bodies for disposal and later at his bar when he bought them beer.
Hearing continues today.