Kenyans' dilemma as Christmas beckons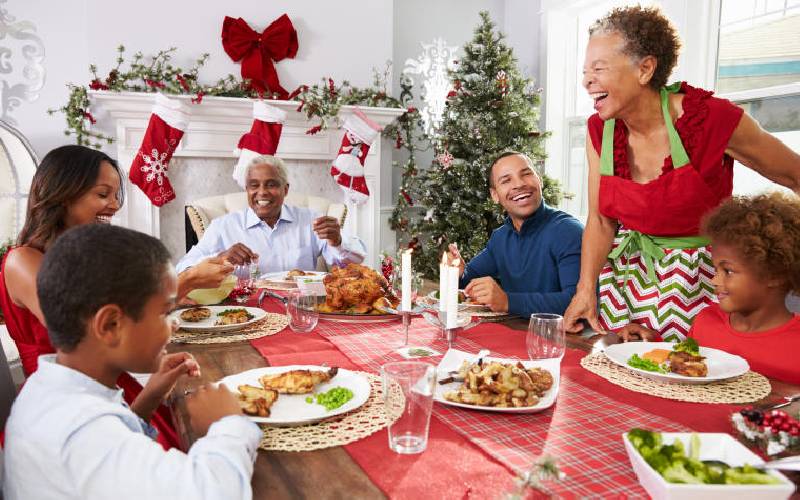 I must confess this is one of the most difficult topics for me to write about. This is not because the topic is hard to crack. No, it is because in my line of hustling, I am a double agent. This column advances pro-macroeconomic interventions that can drive growth and development. In another world, I am a personal finance coach fully certified as a Financial Education Master trainer by the Central Bank of Kenya.
Thus, with the Christmas season here with us, this article should be advocating for generous spending to stimulate the economy. But on the other end, I am obligated to be mindful of the financial welfare of our faithful audience come 'Njaanuari'. Unfortunately, a majority of the populace are financially insecure to survive the extravagance of the season like in the developed world. Nonetheless, we must face the contestations of the two worlds in line with the bold and impartial discourse that underlies the thinking behind this column.
Good for the economy
There is overwhelming evidence that consumer spending around the Christmas festivities is the single largest economic stimulus for many nations around the world. This is because sales drastically increase in almost all retail sectors of the economy. In declared atheist countries like China where December 25 is a normal working day, you will still find them playing Christmas carols in shopping malls and restaurants over the entire season.
They run commercials on TVs, social media and on the streets to entice consumers to buy gifts and indulge in merrymaking for the season. This implies that while the authorities there may be opposed to the underlying faith and belief in Christ as the born Messiah, they highly acknowledge the commercial interests that come with the season. The Arab nations that may have divergent faith on the season also profit greatly from the merry making that comes with it.
For instance, the United Arab Emirates (UAE) great cities are popular destinations for holidaymakers from Kenya, Africa and the rest of the world. The allure of the season lies in the billions of dollars floating in the air as consumers lower their guard on spending to make merry, even if it means suffering the consequences a few days after. For instance, the US predicts that conservative retail sales will be over Sh96 trillion ($850 billion) in the 2021 Christmas festive season. This includes festivities around Thanksgiving Day, Christmas Day and Black Friday.
The average spending on gifts alone over the three festivities is projected at Sh100,118 ($886) at current exchange rates. In Kenya, Ajua (Integrated Customer Experience Company in Africa) projects that the average household spending will be Sh34,148. This is distributed into Sh6,656 (food), Sh7,492 (decorations) and Sh20,000 on gifting.
However, this average figure looks out of place for the average household in Kenya. A sizeable majority of households are ogling for goodies from politicians, especially around this election season, to beat the holiday blues. To understand the spending trends, we can refer to data from previous years. In 2020, only about two per cent of households spent between Sh100,000 and Sh500,000 in the country, compared to 14 per cent in 2019.
While this reflects the impact of Covid-19 on consumer spending in 2020, the data still reflects a very unequal society with minority super spenders. WorldRemit, a leading global payment company in a survey of 14 countries, Kenya among them, projects a majority of households spend a staggering 54 per cent on their monthly income on Christmas festivities. In six of these countries, including Mexico, Lebanon, Philippines, Cameroon, Nigeria and Rwanda, households spend over 100 per cent of their monthly income.
This means they have to wander into their savings, investments and loans to finance their desires for the season. The impacts of this consumption habits is that it is projected to account for half of the annual sales for majority of businesses around the world. This stimulates the economy through creation of employment (even if temporary for the season), enhanced money circulation within the economy and eventually gets reflected in tax revenues of the government.
Mind january
Having proffered the enormous benefits of X-mas spending to the economy, it is only fair to remind ourselves of the law of self-preservation at the micro level. While the data indicate a majority of households perennially blow at least half of their monthly income over the season festivities, other data indicates the same households are not covered for January obligations. In the Kenya case, school fees, utility bills and debt repayment obligations are due as soon as the season is over after new year celebrations.
The 2021 FinAccess biennial Household Survey finds that at least 45 per cent of those surveyed lack adequate financial literacy. They relied on friends and family for advice. Formal institutions or professional advice plays a peripheral role in their financial decisions. Obviously, this implies a contagious problem of financial misinformation being transferred from one household to another. One cannot advice on matters they are not trained or competent in.
For instance, if somebody is looking advice from a friend about an holiday destination and financial implications, they are likely going to share what they themselves have done. This is not necessarily what is prudent in light of the financial health of the one seeking the advice. In our African setup, it is also common to find silent cold wars among family members, colleagues and friends competing on who is better-off financially. This is especially so among the medium- to low-middle class and among the low-income clusters.
Financial advice
In a society where majority of the population would rather take 'booze' than buy a book or pay for technical advice, the risk of being misadvised rises astronomically. Over the years, I have witnessed 'chamas' willing to blow away tens of thousands of shillings on 'choma' and assorted drinks, but would not agree to a few thousands to seek proper financial advice.
I have also met people with significant access to money who are in a total financial mess but would not agree to part with a penny to receive professional advice. That would explain why even persons of high societal standing and esteem get easily defrauded in get-rich-quickly schemes. Others living in exclusive addresses within the city get locked out of their residences over unpaid rent or lose sleek machines to shylocks.
In the 2021 Household Survey, the proportion of respondents who reported stability in their financial health declined from 21.7 per cent in 2019 to 17.1 per cent in 2021. This implies that only 17.1 per cent could comfortably meet their financial needs. The financial health attribute is defined as ability to manage day-to-day needs; ability to cope with shocks; and ability to invest in future goals. Further, 73.6 per cent of the respondents noted that their lives worsened in 2021, compared to 51 per cent that had similar observations in 2019.
Scaling through this data, we must also take into account the external environment. The country and the world is still battling the coronavirus pandemic and the consequent economic impacts. Parents have had to pay school fees for four terms instead of the usual three.
The same is expected through 2022 until the school calendar stabilises in 2023. Health expenditures are likely going to remain high for affected households until Covid-19 is behind us. The weatherman has also projected likely crop failure over the short-rain season for many parts of the country. Our toxic political environment almost always negatively impacts the economy since the 1980s as per the available data.
In a nutshell, we may need to exercise a little more caution in our spending habits unlike other years.
After all, the temptation to compensate for a lost 2020 is real for many people. This is normal behaviour for the average human being, but it is an anomaly in economic modeling. My concluding thought would be: any moment you have doubt on your spending habits this season, refer to rule number one on 'self-preservation' both in the short and medium term.