Witnesses now decline to testify against lawyer Paul Gicheru at the ICC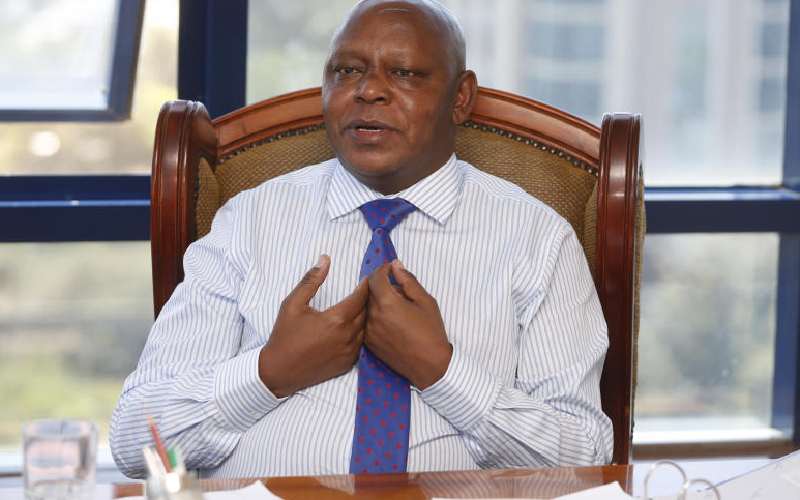 International Criminal Court prosecutor has dropped one witness it was to rely on against lawyer Paul Gicheru.
At the same time, the court admitted documents of a second witness despite his unwillingness to participate in the case.
ICC deputy prosecutor James Stewart informed the court that he will not rely on P-0604 as a prosecution witness as he was not willing to co-operate.
The witness refused to appear for a meeting with the ICC prosecutors, dealing a major blow to the prosecution.
The court also heard that the witness refused to provide documents that would help the prosecutor corroborate claims of bribery and witness interference.
"Despite the prosecution having made all necessary arrangements for such meetings, P-0604 failed to arrive at the agreed location and has not responded to several prosecution attempts to contact him since. The prosecution has concluded that P-0604 is not genuinely willing to co-operate and consequently decided not to add him to its list of witnesses," Stewart revealed.
A second witness- P-0495 also refused to testify against Gicheru. However, the court has admitted his papers as part of the evidence to be used by the prosecution in its case.
P-0495 was to testify on Deputy President William Ruto's alleged involvement in post-election violence in Turbo but it is claimed he received Sh2.5 million bribe to recant his evidence. He subsequently went missing and when he recently met with the prosecution, he initially agreed to testify against Gicheru but turned around and declined to be a prosecution witness.
Stewart informed the court that ICC investigators had finally traced him after he had gone missing in 2013 and he agreed to testify.
However, his lawyer later informed the prosecution that the witness was no longer interested in the case.
Re-established contact
Trial Chamber 1 judge Maria Samba said that although the prosecution had re-established contact with the witness, he would likely fail to appear if summoned.
The judge said that if he agreed to testify, he will likely lie as he maintained that he told the court the truth about DP and Sang.
"Although the prosecution has now re-established contact with P-0495, it is apparent from his recent interview that he is unlikely to agree to testify, but that even if he did, he would not provide evidence on material facts—in particular his interactions with the Accused and his associates and his efforts to corruptly influence P-0613.
"By maintaining that his prior testimony in the Ruto and Sang case was truthful, P-0495 has re-committed himself to a narrative that is demonstrably– and at times transparently – false," said Justice Samba.
However, the judge said that his documents can be relied on and would not prejudice Gicheru.
The prosecution claimed that his unwillingness to testify as a result of being influenced to recant his evidence. Gicheru had asked the court to strike out the documents as the witness had been missing.
He argued that without the witness and without a recording, it is impossible to determine whether the witness was threatened as he had claimed.
"The OTP has not requested Trial Chamber III to secure the Government of Kenya's cooperation in locating and serving a summons on P-0495," argued Gicheru's lawyer Michael Karnavas. He added that there is no evidence to show that he had been influenced not to appear in the trial.
The witness allegedly admitted to having been offered a Sh2.5 million bribe by P-0800.
According to Stewart, the witness claimed that he did not know any lawyer by the name Gicheru and that he never received any money in order to withdraw as a witness.
But the prosecutor argued that the witness received a call from P-0800 and later recanted his evidence. The prosecution claims that the witness's denial that he did not meet Gicheru was contradicted by P-0800 who allegedly confirmed they met.
"The prosecution submits that, in his interview of 13 September 2013, P-0495 only admitted that which he was forced to acknowledge, given the circumstances. However, he sought to minimize his involvement in the bribery scheme, particularly his interaction with Gicheru," argued Stewart.
The prosecutor says that P-0495 was to provide key evidence linking Ruto to PEV crimes committed in Turbo. According to the prosecution, he said that he was promised a job even if he did not have the right qualifications.
P-0495 allegedly told P-0613 that he agreed to Sh 2.5 million payment and had also been offered a job as a security officer.
"Immediately after his meeting with P-0613, P-0495 was intercepted and interviewed under caution by OTP investigators; P-0495 admitted to accepting money in exchange for his withdrawal from the ICC," Stewart said.
The prosecutor claims that Kenyan authorities initially welcomed the ICC but support soon waned once the identity of the suspects were known. He blames politicians and mainstream and social media for campaigns against the court.
"Influential politicians, Kenyan media outlets, and social media campaigns collectively rallied public and political opinion against the Court and its perceived supporters within Kenya," he said.