Treasury warns of borrowing crisis despite growing economy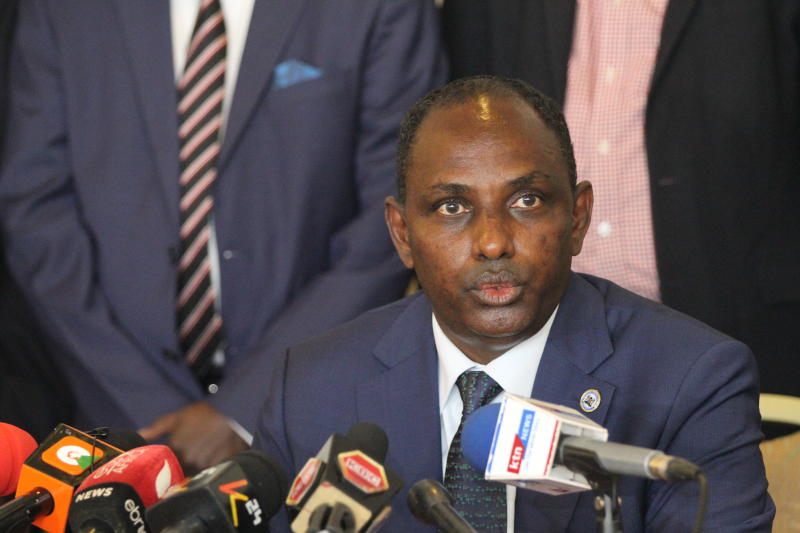 The National Treasury has for the first time warned of a looming financial crisis as the level of debt threatens to surpass the country's total economic output, or Gross Domestic Product (GDP).
This comes as experts poked holes in President Uhuru Kenyatta's eighth State of the Nation Address, terming his track record a costly development that will leave his successor with the tough task of forestalling the economy from going to the dogs.
On Monday, President Kenyatta spoke of his sterling performance in growing the economy by more than doubling the GDP in his first eight years in office.
He said that in 2013 when he took office, Kenya was Africa's 12th wealthiest nation with a nominal GDP of Sh4.74 trillion that had been accumulated in a span of 123 years through four administrations.
In eight years, the president said, he had multiplied this GDP by a factor of more than two to Sh11 trillion, and moved the country's ranking up six places to become the 6th wealthiest nation on the continent on account of the choices his administration made.
"Given that we have doubled our GDP in a record eight years, it is no wonder that Kenya is projected to grow twice as fast as the sub-Saharan economies in the period 2021-22," Uhuru said.
"And this is all because of leadership and the power of choices."
But in a hard-hitting review of the country's debt situation that now provides a rare fact-check of his address to Parliament on Monday, Treasury noted that the country's debt-to-GDP ratio stood at 68.1 per cent, far from the sustainable level of 55 per cent.
This means that even after pumping a lot of borrowed cash into what the president described as "big push investments" the country's productivity has not increased exponentially.
Instead, it is the debt that has grown at a blistering rate of 768 per cent since 2010 to hit Sh7.68 trillion by end of June 2021, according to the report by Treasury.
The growth in the country's GDP and tax revenues have not kept pace with the pile-up of debt.
"The diverging growth rates implies that the stock of debt will eventually exceed the stock of GDP. Unless the fiscal deficits decline over time," reads the Public Debt Management Report for the 2020-21 financial year that was tabled in the National Assembly in October.
A fiscal deficit is the shortfall in a government's income compared to its total spending.
And because during Uhuru's term expenditure has grown faster than tax revenues, the fiscal deficit has kept widening, with Treasury forced to incur more debts to plug the hole.
In the 11 years to June 2021, public spending grew by 270 per cent while tax revenues rose at a slower pace of 51 per cent, the report noted.
"It is development, but very costly development. We are going to leave for our children's children to pay," said University of Nairobi economics lecturer Joy Kiiru.
James Muraguri, the chief executive of the Institute of Public Finance Kenya think tank, said more borrowing has meant that a lot of the taxes go into servicing debt instead of being used for other critical services such as healthcare.
A lot of debt has pushed Kenya into a high debt distress level, with the country now just a rung from defaulting.
This means that the next government will be operating on a tight budget, said Dr Kiiru, and the next president will have to be disciplined as there will not be space to do as many things as Kenyatta did.
"It is like (they) will be walking on a thread. Any small blunder (they make) can take the country to a big dive," she said.
Throughout the two-and-a-half hours speech, the head of state barely touched on debt, which has been a thorny issue in his eight years and for which the country has invited the International Monetary Fund (IMF) to help it re-organise its finances.
Laikipia Governor Nderitu Muriithi, however, defended Uhuru's legacy, saying that the quality of life has improved tremendously over the last eight years.
With the infrastructure in place, he said, it was as though the country had fixed its hardware and only the software remained.
"The infrastructure is a necessary but not sufficient condition for industrialisation," said Mr Mureithi, "as you can't industrialise without infrastructure."
"But the presence of infrastructure does not directly result to manufacturing. For manufacturing to happen, you have to agree to buy the tuk-tuk made in Nyahururu instead of the one made in India."
He said debt is not a problem provided there is productivity "because debt you pay using the cash flow that you are generating."
But critics have argued that much of the borrowed cash has not resulted in increased productivity and hence tax revenues during Uhuru's presidency.
The Public Debt Management Report paints a picture of a situation where much of the borrowed money has not resulted in increased cash flows.
For example, former President Mwai Kibaki was able to grow real GDP - which is adjusted for the increase in prices - by 474 per cent in the first eight years.
During the same period, President Kibaki grew public debt by 118 per cent.
On the other hand, real GDP under Uhuru's first eight years grew by a paltry 37 per cent while debt grew by 474 per cent.
Part of the reason for Kibaki's huge growth in real GDP was that he was coming from a low base, having inherited what by then was described as an economy in intensive care unit, according to Kiiru.
Nonetheless, the lecturer said, Kibaki was able to turn the country from negative growth to positive growth without overburdening the future generation with debts.
The report by Treasury noted that Kenya's total debt, including loans that have already been committed but not disbursed, had ballooned to Sh8.9 trillion against a legal debt ceiling of Sh9 trillion by end of June 2021.
Kenya, said Treasury, needs to begin living within its means.
"There is urgent need to cut down on public expenditures and boost efforts to revamp revenue collection so as to bring down fiscal deficit and growth in public debt to a more sustainable path," it said.
Both Muraguri and Mureithi said the president needs to be praised for improving the country's healthcare sector, especially expanding access to the most vulnerable population through the Linda Mama Programme.
However, Muraguri said the programme might also be plagued by wastefulness and corruption like many other Uhuru projects.
"We have not seen an independent audit of the Linda Mama Programme," he said.
He also took issue with the president's decision to benchmark Kenya with the Asian Tigers, saying that unlike those countries where the president has nearly absolute powers, in Kenya everything that comes from the government is questioned.
"In those countries, you cannot challenge the authority of the government. The development there, does not take into context the human development."
Muraguri also took issue with the decision by the president to bring in the military to run civilian affairs, saying their spending is opaque.