Uhuru defends big projects that plunged the country into debt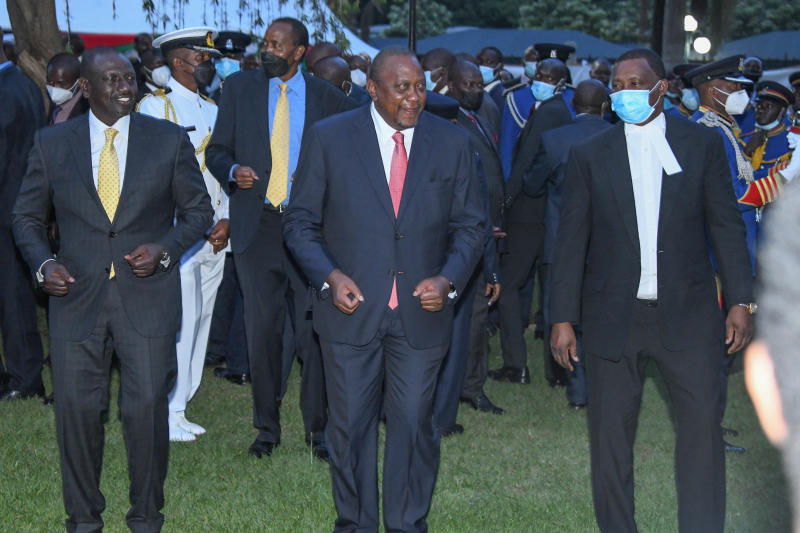 President Uhuru Kenyatta yesterday put a strong case for his economic strategy over the last eight years that has been characterised with massive borrowing to finance mega infrastructural projects.
In his eighth State of the Nation Address, President Kenyatta said his administration has since 2013 relied on the strategies of economic acceleration and the Big Push Investments which has seen the country significantly grow the economy and improve the living standards of Kenyans.
Through this twin economic strategy, the President said he has been able to lay a strong foundation for the country's economic take-off by building roads, sea ports, issuing title deeds, connecting more Kenyans to the grid.
"Mr Speaker, we are tearing down all barriers that deny Kenyans an opportunity to lead a dignified life."
Accelerated growth
In a two-and-half hour speech, the Head of State said that it is through the accelerated growth that the 'Asian Miracle' was achieved by countries like China and the Four Asian Tigers of Hong Kong, Taiwan, Singapore, and the Republic of Korea.
These countries, said Kenyatta, were able to industrialise in 25 years instead of the hundreds of years taken by Western countries like the United Kingdom. It is a feat that Kenya hoped to replicate.
For instance, in 2013, Kenya was Africa's 12th wealthiest nation with a GDP of Sh4.74 Trillion. This GDP was accumulated in a span of 123 years through the four administrations before ours.
He noted that in just eight years his administration had been able to more than double the country's total output, or Gross Domestic Product (GDP).
Kenya's GDP has since grown to Sh11 trillion, up from Sh4.74 trillion. The country is also the sixth wealthiest country compared to 12 eight years, though much of this is due to the review of the country's structure of the economy which has been carried out twice during Kenyatta's two terms.
He also noted his administration had laid over 10,000 kilometres of tarmacked roads, more than double what the previous administrations including the colonial governments had been able to achieve.
"There are some counties which have received their first tarmacked roads since independence during my administration," said Uhuru, adding that the roads have been able to open up the country and spurred business investments.
Giving an example of the 27-kilometre Nairobi Expressway, the Head of State noted that once completed in February next year, it will take 24 minutes to drive from Mlolongo in Machakos County to Rironi in Kiambu County.
This is compared to the current three hours that that this journey takes – the equivalent of flying to Addis Ababa and back.
These roads, said Kenyatta, were built 15 times faster than the previous administrations.
Other projects that his administration accelerated include power grid and devolution of functions and resources to regional governments within one year instead of three as envisaged in the Constitution.
Kenyatta also spoke of big push investments including reviving what had initially been abandoned by previous governments as dead capital.
Through the big push, his administration was able to build, again through borrowing, the first post-independence railway (Standard Gauge Railway) and sea port (Lamu Port).
This even as it National Treasury warned in one of its reports that continued growth of loan accumulation would soon see the country's total debt stock surpass its GDP.
President Kenyatta's administration has come under sharp criticism for its binge-borrowing which has seen the country's debt stock rise to Sh7.71 trillion by end of June 2021 compared to Sh4.05 trillion when he came to power in April 2013.
However, the Head of State sought to defend the binge-borrowing by stating that the money has been used to build roads, sea ports, modernising the railway line, energy projects and so forth.
He also noted that his administration had revived projects that had been abandoned by earlier regimes such as metre gauge railway from Nairobi to Nanyuki and Kenya Meat Commission and fish landing site.
His spoke at time when the country is just coming out of the ravages of Covid-19 pandemic, even as some parts of the country are currently grappling with drought.
He also reviewed his Big Four Agenda which the government was expected to help create decent manufacturing jobs, ensure universal access to sufficient and nutritious, access to quality healthcare, and affordable housing.
But this has also come with a heavy debt burden as the country has borrowed heavily to finance most of these infrastructural projects including a modern railway, ports, energy projects, dams and so forth.
For the first time in the second quarter, Kenya hit a double digit growth 10.1 per cent, an indicator that the economy is on a recovery path.
But he warned that the war against Covid-19 has not yet been won, noting that there is danger from a new variant that has already been recorded in South Africa, Botswana, Hong Kong, Germany, United Kingdom.