State of the Nation Address: Uhuru tells wealthy nations Covid-19 will not be defeated by shutting off Africa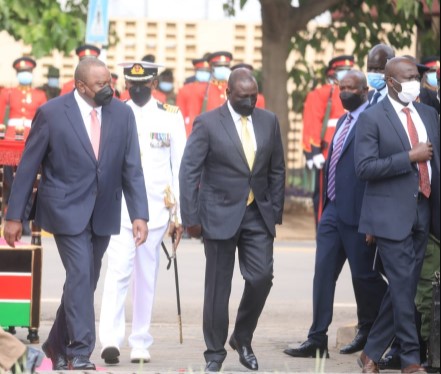 President Uhuru Kenyatta has appealed to wealthy nations not to erect iron curtains against Africa in the name of war against Covid-19.
During his eighth State of the Nation Address (SOTN) in parliament on Tuesday, Uhuru said the coronavirus disease will not be defeated by locking off other countries.
"Covid will not be defeated by locking us off or shutting us down. No one will be safe until we are all safe…msitufungie jamani," the president pleaded.
He added that the war against the pandemic is not over, what with the emergence of a new variant- Omicron.
On the State of Economic development, the president said his administration had "multiplied critical fundamentals" in the eight years since assuming office, on the merit of economic acceleration and the big push investment.
He said that the country's Gross Domestic Product (GDP) has multiplied by a 2-factor plus, making Kenya the sixth wealthiest nation in Africa.
"In 2013, Kenya was Africa's 12th wealthiest nation with a GDP of Sh4.75tr. In eight years, the GDP stands at Sh11 trillion, making Kenya the sixth wealthiest nation in the continent."
Uhuru noted that Kenya's real GDP grew by 10 per cent in the second quarter of 2021.
On Energy/Power: The president noted the strides made in electricity connectivity in Kenya, with 6.3 million more households connected in the last eight years.
Kenya has also connected 1.7 million more households to electricity compared to Egypt, which is more households than South Africa and Nigeria combined.
According to the president, the country is leading the African continent in the generation of green energy, with 73 per cent of power being green.
Infrastructure: the president said his administration had made the largest infrastructure construction, with about 10,000km of road built across the country, hoping to create an efficient road network that links towns and cities to consumers.
The Standard Gauge Railway that birthed the Madaraka Express has served over 6 million customers since its inception in 2018, he said.
"Some counties have witnessed their first tarmacked road. By building roads we are accelerating growth for Kenyans and for future generations," he said.
Devolution: He said the National Government had disbursed Sh2.4 trillion to counties over the last eight years, to aid in service provision at the county level.
The president said he will also be conferring Nakuru municipality city status tomorrow on Wednesday, joining Nairobi, Mombasa, and Kisumu.
The president delivered his second-last State of the Nation Address, amid much anticipation.
He spoke at a special joint sitting of the National Assembly and Senate on Tuesday afternoon, a year after his last address on November 12, 2020.
It is also his second address in adherence to Covid-19 protocols at Parliament Buildings, Nairobi.
The president arrived after 3.00 pm and inspected a guard of honour and was thereafter received by State officers including both speakers of Parliament.
About 127 MPs were in attendance, to allow adherence to Covid-19 guidelines.
Uhuru took to the podium at exactly 3.42 pm, to deliver what was his eighth SOTN and second last, as he nears the end of his two-term presidency, which, by law, cannot be extended.