Argwings Kodhek: The selfless 'Mau Mau lawyer'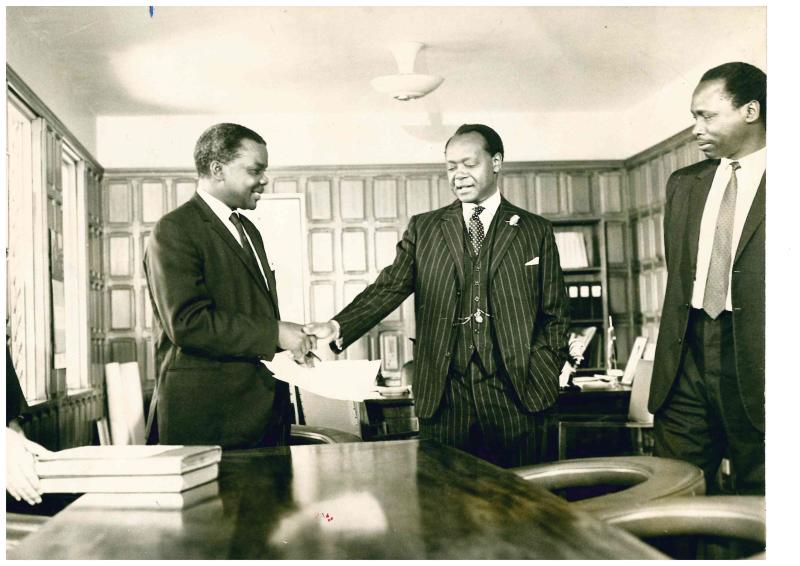 Apart from a road being named in his honour, little is remembered about Argwings Kodhek's selfless contribution to the freedom fight.
Yet at the height of Mau Mau revolt, Kodhek defended the fighters on pro-bono basis. A close associate of Kenya African Union (KAU), Kodhek readily took briefs to defend people in Nairobi and Kiambu, those accused of Mau Mau offences.
By 1953, many of those brought to courts requested Kodhek represent them. As a result, the white settlers referred to him as the 'Mau Mau lawyer'.
A man who never let any challenge pass, Kodhek won most of these cases to the vexation of white settlers and colonial government that started frustrating him by issuing a decree that the lawyer must carry a special pass.
For instance, Kodhek successfully defended 48 people accused in the Lari massacre, in which loyalist home guards and local chief Luka Kahangara were killed.
The requirement opened an opportunity for police officers and reservists to harass him by repeatedly demanding to be shown the special pass.
There was an incident at Uplands when Kodhek was arrested on claims that he did not have the pass permitting him to travel to a court in Kiambu. When he duly produced the pass, it was rejected.
A local magistrate, one Baxter, declined to acknowledge the pass from the registrar of the Supreme Court and went ahead to charge Kodhek a fine of Sh50 after finding him 'guilty'.
It is Kodhek who let the world know about the Hola massacre that left 11 detainees dead after being clobbered by guards on March 3, 1959.
Using his networks with the media and back in the UK where he studied law at the University of St Andrews, Kodhek brought to the international limelight the killings, which the colonial government tried to cover-up.
He laid bare brutalities committed against African prisoners at the Hola Detention Camp, sparking an uproar in the UK parliament. The British government later apologised over the atrocities.
Despite prohibition of mixed-race marriages in Kenya, Kodhek stayed with his Irish wife, Mavis Tate, after successfully battling in court.
The couple, however, could not live in certain neighbourhoods due to segregation laws.
They lived in Ruaraka. Addresses like Karen, Lavington and Muthaiga were exclusively for the whites.
Kodhek died on January 29, 1960 along Nairobi Road after his car rolled. He died in Nairobi Hospital where he had been rushed. The road was renamed after him.