Oburu Odinga: We never received anything on a silver platter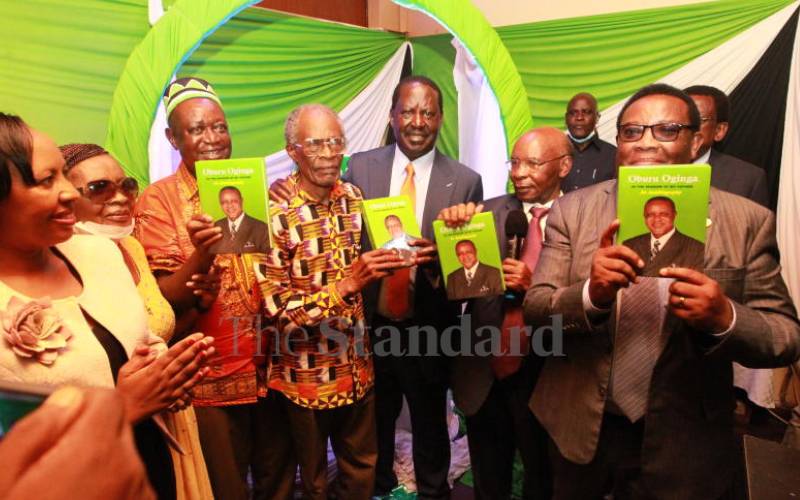 East Africa Legislative Assembly (EALA) member Oburu Odinga says his family never received things on a silver platter as widely believed.
In his autobiography, 'In the shadow of my father', Oburu says they all struggled like any other young men and women of their time.
The 450-page book, authored by journalist Bethuel Oduo, was launched on Thursday evening in Nairobi. It retails at Sh1,800 at Nuria Bookshop.
"What inspired me to write this book is because a lot of people think we grew up in a cerelac manner. I want to tell you that we are not cerelac children," said Oburu, who is ODM leader Raila Odinga's elder brother.
The book recounts the period Oburu was born in Maseno on October 15, 1943, to his present times as a politician and senior citizen.
''We used to go to school in akala with one pair of uniform and those were a luxury at that time,'' said Oburu.
He caused laughter when he recalled how whenever they came from school, they played many games, including competing in jumping and volleyball.
''Raila used to be good at football but I and my other brother used to beat him at high jump and volleyball,'' said Oburu, who added that he used to live with teachers, who tasked him with all household chores.
He said his parents, former Vice President Jaramogi Oginga Odinga and Mary Juma, did not give them special treatment.
They were thus made to cook at home, iron clothes, fetch firewood and water from the river, among other household chores, like any other children in the village.
''There is nothing we don't know and did not do. Raila used to cook very good food but his one mistake was that whenever he cooked, he would put a lot of pepper so that our friends do not eat. We had to tell him that he will only be cooking ugali as I cook meat because he was naughty,'' said Oburu amid laughter.
His wife, Dr Anne Oburu, recalled how at one time their property was auctioned.
''My husband has said the whole truth in the book. When people see us, they think we were living high up there while everybody else was living down there, yet we lived through struggle. I remember after delivering my last born baby, we were auctioned (sic),'' she said.
Oburu said he was motivated to write the book because there was a lot of history known around the world, which is written in many books even locally, but they do not mention him.
He said he knows he has rubbed many people the wrong way in the book but asked them to excuse him because their father taught them to be truthful, adding that even Raila always speaks truth in all he does, including in his campaign meetings.
Speaking at the event, Raila said he and Oburu were born one year and two months apart and grew up almost as twins in a humble family.
''There were village boys who would beat Oburu and I beat them for him and vice versa,'' said Raila. He recalled how his other brother (now deceased) stole his father's money and brought it to them while playing under the guise he had picked it on the way.
''We spent the money to buy mandazi, soda and ice cream. When our father came and found out that there was no money, he asked and we had to tell him our brother came with some money, saying he picked along the way and we spent it. He beat me and Oburu for the mistake of our brother,'' said Raila, sending guests into laughter.