Mike Sonko vows to release more controversial videos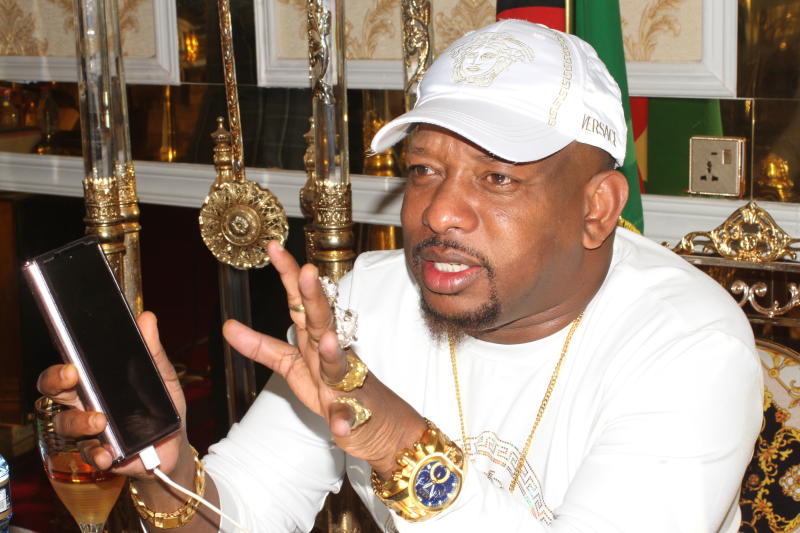 On the morning of November 16, Mike Mbuvi Sonko released a video that he said pointed towards a corrupt and rotten Judiciary that hawked justice to the highest bidder.
These allegations have now formed what has become known as #SonkoLeaks as the former Nairobi governor uses social media to mount his latest campaign.
In an interview with The Standard, Sonko says the leaked videos are just a tip of the iceberg in his bid to "fix the country's Judiciary".
"I have not started this thing now," he says. "We have recordings that go back for months on how justice within the courts goes to the highest bidder. If you give a judge Sh100 million, it is the one who will give Sh200 million that will win the case. It has nothing to do with justice."
For a man with several pending cases before the very institution that he is setting himself up to fight, the timing could not have been worse. But, for Sonko, the best time is always his time.
In his journey to define himself as a people's champion, he has stepped on toes and made more enemies than he would wish.
"I have nothing to lose anymore," he says. "Even if I never get back into elective politics again, I need to finish this war for the 40 million Kenyans who do not have a chance at justice. If someone like me … someone with means can be cheated out of justice, what chance does the poor Kenyan have?"
The conversation then veers into a monologue of atrocities and injustices that he says he has faced before the courts. He talks of a flawed impeachment process and an even more flawed court hearing that cemented his impeachment.
He says there were minimum thresholds of the case that were not met. He says there was interference from third parties that saw him ousted from City Hall in a plot, hatched within the corridors of justice, to rid him of some highly valuable land along the Kenyan coast.
As he speaks, he flips through documents, recorded phone conversations, bank details, land transfer documents detailing the genesis of the bad blood between him and a judge who is currently under probe by the Judicial Service Commission. In some instances, the recordings go back months.
"The judge said on TV I first met him in July this year. We have had interactions even before that which go years back," Sonko says.
His crusade against an institution now under the spotlight cannot, however, go unquestioned. He has been accused of betraying even the closest of his friends. His leaks sometimes seem to be serving an agenda aimed at keeping him relevant, keeping him in the headlines. Keeping those around him guessing on what he will do next.
"It's all worth it," he says. "I only record crooks and cartels. If you are my friend, you have nothing to be afraid of. But if you come to me with plans of stealing I will expose you, expose you to everyone."
An interview with Sonko throws out the very basics of African hospitality.
An offer for water has to be questioned. Even how one laughs has to be regulated.
Constantly, you ask yourself if the kind of laugh you have released is the one you would want his 2.1 million followers on Facebook to know you by. Would the recording of an acceptance of a bottle of water be misconstrued by the public? Are your notes, as you sit waiting for him in his gold-themed lounge, being relayed real-time to his tablet?
For Sonko, no audience is intimate. There are no lines too sacred to be crossed, including leaking images of women in compromising situations. He says this has worked for him.
"I haven't always been recording people. When I became governor, I inherited a city that was known for corruption and sleaze. I had people come into my office, calling me trying to broker deals that would steal from the city," he says. "That is why I started recording people and exposing them. Soon, they were afraid of me and kept off stealing from the public."
For a man who records almost everything, the leverage he is assumed to have on high-ranking individuals should be damning. There have been allegations that he uses this information to blackmail his way through things that might be of value to him; bulldoze his way through situations that would ordinarily see any other person land in trouble.
"I have no business blackmailing anyone," he says. "For what? I made my money a long time ago. You have nothing to be afraid of if you are clean."
He says he made his money from real estate. Flipping land in Mombasa. Buy a beach plot here, sell it there for a tidy profit. Land was his saving grace from what he describes as a humble background.
But now, as he sits probably in descent from his position of power and influence, land remains central to his current woes.
"I bought the land in 2016 ... I know justice will be on my side and the truth shall prevail," he says.
There is also a different kind of truth that sits uncomfortably in the golden lobby.
A truth that Sonko no longer enjoys the trappings of power that he had grown accustomed to as the governor of Nairobi. Trappings that, according to his critics, gave him a chance to run roughshod over the affairs of the capital city. Roadside sackings, ambushing staff members, playing undercover journalist to bust syndicates at county-run hospitals were all part of his work flow.
The only reminder of his heady days are the photographs hanging on the walls. Of him inspecting a guard of honour by city askaris, another of him in a clean-up exercise with First Lady Margaret Kenyatta.
Behind him, the Kenyan flag and another showing of the official coat of arms of the Nairobi City Council gently flutter in the breeze from air conditioners.
"I do not miss it," he says. "The governorship was just a title. I will not hide because I was impeached like some other governors. Life must go on."
The circles he effortlessly used to find himself in have grown smaller, some excluding him altogether. For instance, he was among the few politicians with President Uhuru Kenyatta's direct line. And now?
"We are not as close as we used to be," he says, the relationship strained by what he calls "backstabbing friends".
"Never trust anyone. Trust only God," he says before getting into the back and forth that led to him signing a Deed of Transfer that effectively handed the running of the city to the central government.
"I had a few friends who had advised me to take a hard stance when dealing with the Office of the President … to play some hard-ball politics with my position as governor. Unfortunately, these same friends would go back to State House later and tell the president how terrible I was at my job and I was the only thing preventing the city from functioning."
So when State House called, he answered.
"The president told me that I had a lot on my plate. I had an impeachment coming up. I had court cases … the president told me he wanted to help me run the city. So I signed knowing that the State would come in to help, not take over. You don't expect me to fight the president."
Months later he had lost his city, his position and his friends. He doesn't have many kind words for the man who replaced him, Lt Gen Mohamed Badi, now the Cabinet Secretary in charge of Nairobi Metropolitan Services.
"What does he have to show apart from pavements? The hospitals being built I credit them to the president," Sonko says.
There are things, though, that he has not lost. The compound of his office is a sprinkling of high-end cars that compete for space with matatus, a mobile clinic truck and water bowsers.
The matatus are an indication of Sonko's entry into the city, the half dozen Lexus a testament to what the city offered him, the mobile clinics representing the broken promises that his reign held for those who believed in him.
His journey to the top, he says, was represented as a win for the underdog. An inspiration for those who rose from nothing to something.
"I have no regrets over how my life has panned out," he says. "We had no history of elected leaders in my family. To get to where I currently am can only be described as a miracle."
The miracle, though, would be getting him to commit on his future political plans.
"It is too early," he says. "Lazima kwanza nipambane na hali yangu."
He sits back like a man content with what life has thrown his way. Someone who, even in the readiness of battle, has accepted that after years of dishing it, it is his turn to get the short end of the stick. The stick might not be big enough to beat off his enemies, real or otherwise, but it is long enough to stir the hornet's nest.
"I will broadcast more to my followers," he says. "Much more is coming."
Sonko's revolution will be Tweeted. It will be Facebooked. It will be Instagrammed.
And what will the revolution be for?
"I want to fix the Judiciary. I have nothing to lose. I will fight for the 40 million Kenyans in need. If someone of my standing, my wealth and my connections can still be cheated out of justice, what happens to the rest of Kenyans?"
For him, it is a case of fighting power the Sonko way; one leak at a time.