Six warders arrested over Kamiti prison break to remain in custody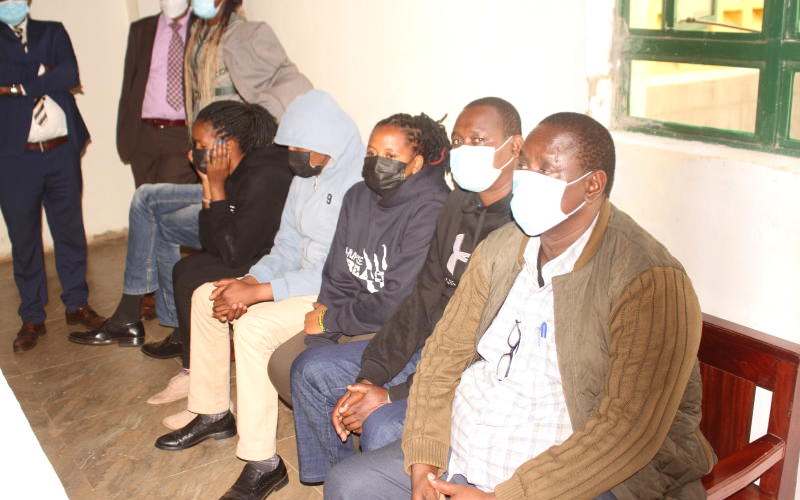 Six warders arrested over the escape of three convicted terrorists from Kamiti Maximum Prison will remain in custody until Monday when the court will rule on the matter. The six, who include Kamiti prison boss Charles Mutembei and his deputy Joseph Loklari, yesterday appeared before the Kahawa Law Courts where the Directorate of Criminal Investigations (DCI) sought more time to conclude investigations.
Others who were arraigned were junior officers who were responsible for manning CCTV cameras and the watchtowers on the night of November 14 when the three terror convicts escaped. They are Pamela Cherubet, Peter Thuku, Lilian Mukasia and Nicholas Otieno.
The four were arrested at their place of work at the Kamiti Prisons while the two senior bosses were arrested at the Prisons headquarters in Nairobi on Wednesday evening.
Yesterday, the investigating officer asked the court to grant him 30 days to detain the six officers.
In a sworn affidavit, Chief Inspector Meshak Kegara from the DCI Serious Crime Unit told Principal Magistrate Boaz Ombare that the investigations he was undertaking were complex and therefore required adequate time.
The investigating officer outlined 15 points that he intended to cover during his investigation, should the court grant him the days he had sought.
He impressed on the court not to release the six suspects on bail, arguing that they are likely to interfere with the investigations.
Kegara said the DCI required enough time to analyse CCTV footage from Kamiti Prison and also obtain call data of the suspects in effort to unravel details around the prison break.
He told the court that the six were allegedly negligent and had aided the escape of the terror convicts from prison.
Lawyer Danston Omari and Cliff Ombeta who led the defence team objected to the application by the prosecution and asked the court to throw out the application.
The two lawyers had earlier asked the court to throw out the petition or refer it to another court that does not deal with cases of terrorism.
The two said the Kahawa Law Courts could only deal with terrorism matters.
The magistrate in his ruling, said the court was not limited to terrorism matters, and declined to throw out the application as requested by the defence.
And with the ruling that the court could deal with the matter at hand, the magistrate opened the submission on the petition by the police and supported by the Director of Public Prosecutions.
The ruling on whether the six will continue being detained for interrogation will be made on Monday.