Billy Chemirmir US murder trial: Jewelry box, keys produced as evidence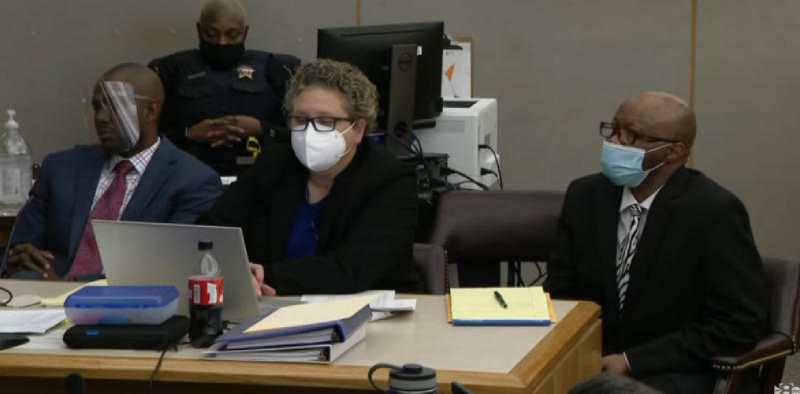 A jewellery box and a pair of keys have linked a Kenyan man to the killing of an elderly woman in the US.
Billy Chemirmir allegedly killed 81-year-old Lu Thi Harris on March 20, 2018.
During the second day of the hearing on Tuesday, the court heard that police recovered several items, including sets of keys, bags of jewellery and a Kenyan passport from the suspect's car.
Chemirmir is facing 18 counts of murder. The trial started on Monday before Judge Raquel 'Rocky' Jones.
WFAA Channel 8 has for two consecutive days streamed live the trial.
In his testimony, detective Cayce Shelton of the Dallas Police Department told the court that the police brought the retrieved keys at Lu Thi Harris' home.
"We used those keys recovered from Chemirmir to unlock Harris' front door," said detective Shelton.
At the home, he said they recovered a pillow stained with lipstick that matched Harris' lipstick and that she had lipstick smeared across her face.
Dr Travis Danielsen, in his testimony, told the court that he worked at the Dallas County medical examiner's office at the time of Harris death.
He said he conducted a post-mortem on the body of Mrs Harris.
The doctor is quoted by the Dallas Morning News telling the court that Harris had petechial haemorrhaging on her eyes, neck and shoulder. He also said he found petechiae while evaluating her neck muscles and heart.
According to the US National Library of Medicine, petechial is a tiny round, brown-purple spots due to bleeding under the skin. It may be in a small area due to minor trauma or widespread due to blood-clotting disorder.
Dr Danielsen, however, said petechial alone is not an automatic sign of homicide.
"It is certainly something we often see in asphyxial deaths. However, as I said, they are nonspecific findings. There is literature that a strong sneeze can cause petechial haemorrhaging," said Dr Danielsen, as quoted by the publication.
According to Dr Danielsen, unlike strangulation, which can sometimes leave bruising on the neck, smothering only leaves petechiae. But petechiae could also be found in natural deaths.
The doctor told the court he found bruising on Harris' wrists. In the end, he testified that the cause of death was smothering.
Harris son-in-law, Richard Philip, identified a jewellery box recovered from the bin as belonging to his mother-in-law. He also identified a necklace with Lu Thi Harris' nickname Kim.
Dallas Morning News said families whose loved ones were allegedly killed by Chemirmir gathered to watch the proceedings a few floors above the courtroom on a live video feed.
Chemirmir is said to have left the country for the US in 2003.
The son of a former paramount chief left the country at the invitation of his sister, who operated an elderly home in Dallas, where he worked before.
He allegedly differed with his sister and started doing home service between 2014 and 2016.
At glance:
- Chemirmir has convictions for driving under the influence in Addison and Dallas in 2010 and 2011, receiving fines and short custodial sentences.
- In July 2012, Chemirmir was arrested for assault on his then-girlfriend
- In June 2016, he was arrested for trespassing at Edgemere Retirement Community
- Chemirmir was arrested in March 2018 for allegedly smothering an 81-year-old woman