Is the County First Lady office a mere fancy title or legal entity?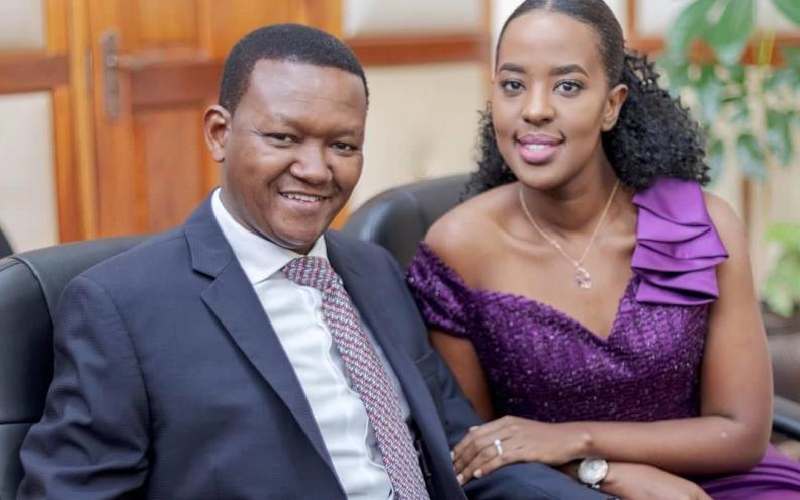 The confession by Lilian Ng'ang'a that she was not legally married to Machakos Governor Alfred Mutua despite her serving as the county's 'First Lady' has elicited debate on the legality of the offices across the 47 counties.
In August, the two announced their separation, and that Ng'ang'a would no longer serve as Machakos First Lady.
"We were not legally married, but long-term partners, despite me being the Machakos First Lady," Ng'ang'a said.
Her revelation, however, brought to the fore a long-ignored but overdue conversation on whether the office of the county first lady is anchored in law.
Also in question is where the office bearers draw authority for expenditure of public funds and allowances, and whether they can be surcharged for funds misappropriated once they vacate office.
Notably, spouses of sitting governors enjoy many benefits, which include an office established under the county administration to carry out community projects.
Some programmes that have been fronted by county first ladies include an orthopedic centre in Baringo, sanitation programmes in Makueni, and a Gender-Based Violence intervention programme in Narok.
Those with physical offices are also entitled to staff members and some have established foundations, which are partly funded by the local administration.
They also receive substantial travel benefits which they use to seek funding for their foundations.
To conduct community activities without interruption, first ladies are assigned bodyguards from the Police Service. They also enjoy the use of official vehicles.
Further, they stand to gain even after their spouses leave office after a Bill was proposed to allow governors to take home hefty perks.
The Bill proposed a monthly pension of 80 per cent of Sh924,000, which amounts to Sh739,200 for governors for the rest of their lives.
Upon demise, their spouses stand to receive 50 per cent of the monthly pension.
But the office of the first lady has in the recent past come under criticism. In 2014, then-Attorney General Githu Muigai opposed governors spouses being referred to as first ladies/men.
In a letter to Transition Authority chair Kinuthia Wamwangi, he said governors' spouses should neither be allocated county offices nor be entitled to a budgetary provision for their outreach activities.
Prof Muigai argued that although it was a good idea for governors' wives to engage in social and charitable causes to better the well-being of communities in their counties, money to fund such activities should not be drawn from public coffers.
"Spouses of governors are indeed high profile individuals who can direct public awareness towards a particular cause or campaign," Prof Githu said.
Governors' spouses, he said, should harness private and civic philanthropy resources to undertake informal functions, contrary to their present public engagements.
Githu further said as much as the government appreciates the rationale for the proposed establishment of an Office of County First Lady, such offices should not be established.
According to Githu, who was the government's chief legal advisor, the County Government Act does not provide the governor with the same powers and privileges as the president.
He argued the concept of having offices for first ladies established at a sub-national level is only found in purely federal systems of government such as Nigeria and USA.
Pundits now argue that whereas the offices are not expressly provided for in law, they are conventional and cannot be deemed as illegal.
Maria Mbeneka, the chair of County First Ladies Association, said the criteria for one to become a first lady/man was to be the spouse of a sitting governor.
As such, she added, the first ladies cannot be held to account for the funds they expend as they are not elected officials.
"In the case of Lilian, she was the partner of the governor. She is not liable for any expenditure she might have incurred. That expenditure was incurred by the Executive Office of the Governor," said Mbeneka, who is First Lady of Laikipia.
She said that once the first ladies are out of office, they cannot be asked to refund monies they used.
"It's like saying that when a woman divorces the husband, then the wife must refund the money they used at the Attorney General's Office to get a marriage certificate," she said.
"There are some counties that chose to have the Office of the First Lady and others don't. Even in counties where the governor is a widow or widower, the functions of the First Lady are carried out by a county executive."
Constitutional expert Bobby Mkangi said that the offices were legal since they had been established by County Assemblies, which are constitutionally-created institutions.
"I wouldn't particularly call out these offices to be illegal as long as they have the power of law. The only way to establish whether they are legal is to check whether the expenditure of funds was done with approval of the relevant institution, which is the county assemblies."
"The only way they can be illegal is when they are expending public monies without authority from the county assemblies," he said.