Young mothers launch initiative to end stigma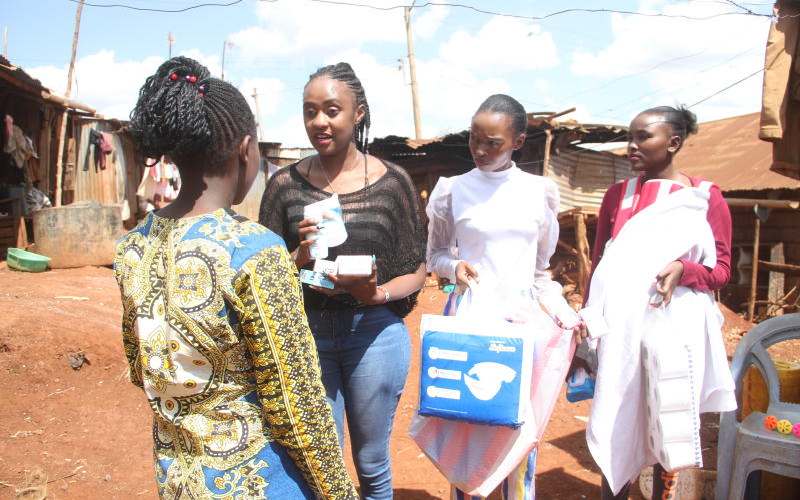 Kenyans on Twitter recently came to the aid of Shirleen Mukami, a journalism student, who narrated how an unplanned pregnancy shattered her dreams.
In her post, the 20-year-old Mukami said that after learning of her pregnancy, she started worrying about her future.
Bearing the burden of being a college student with a baby on the way, Mukami felt worthless.
"My entire pregnancy was a journey of unforgettable pain, sorrow and regret. I had thought about not keeping the baby but eventually I decided to keep it (pregnancy) and raise him. I dropped out of school," Mukami posted.
"The months that followed were pure hell. I felt alone and regretted everything. I regretted the baby I was carrying and I did not look forward to meeting my baby. I skipped all the (prenatal) clinics. I did not feel loved and my mental health got worse but I soldiered on."
Despite being thrown into the deep end at such at a tender age, Mukami did not give up hope, neither did she give up her baby, who is now five months old.
We caught up with Mukami at Kamiti Corner along Ruiru-Kiambu road where she led a group of young mothers to tell their stories and encourage girls fighting the societal stigma of teenage motherhood.
After holding a campaign dubbed 'Baby Shower Sisters' on social media to support young mothers, Mukami brought together other young women to deliver donations to the newest member, another teenager.
"After sharing my story, I have been receiving calls from pregnant girls and mothers looking for assistance and psychosocial support.
"Other callers are volunteering to join the mission," she said.
Although the girls should be in college, sweating out their assignments, they walk the village paths around Kamiti Corner, their smiles belying their pain and arrested dreams.
On this day, the young women have planned a meeting.
After a round of fist-bumps and hugs, the youngsters set about their mission.
They have come here to support an 18-year-old mother whose story resonates with theirs.
Rejected and ridiculed for getting pregnant at an early age, the young mothers have collectively shrugged off their shame and are now reaching out to other victims thrust, alone and penniless, into the uncertain world of motherhood.
The girls' main mission is to give hope to the young, restless and unloved teen mother who has been plunged into the complex world of motherhood too soon.
On this day the beneficiary gets diapers, baby care products and sanitary items.
"We are not glamourising teenage motherhood.
"My hope is that people will put teen mothers into consideration, support and encourage them to complete school," Mukami said.
The girls share their stories of rejection, desperation, and eventually dropping out of school.
However, they have learnt to cope with the rejection and are now giving hope and showing love to other girls who feel abandoned at a time they need support.
So far, the team of six young mothers, through the support of well-wishers, has reached out to seven girls and given them donations while encouraging them.
They are now a source of hope to girls whose pregnancy journeys have exposed them to humiliation and rejection by society.