Limuru's fatal attraction and its gift to vice presidents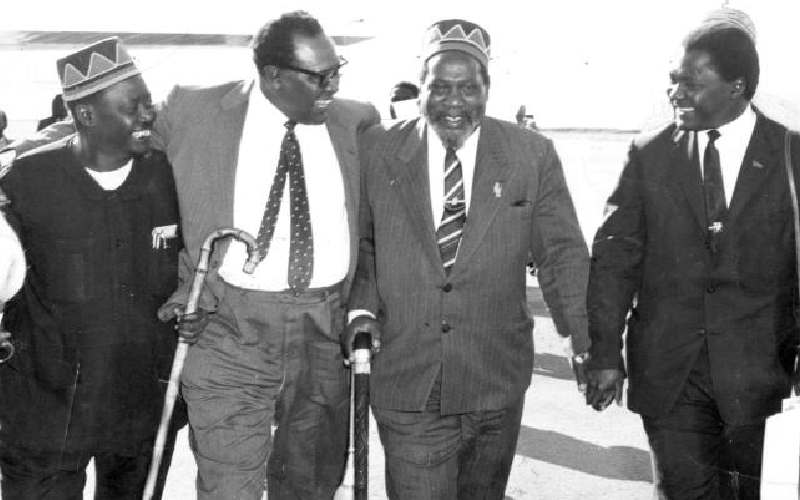 How can it be that a place so beautiful and cold can harbour so many bitter memories, hopes, and aspirations for a community, a class, and a country?
Something special has been happening around March in Limuru, which has grabbed a special place in Kenya's history. It gained international notoriety on March 26, 1953, when more than 100 people died during the Lari massacre. The killings had been brought about by Limuru's fatal attraction to the colonial settlers, who had seen the government evict an entire location from Tigoni to be squatters in Rift Valley in the 1920s to create a white-only settlement.
After independence, Limuru has turned out to be a theater of political dreams but a graveyard for Kenya's vice presidents.
Coincidentally, the most epic political battle was staged in Limuru in March, exactly 13 years after the Lari massacre, when Kanu convened a delegates' conference, ostensibly to hold party elections.
The meeting, held on March 13, saw Jomo Kenyatta effectively neuter his Vice President, Jaramogi Oginga Odinga, who lost his party clout when eight vice-chairpersons were picked. Jaramogi's power was devolved to Daniel Moi (Rift Valley), Ronald Ngala (Coast), Mohamed Jubat (North Eastern), Jeremiah Nyagah (Eastern), Mwai Kibaki (Nairobi), James Gichuru (Central), Eric Kashakala (Western), and Lawrence Sagini for Nyanza.
Humiliated and outwitted, Jaramogi was forced to resign as the vice president. Strangely, Kenyatta did not pick any of the eight Kanu vice chairpersons but appointed Joseph Murumbi.
Twenty-three years later, again in March, Kuria Kanyingi, a nondescript son of Limuru and a motor vehicle inspector, intensified his campaign against Kenya's fifth vice president Josephat Njuguna Karanja. Kanyingi accused Karanja of acting like a small god by demanding that people kneel before him, an accusation that culminated in Karanja's resignation in May 1989.
There was a repeat of the 1966 Kanu conference in Limuru, which, however happened in March 2002 at Kasarani, where the vice president George Saitoti's position as vice-chairperson was split into four.
The echoes of the 1966 Limuru conference were brought about by the reentry of Jaramogi's son Raila Odinga as Secretary-General of the New Kanu. Katana Ngala, like his father, got one of the slots, just like Jomo's son Uhuru Kenyatta, while Kalonzo Musyoka and Musalia Mudavadi took the rest. Like Jaramogi, Saitoti's name was nowhere.
During the agitation for multiparty politics in the 1990s, pro-reform agents regularly met in Limuru, where a number of constitutional conferences were held.
Retired Chief Justice Willy Mutunga, in July 2019, captured the spirit of Limuru thus: "We are in Limuru to end opportunistic political strategies with the ruling elite that have been devoid of proper class analysis. We cannot continue to be the transformative lambs reclining comfortably with the baronial lions. We cannot run with the hare and hunt with the hounds."
As President Uhuru Kenyatta plans his exit, Mt Kenya Foundation barons have been meeting in Limuru to decide whether to back Raila for the presidency.