Border disputes with neighbours have exposed Kenya to aggression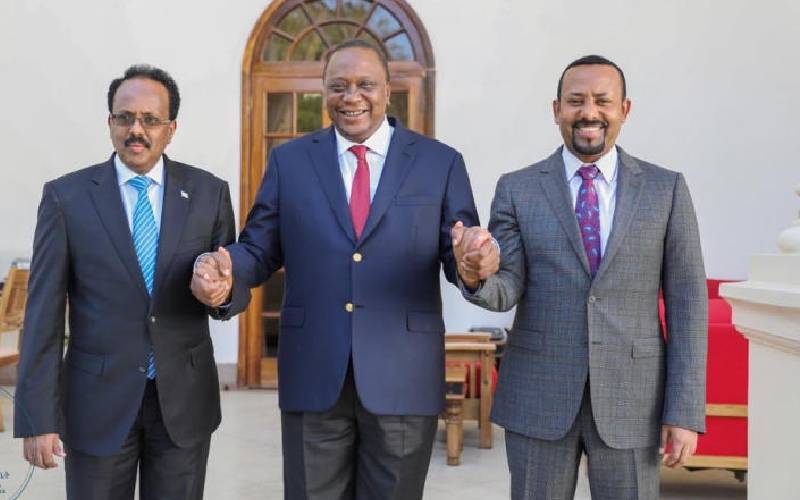 Two events in 1975 and 2007/8 made Kenya appear vulnerable and ripe for pushing around. With Kenya appearing divided over the 1975 death of JM Kariuki, Ugandan President Idi Amin Dada produced booklets in February 1976 with maps reorganising regional geography. Ugandan land, he said, stretched northward beyond Juba and Torit in South Sudan and eastwards to Naivasha, Kenya. Amin also encouraged secessionism in Kenya and promised to go to war if Kenya blocked access to the sea.
Kenyans united and showed readiness to deal with Amin. President Jomo Kenyatta dared Amin, saying: "I warn them that I am warlike.... We shall never … entertain or tolerate anybody laying claim to our country, be they friend or foe…. Any spies and agitators will be kicked out of the country.... We shall not give away an inch, not even quarter of an inch."
Then in July 1976, Kenya assisted Israel to humiliate Amin in the Entebbe Raid. Amin's territorial claims disappeared.
The second event in 2008 was irritating, taking advantage of the split as a result of the 2007 elections. Yoweri Kaguta Museveni, seemingly unhappy with people uprooting the railroad on which Uganda depends, became adventurous over 2.47-acre fish-rich Migingo Island. Eventually, Museveni admitted that Migingo belonged to Kenya, but he mischievously insisted that the water on the western part of the island was Uganda's.
Post-colonial Kenya has faced many internal and external challenges. Having to confront the various designs on Kenya by continental and extra-continental powers is a constant challenge, including those that relate to borders. Although there is a dormant challenge in the area of Elemi Triangle touching on South Sudan, Ethiopia, and Kenya, most attention is on Somalia and Uganda.
Kenya has also had minor differences with Uganda attempting to take advantage of seeming internal weaknesses.
The two humorous Ugandan border incidents show the danger in Kenya appearing to be internally weak; it makes the country vulnerable to aggression. While Ugandan claims were "jokes", Somali border aggression is different. Somalia is aggressor and an instrument of extra-continental aggression. Somalia aggression is rooted in perceptions of Kenya being weak and vulnerable.
In the early 1960s, Somalia rejected OAU policy of respecting existing borders and sought to annex north-eastern Kenya. Somali leaders wanted to cement different colonial identities into one new political identity by diverting attention to neighbouring countries. At the time, Kenya seemed weak, struggling to find a place in the community of nations, and to avoid appearing like another Congo.
The two countries fought in the "shifta war", land irredentism failed and Somalia fragmented into different colonial identity based entities.
Kenya was again "ripe for aggression" when a semblance of weakness and vulnerability prevailed. With Britain leading Western powers in unsuccessfully warning Kenyans not to elect Uhuru 2013. Since voters were defiant, using fragmented Somalia as proxy, Britain, in March 2013, started a campaign at the United Nations to remove arms sanctions on Somalia. There followed the formation of SOMA Oil Company to operate in fragmented Somalia and among its founder directors was former chairman of the British Conservative Party, Lord Michael Howard, people with South African mercenary links, and Norwegian citizens.
Kenya did not notice the coincidence of SOMA obtaining oil exploratory permits, from a bankrupt Somalia in August 2013, near its maritime border until Somalia theoretically decided to claim Kenyan waters in August 2014. In the name of capacity building, SOMA paid Somali officials mainly through the Ministry of Petroleum and Mineral Resources and even topped up salaries for various Somali government officials. The British government also reportedly paid the salary of Richard Bailey, the PR advisor to the Somali Federal Government.
Somalia's August 2014 decision to take Kenya to the International Court of Justice (ICJ) was well calculated to give a semblance of legality to the Somali sea grab. Kenya then, in September 2014, created Kenya International Boundaries Office (Kibo) to worry about Kenya's borders, anticipate potential trouble spots, and advise policymakers. It has not done well and officials are probably stuck in routine theoretical legalese and standard operating procedures instead of paying attention to the dynamics of international politics as they affect national interests. They failed to respond to those dynamics and engage in innovative trouble-shooting. This was especially the case with Euro-aggression on Kenya's maritime interests through Somalia as a proxy.
Kenya did not take the matter as seriously as it should, and took more than a year, up to October 2015, to raise serious questions about the whole ICJ process. It ignored the fact that Somalia's decision was backed by the United Kingdom and Norway, two countries that want to grab sea wealth in Eastern Africa and consider Kenya an obstacle. With a Somali judge presiding in the ICJ, the dice was loaded against Kenya which partly explains Somali rejection of bilateral discussion.
Kenya had two glaring weaknesses with regard to defending its maritime interests. First, the very impression of maritime un-readiness was problematic. Second, Kenya wasted time and resources responding to baseless claims at the ICJ.