From bar soaps to bursaries, politicians threaten, bribe to lure voters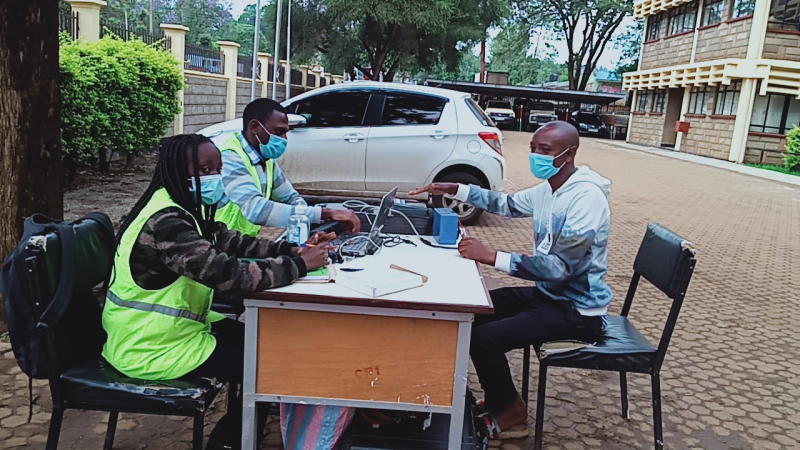 Leaders in several parts of the country are using different tactics to woo the youth to register as voters before the November 4 deadline set by the electoral body.
Armed with baits of bar soaps and bursaries, the leaders have been traversing areas they are interested in vying for electoral seats in a bid to get numbers in the 2022 polls.
In Kisumu County, Governor Peter Nyongo has called on the business community to allow employees to go and register as voters during working hours.
Prof Nyong'o said most eligible employees were not willing to go and register as voters during their off days and would rather spend the days indoors or in entertainment joints and that the only way they can be encouraged was through their employers' intervention.
"The only way that members of the business community can contribute to this mass voters' registration exercise is by ensuring that all their employees register as voters by giving them permission during working hours and also confirming that they have done that," said Nyong'o.
And residents of Ikolomani and Lurambi could be forced to produce a voter's card in exchange for services.
"Those who will not register and produce their voter's card, including college students, will not be given bursary funds," warned Ikolomani MP Bernard Shinali.
The lawmaker said he was disappointed by the low turnout in the ongoing nationwide mass voter registration drive.
He insisted that individuals who fail to register will be punished by being denied services at the CDF office.
Lurambi MP Titus Khamala also warned his constituents to brace for hard times ahead in case they fail to register in large numbers.
"We shall withdraw bursaries for college students who refuse to register as voters," said the MP.
"Numbers determine whether a region will get a new constituency or extra allocation of CDF funds. Those who refuse to register are a liability. As ANC, we shall go out there and meet the youth," he added.
Siaya Governor Cornel Rasanga said the county government would ensure those who turn up to register as voters get a bar soap each in efforts to marshal high numbers in readiness for the next General Election.
Mr Rasanga said the region is known for having politically active residents but it was sad that very few of them turn up to vote.
The governor encouraged local leaders to also look for alternative ways of ensuring that as many people as possible are registered as voters before the end of the mass registration exercise.
In Kisii County, Dagoretti North MP has promised those who register as voters in polling centres near party offices he opened in all the nine constituencies will get a bottle of soda each after the exercise.
Mr Arati said the Gusii community had the potential of having more than one million voters if the turnout for registration is good.
Speaking during a voters' registration sensitisation tour of the entire county recently, Arati lamented that most youth were only good at cheering their respective candidates for various seats but failed to turn up on the voting day to exercise their democratic right since they are not registered.
"While it is the responsibility of every Kenyan who is over 18 years old to register as a voter, our people are reluctant for no apparent reason. That is why we have to look for ways of enticing them to perform their civic duty since most would wish to vote but are not registered," said Arati.