Chakwera: The Buruburu lecturer who became Malawi president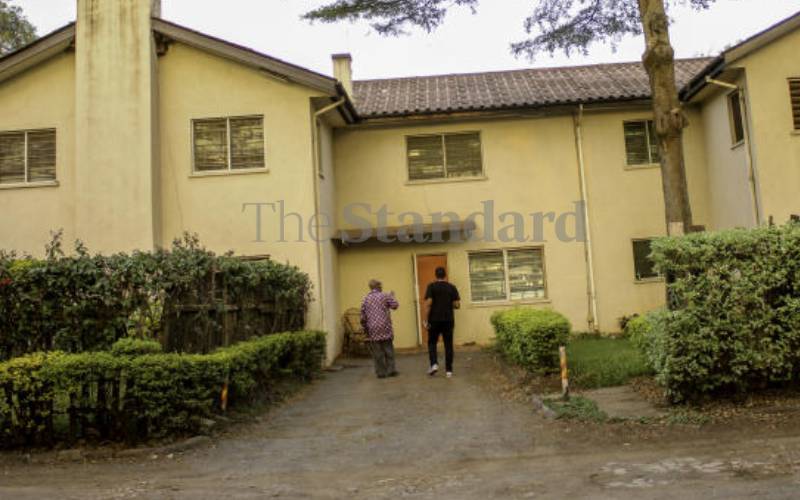 For President Lazarus Chakwera, his has always been an intricate balance between the church and politics.
Before he took on the zealous task of leading 19.7 million Malawians, he was a dedicated man of the cloth; a General Superintendent at the Assemblies of God International Church that enjoys membership from 190 countries, including Kenya.
His visit to Kenya last week revealed this and further, unmasked a man, whose style of leadership is permeated by doctrines of the Bible. He also boasts of deep-seated history with the country.
The signing of eight new agreements to strengthen socio-economic and diplomatic ties between Kenya and Malawi during his visit last week, also came as no surprise since Chakwera was only seeking to fortify the bonds between his nation and a place he once called home-Kenya.
Before he left a relatively quiet life to join politics, Chakwera was a part-time lecturer at the Kenya Assemblies of God (KAG) EAST University Buruburu campus for a period close to 20 years.
Having started teaching at the university as early as before the 2000s, he taught at the Masters level right until he went for his first stab at the presidency in 2014.
His students describe him as a virtuous, intelligent and humble man in the mould of Martin Luther King- one of his greatest influences.
He was a visionary buoyed by his humble beginnings and by the quest for a better life for himself and those around him.
Reverend Patrick Lumumba, the current Dean of Students at KAG and a former student of Chakwera, confirms that even while serving as a priest and lecturer he (Chakwera) would look at politics and church and see them as two sides of the same coin.
For him, there was no distinct dichotomy between the spiritual and the natural.
"Chakwera last taught me in 2014. He believed that everything comes from God; the government and church are from God, so they constantly borrow from each other and a leader should be able to steer both," says Lumumba.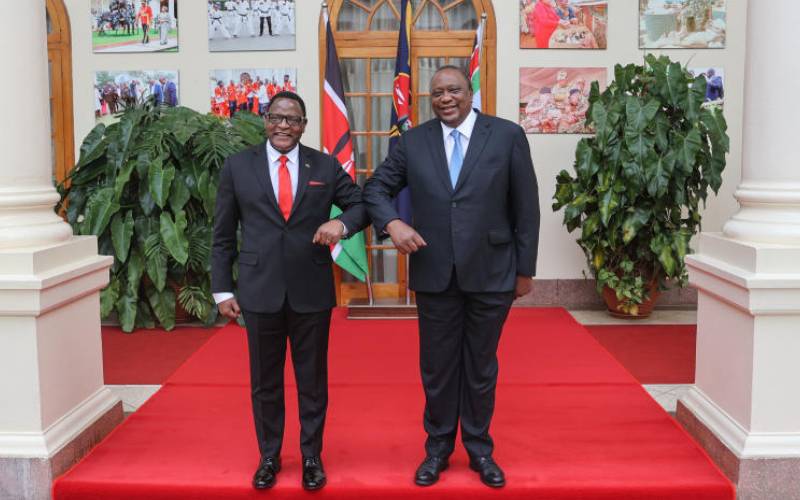 Chakwera, he says, was a lecturer teaching at the doctorate level and whenever there was a Masters' class cohort in Nairobi, he would come and teach.
He would come to the country, teach for three weeks, then head back to Lilongwe in Malawi, where he also taught. He would then return after six months to lecture another cohort.
But it was his devotion to addressing issues facing the African nation in his lectures and vehement reliance on the scripture in his daily life, that set him apart.
"So when he announced that he would be running for Presidency in 2012, it did not come as a surprise. His leadership qualities had already pre-disposed him to national leadership," adds Lumumba.
Joining politics, however, first needed Chakwera "to argue with God" as it did not seem natural.
During his stay at KAG, his love for Kenyan cuisine was apparent and his love for the Ugali, nyama and mboga combo was unrivalled.
During mealtime, he preferred eating at the university's dining hall, where he and his students, would occasionally burst into rapturous laughter and heated debate. Musically, he was drawn towards choir performances and praise and worship sessions with a lot of dancing that he often tossed himself in.
He would then crisscross the confines of the campus and proceed to the M.E hostels where he lived.
There, he shared space; a two-bedroom house with a kitchen, toilet and a shared sitting room.
Not the lofty type
"Despite his position in the church, he was not the lofty type and was not aloof with reality. He was a humble man, who was always inquisitive into the quality of life of his students and was always curious on what he could do to make it better," adds the Dean.
On the campus grounds in Buruburu, the house once occupied by President Chakwera still stands firm.
Save for a few touch-ups that include a fresh coat of paint, it has managed to maintain its vintage, yet captivating allure.
Its' current occupant is Reverend Gloria Muloma, who is part of the university staff. And whereas she understands the history of the house, she has managed to transform the house into a home.
Family portraits of herself, her husband and their two daughters have plastered on the walls, a dining area set-up and an urban couch complete with a carpet underneath it fitted to finish the look.
"Given the history of the house, I know I have big shoes to fill," jokes Muloma.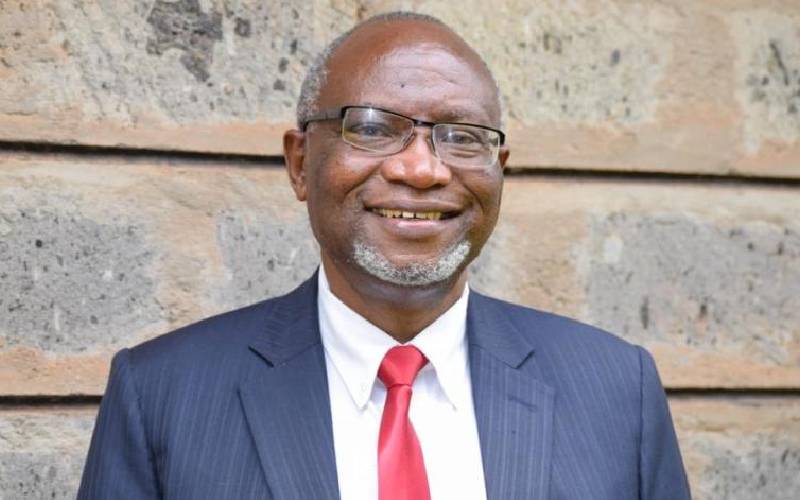 KAG school Chaplin Reverend, Harris Gichuhi remembers Chakwera as a family man and an articulate lecturer, who always shared a devotional before class.
His most memorable moment of Chakwera was during a lecture in Malawi in 2012 when the now-President confirmed that he would be stepping down from his role in the church to delve into politics.
"You must have seen in the newspapers that I am vying for the Presidency of Malawi. I am here to confirm to you that it is true and not a rumour. It is something I have heard from God," said a steadfast Chakwera.
The pin-drop silence that followed betrayed the shock and utter disbelief of his students.
"We were all shocked because he was a leading light in the Assemblies of God worldwide and to hear that he wanted to join politics, took all of us ministers aback. It was something unheard of," said Gichuhi.
He recalls that as chairman of Africa Assemblies of God, Chakwera came to Kenya in 2013 to attend the investiture of the late KAG general superintendent, Dr Peter Njiiri.
He was also the commencement speaker during KAG EAST University graduation.
Speaking on Chakwera's capabilities, he said; "If Chakwera can reproduce the kind of leadership he has offered to Malawi to any other country in Africa including Kenya, I would say he is a great investment in terms of experience. He is one among many others."
Those that interacted with him describe a man, who loved talking about his humble beginnings.
The tenacity that he devoured life with was premised on the fact that he grew up in a poor family of several children, where some of them died, while he was young, but survived. Miraculously.
At some point, he was picked up by missionaries and given an opportunity to further his education.
Pastor Phelista Muthoni Kamau recalls Chakwera having a deep passion for Africa.
He would always engage his students on matters such as nepotism, mediocrity in African leadership, lawlessness, corruption, poverty, division, oppression.
Stealing resources is something he could never understand.
"When you listened to him, you always thought of Martin Luther King because when he articulated his passion for Africa, it came out with the same passion that King had," she said.
She alluded to the time that Chakwera decided to contend for Presidency, noting that it had been informed by years of identifying numerous leadership challenges in Africa, years of prayer, engaging the President of Malawi as an advisor.
She adds that it was in those moments that Chakwera felt that God was calling him to pastor the nation.
Muthoni, who is now a pastor at Parklands Baptist Church and also a former student of Chakwera, notes that although she is no longer in direct contact with the Malawian head of State, she and her former classmates still feel that connection.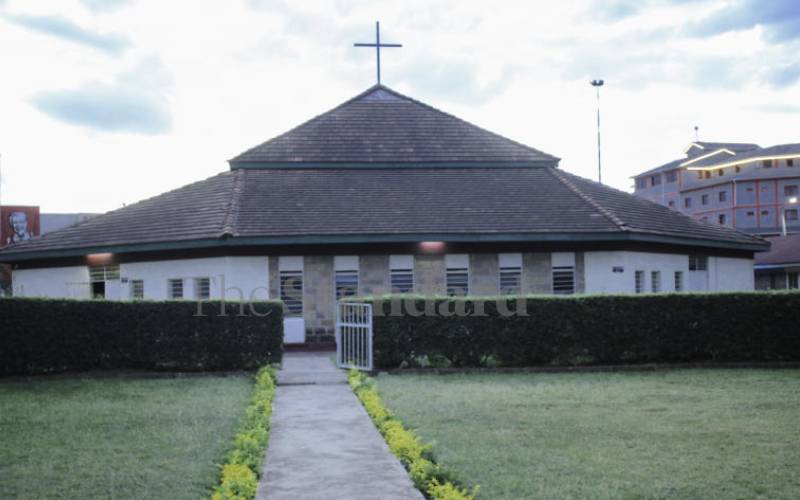 Chakwera is their pastor, she says, and they pray for him.
"There is a promise that Chakwera made in our class that if he made it to Presidency, he would invite us to State House. We are hoping that in our lifetime- if given the opportunity- we will go down to Malawi and celebrate what he has become," she says.
"If I were to meet him today, I would commend him for a job well done and for making a difference in Malawi. What he is asking Malawians to do is something needed for the growth of the nation, which is coming from a difficult place."
Cocktail of wins and losses
But President Chakwera's rise to the top has been a cocktail of wins and losses. After losing his first attempt at Presidency in 2014, his defining moment came in 2019 when the Constitutional Court nullified the elections in which Peter Mutharika had been declared the winner.
The Constitutional Court nullified the presidential polls in Malawi after citing heavily the Kenyan Supreme Court decision, which had nullified President Uhuru Kenyatta's initial victory in August 2017.
And when a repeat election was held last year, Chakwera defeated Peter Mutharika by scoring 58.5 per cent of the vote.
Under Malawi's law, a simple majority had been sufficient to win, but the Constitutional Court had imposed a 50 per cent plus one rule, as the minimum for one to be declared the winner.
Chakwera then became the first opposition politician to win an election re-run.
Fast forward to 2021, and for the first time since being elected into office, Chakwera visited Kenya as the Chief Guest at the Mashujaa Day celebrations.
In his speech at Wang'uru Stadium in Kirinyaga County, he drew similarities from the two countries, which he at one time, called both homes. He highlighted the history and the ways they had a lot of common milestones in their journey to independence.
From the struggle for independence, the swearing-in of the first African liberators and the cordial relationship between the founding father, Hastings Banda of Malawi became the first Malawian Prime Minister and Kenya's President Jomo Kenyatta also took up office six months apart.
"It is no accident that the cities in Malawi have at least one road named after the first Kenyan President Mzee Kenyatta and the heroes that are celebrated in Kenya are also recognised in Malawi," he said.
Chakawera said the celebrations would renew their brotherhood, love and friendship between the two countries.
"By celebrating this day together, we reignite the solidarity created by our founding fathers," he noted.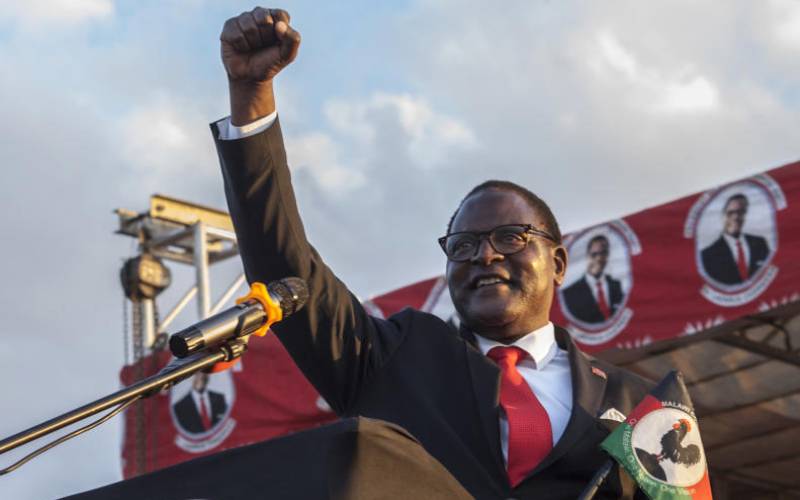 Chakwera spoke of a future of shared prosperity, opportunities and victories.
"Shared heroes, past, present and future, it is we Kenyans and Malawians, who must pursue that future of peace and transformation and genuine love," he opined.
And with the signing of the eight new agreements with President Uhuru Kenyatta, he further deepened his links with his second home Kenya. The agreements cover politics, diplomacy, defence, fisheries and aquaculture as well as cooperatives development. Others are technical cooperation in health and tourism.
The 65-year-old Chakwera was born to a poor rural family in a tiny village outside of the capital, Lilongwe.
He is a philosopher, theologian and clergyman by training and studied in Malawi, South Africa and the United States.
Chakwera has been a presence in Malawian politics since 2013 as a leader of the Malawi Congress Party (MCP) the party that led Malawi's fight for emancipation from British rule in the early 1960s.
On that party's platform, he ran for president in 2014 and 2019, placing second both times.