Eight children of former MP William Cherop Murgor join property case after nine-year wait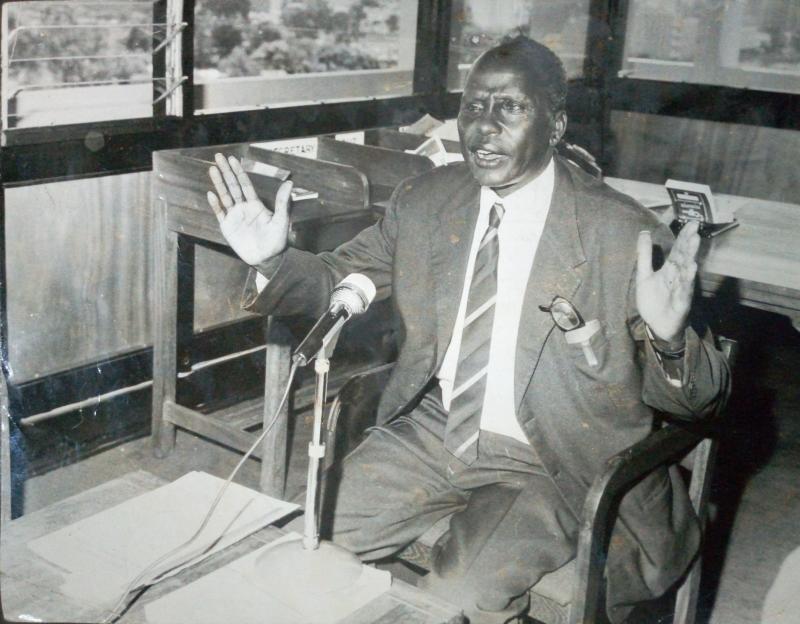 The succession case of former MP William Cherop Murgor's estate has now taken a fresh twist after eight beneficiaries filed an application to be enjoined in the court proceedings as interested parties.
The eight, Matthews, Veronica, Collins, Florence, Robert, Jennifer, Mark and Margaret, who are children of the former legislator, filed an application stating that they wanted to be heard by the court.
They stated in their application that various issues had arisen from proceedings of the succession matter, which has been in court for over nine years, and that they wanted an opportunity to file affidavits with crucial information that would help the court in making a just and fair judgment.
The applicants claimed that their sister, Enid, who initiated the court case, had accused them of colluding with their elder brother, James, to fraudulently transfer their father's property.
Criminal in nature
"The accusations are so dire, have far-reaching consequences and are borderline criminal in nature such that there is need for the applicants to oppose, disabuse and challenge such accusations thereby assisting the court in making a just and fair determination in this matter," the application reads.
Matthews also filed an affidavit in which he supported the administrators of the estate, and terming as false the allegations of fraud against his siblings.
"The applicant's false allegations of fraudulently transferring my father's property to his sons and forgery levelled against James, Francis and Florence are criminal in nature and unfounded as the same should have been reported to police and land fraud unit for investigations and signature examination by a government document examiner," said Matthews.
He dismissed allegations that his father suffered from Alzheimer's disease, arguing that at no time did his father have any any mental impairment that rendered him incapable of making decisions, dealing with and transacting with regard to his property and his children.
But Enid, who is being represented by Senior Counsel Philip Murgor, opposed the application, arguing that the eight siblings had been aware of the court proceedings since 2012 when the case was filed and attended court on most occasions.
She argued that the applicants were also present when various witnesses, including the estate administrators, testified in court.
Further, she stated that the eight also attended an attempted court annexed mediation in August and September 2019, before the mediation efforts collapsed.
"Interested parties were given a chance to be heard, and have attended court on most if not all occasions both physically and virtually, and participated in the extent they have deemed necessary. They cannot now purport to seek leave to be joined as interested parties, with the only motive being to further delay these proceedings simply because they have in questionable circumstances, directly or indirectly, benefited from the estate of the deceased," said Enid.
Stall proceedings
When hearing of the application came up before Justice Erick Ogola on Monday, Mr Murgor told the court that the new application was not filed in good faith and that it was an attempt to stall the proceeding because it was filed at the last hearing of the case.
He said that the application would rather be placed before trial judge Hellen Omondi, who was elevated to the Court of Appeal, because she was seized of the matter since its inception. He said that having the case before another judge would only result in more issues arising.
But lawyers Munene Micheni and Kiprop Murgor, who are representing the eight beneficiaries, told the court that they were ready to proceed to the hearing of the application.
Justice Ogola noted that the application was coming at the tail-end of the case. He directed that the matter be tabled before Justice Omondi.
"This is a matter that has not been concluded by another judge. The application should not be heard in isolation to the matter. It should then be redirected to Justice Omondi so that she can make wholesome directions on this matter," the judge ruled.
Sidelined siblings
Some of the children led by Enid, who resides in the US, moved to court in 2012 and sued two of their siblings, Francis and Chemutai, who are administrators of their father's estate, and James for allegedly sidelining other siblings.
Enid, in her plaint, argued that James, the Keiyo North MP who is also the firstborn son, apportioned himself the biggest share of their father's property at the expense of other siblings.
According to documents in court, William, a renowned politician and long-serving lawmaker during the Kanu regime, died in 2006 aged 87.
He had five wives: Soti with whom he had five children, Rosa Kimoi who had eight children, Rosalina Teriki who had eight children, Anna Kimoi who had four children, and Philomena who had two children.
William's estate comprised of prime plots in Iten and Eldoret towns, and parcels of land in Elgeyo Marakwet and Uasin Gishu counties. These properties are at the centre of the court battle.
Enid claims that William's widows, daughters and two sons were left out in the sharing of the estate.
The case will be mentioned on November 1, before Justice Omondi.