Tembo Naming Festival held, rising elephant numbers lauded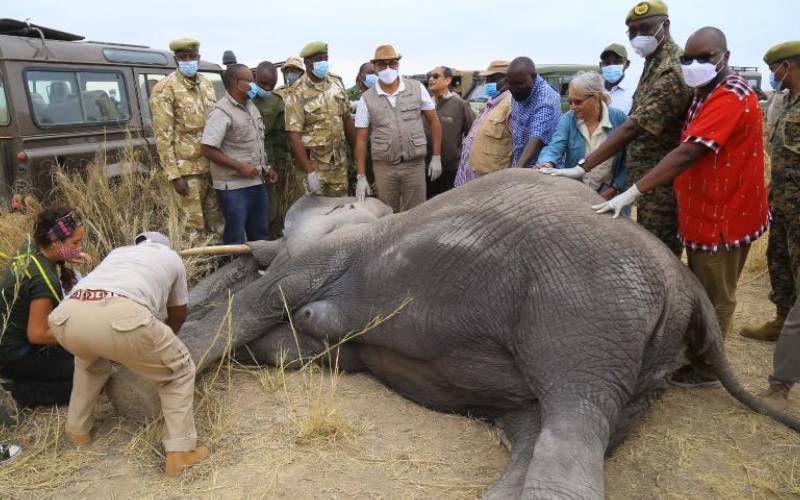 The first Tembo Naming Festival was held yesterday at the Amboseli National Park, where more than 20 elephants were given names.
The sponsors, also adopters of the elephants, received a certificate and an image of their adopted elephant. The festival, to be held annually, seeks to promote the conservation of elephants.
The event attracted 24 sponsors, who gave between Sh50,000 and Sh2.5 million to have an elephant named after them.
The largest amount came from the East African Safari Rally Ltd, which gave Sh2.5 million and got to name five elephants.
The sponsors were mostly corporate firms, with only three individual sponsors, each of whom gave Sh50,000.
The naming ceremony had several categories, namely; calves born in the last two years, legendary tuskers (big tuskers) and the twin category.
One-year-eight-month-old twin elephants were named Scott and Scotty, sponsored by Elephant Cooperation, a non-profit devoted to raising awareness of the African elephant crisis. Twin elephants are an incredibly rare occurrence, with the last recorded twin elephant birth in Kenya being in 1980.
Amboseli's big tusker, known as Craig, was named Tusker, with the East African Breweries Limited (EABL) as the sponsor. EABL named two elephants, Tusker and Serian. They gave Sh1 million.
Other sponsors included the African Wildlife Foundation, Animal Adoption Advocacy, Chandaria Foundation, KCB, Bonfire Adventures, Mabati Rolling Mills, Mediheal Hospital and the Kenya Convention Bureau.
Tourism and Wildlife Cabinet Secretary Najib Balala said they hoped the festival would grow even bigger in coming editions.
"Today is the first time we are starting this campaign...to first recognise these iconic endangered animals, the elephants," he said, adding that the vision was to have this as an international annual event.
Kenya Tourism Board CEO Betty Radier said this was an important milestone.
"As we move it forward, conservation and tourism are two aspects of the hospitality industry that cannot be separated. Today we are honoured that we will begin this journey together," she said.
Kajiado Governor Joseph ole Lenku pledged the county and community's support towards conservation efforts.