Where bandits' bullets have left children with scars, crutches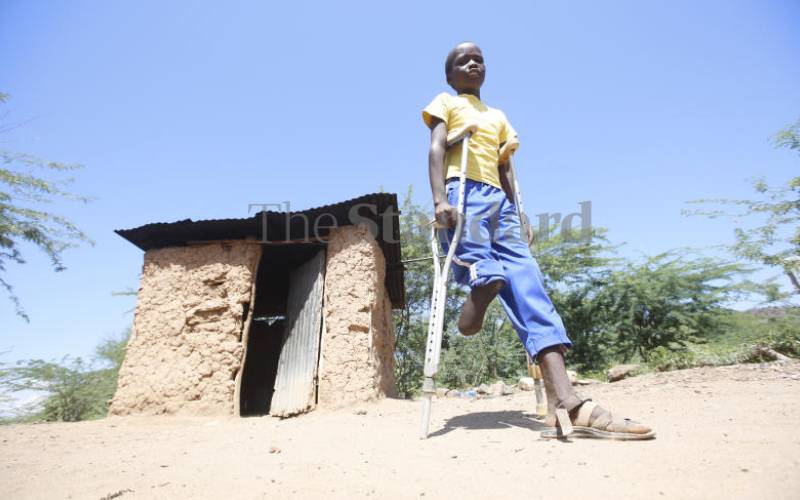 Sound of gunfire scares 11-year-old Limo Poriot and brings back painful memories of an incident that left him walking in crutches a year ago.
"I wish I could join my friends and run around with them as we play," Poriot says.
Poriot was one of the children caught up in deadly conflicts one afternoon in Riong'o village, Baringo County, in May 2020.
The incident happened while he was looking after goats alongside his friends in the rocky village.
Armoured vehicles and a contingent of security officers were patrolling the village to flush out bandits.
Out of fear, Poriot and his friends ran to get away from the officers when he was shot twice in both legs.
"One of the officers came and knelt before me and said they were sorry. He then joined the rest and walked away," he narrates.
In the months that followed, Poriot fought for his life at Rift Valley Provincial General Hospital in Nakuru, where doctors suggested that one of the badly injured legs be amputated.
His parents say the incident might never be erased from their minds as long as sound of gunfire still exists.
"The boy was innocent. All we need is justice. His life will never be the same," said Christina Lomada, Poriot's aunt.
She says they are now helpless and can barely afford the daily costs of dressing the wound.
About 70km away in Sirata Village, Jackline Lekidogo is struggling to erase memories of when her two-year-old son was shot when bandits attacked them last year.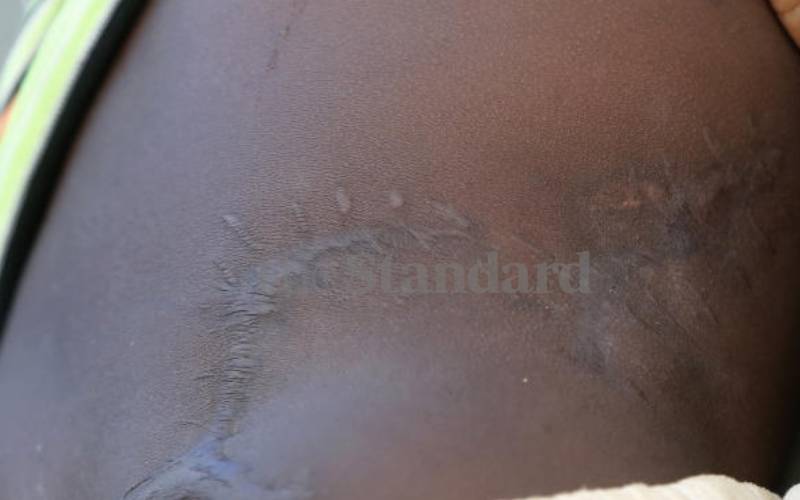 On the fateful day, Jackline was at her home doing house chores when children suddenly appeared to warn of approaching bandits.
She told the children to hide in the nearby bushes as she dashed into the house with her youngest son to hide.
"Immediately we entered the house, a man armed with an AK-47 rifle followed us and fired. Luckily, it missed my temple slightly, leaving a scratch. He shot me again at the chin, and that is when I told him I would not die even if they shot me," Jackline narrates.
The gunman then shot her again in the chest. This time the bullet hit her left breast, and she stumbled over with her son clinging to her back.
She only woke up hours later when police officers arrived to rescue them.
"The criminals had already fled with our livestock. My son had been shot in the abdomen," Jackline says.
The two were rushed to Kabarnet County Hospital. The doctors recommended that the boy goes for further treatment at Moi Teaching and Referral Hospital in Eldoret and were discharged three weeks later.
"I was so happy to reunite with my family. I thought they had all been killed. After the incident, my son sometimes gets nightmares, and any time he sees a strange man, he hides his face," says Jackline, who relocated to Makutani in Sirata.
Jackline's story is tragically familiar to that of residents of Mukutani village, where banditry attacks are a daily occurrence.
Repeated attacks have led to death of several children, while survivors have lost their families and homes.
Severe injuries
In March 2017, 11 people, including four children and five women, were killed after men armed with guns, machetes and spears attacked the villagers. Nine people, including two minors, were left with severe injuries.
Among the injured were 12-year-old Belinda Najepai and Senteiyo Kateiya, who was then aged seven.
According to Najepai, it was a tense moment when bandits sprayed bullets at innocent people. Cries by mothers shielding their children landed on deaf ears.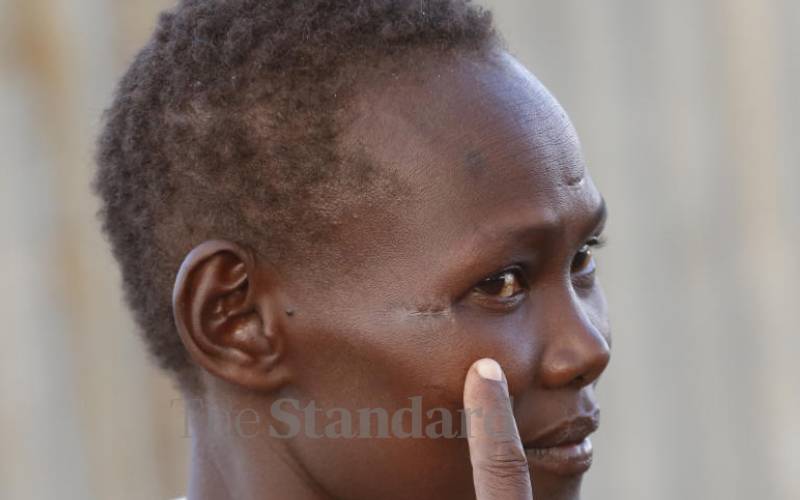 Najepai had gone to seek refuge with other children and women at a nearby church when the bandits raided.
"We were hiding at the church when they came in and started firing. A woman standing beside me was shot in the head, and she fell on top of me. The lucky ones managed to escape. One man speared me on the side of my stomach," recalls Najepai, a Grade Five pupil at Etii Primary School in Baringo South.
Kateiya was shot in the head while she watched helplessly as her mother, brother, grandmother and four other people succumbed to bullet injuries.
At Kiserian, about two kilometres from Sirata, Nahashon Leshan, 19, lost his leg after an encounter with bandits nine years ago.
In April 2012, at around 3pm, while looking after his father's livestock with a friend a few yards from their home, armed bandits attacked them.
They shot him in the right leg. He was only 10 years old at the time.
"I did not see them. I only heard a gunshot, and all of a sudden my leg was bleeding," Leshan recalls.
While Leshan was rescued by neighbours and taken to the nearby dispensary, he blames the poor healthcare system and road network in the area for the amputation of his leg.
"Morans rescued me. I was taken to the Kiserian Dispensary, but the nurse at the facility did not have enough skills to handle such a case. I had to be taken to another facility after waiting for several hours for a vehicle from Marigat to take me to Kabarnet Hospital," he says.
Leshan was later referred to Rift Valley Provincial General Hospital in Nakuru, where he was hospitalised for nine months after his leg was amputated.
"I have an artificial leg, but it is not easy because if the bandits attack, I cannot even run," he says amidst sobs.
He regrets that in this century, cattle rustling is still being practised in the region, blaming the government for doing nothing to tame the vice.
Leshan says the withdrawal of National Police Reservists from the area has worsened the situation since there is no one to defend them from the gun-wielding bandits.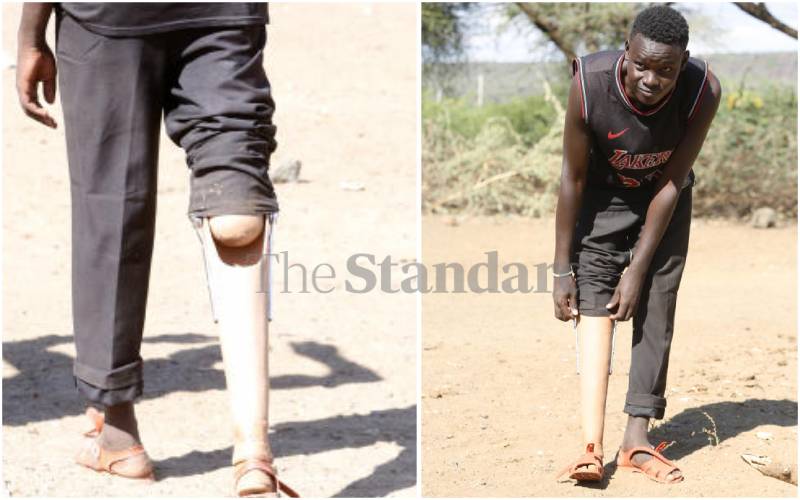 A stone's throw away from Leshan's home lives John Lesekonoi. The pain of losing his firstborn son, Lembanoi Lesekonoi, is still fresh in his mind.
"I remember it was on the afternoon of February 21, 2018, when I watched my only son succumb to the bullet injuries inflicted by the bandits from the neighbouring community. He was too young to die," says Lesekonoi, a father of four.
The 10-year-old had just closed school for half term and was heading home when he encountered the bandits.
The criminals, according to Lesekonoi, killed six people, including three children, before driving away hundreds of cattle. "The other children are still asking where their brother went to. It hurts. I do not have answers. I wish this government could do something to end this menace. We are living like prisoners in our land," he says.
The cases are just part of the growing statistics of children affected by conflicts, according to reports by the United Nations.
Across the world, the UN identified 26,425 grave violations against children, of which 23,946 were committed in 2020 and 2,479 earlier but verified only in 2020.
"Violations affected 19,379 children in 21 situations. The highest numbers of violations were the recruitment and use of 8,521 children, followed by the killing (2,674) and maiming (5,748) and 4,156 incidents of denial of humanitarian access," the report says.
Although Kenya is not mentioned as part of countries with grave violations against children, countries with many cases include Afghanistan, the Democratic Republic of the Congo, Somalia, the Syrian Arab Republic and Yemen.
While cases of banditry attacks seem to have had far-reaching impacts on children in the remote and volatile parts of Baringo South, Baringo North, Tiaty, along the Kerio Valley belt and areas bordering Laikipia, Samburu and Turkana counties, no clear records on deaths or those affected are available.
Baringo County Commissioner Henry Wafula says since 2018, he only remembers four cases of children attacked in the county by bandits.
Wafula says incidents of cattle rustling in Baringo have reduced drastically in the last few months. But he points out that there is a need for a collaborative effort by local leadership in preaching peace among the warring communities.
He says there are plans to build a school along the Komolion-Rugus border to boost peace between the Ilchamus and Pokot communities.