Woman whose baby was cradled by Uhuru during Kibra tour speaks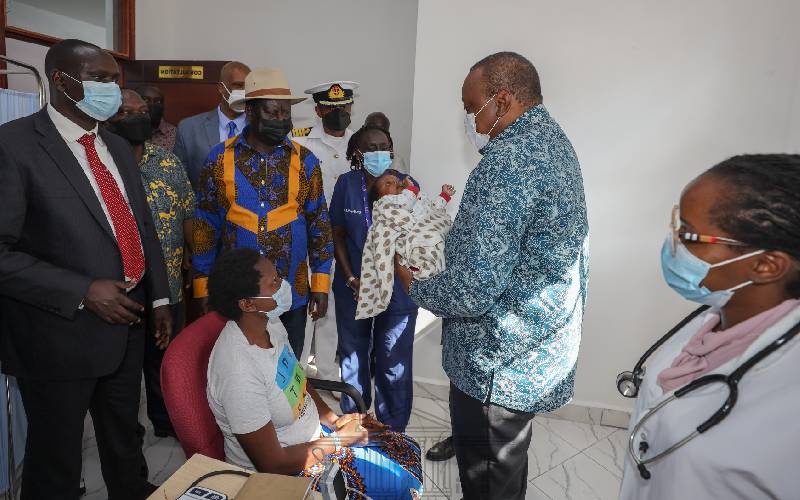 The last thing on the mind of Eunice Liavuli when she took her two-month baby to the new Kibera Level Three Hospital for immunisation on Wednesday was meeting President Uhuru Kenyatta.
Yet that is exactly what happened. And she did not just meet her; they also chatted. Uhuru had the time to even cuddle Liavuli's baby.
"I had just entered the consultation room with my baby, Shaisly Imbuhira, and she was being attended to when President Kenyatta walked in. I didn't know what to do. I thought of standing up as a show of respect. I also felt like I should walk out because I was not part of the President's entourage. I didn't know what to do," says Liavuli.
And while she was still grappling with the confusion, ODM leader Raila Odinga walked in, followed by Nairobi Metropolitan Service (NMS) Director-General Mohammed Badi among other guests.
Liavuli says it was like a dream for her, interacting with people he only sees on TV.
"President Kenyatta stood in front of me and smiled. He gave me a fist bump and put his hand on my head. I could not believe I was interacting with the President. I was shocked and excited at the same time," says the 29-year-old mother of two.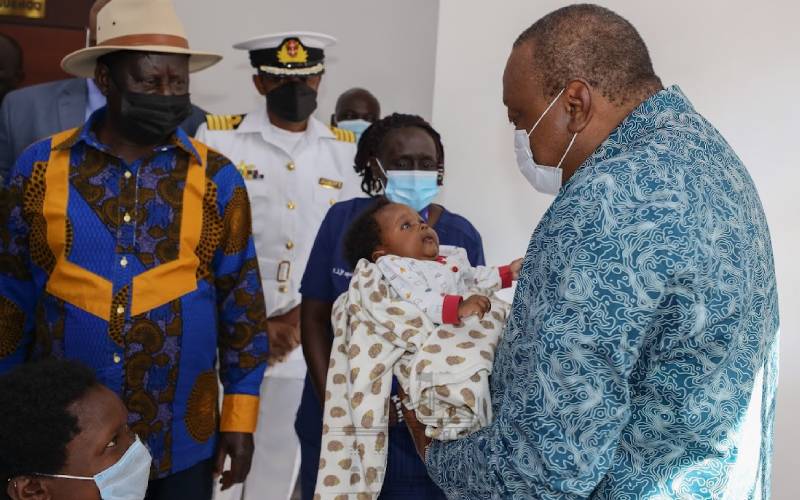 The moment became even more fascinating when Uhuru asked Liavuli to hand him the baby.
"He asked me to allow him to hold the baby. He also asked for the baby's name and age. For my baby to be in the President's arms was too exciting. It was the first time I was seeing President Kenyatta face-to-face," says Liavuli.
Uhuru and Raila were on a tour of the newly-built hospital which is just a few meters away from Liavuli's house.
They toured the health facility's maternity wards where they interacted with the patients and staff.
Other than meeting the President, Liavuli is also happy that health services have been brought closer to residents following the launch of the new hospital.
"I will no longer need to make the long trips from Kibera to Kenyatta National Hospital and Mbagathi Hospital. This is a big relief for residents here," she says.
She adds: "I was tempted to whisper something to the President but I was scared. I wanted to thank him for the new hospital. But there were so many people surrounding which got me scared. If I had the chance, I would also have asked him to help get a job or start a business so I can raise my two children with a bit of ease," says Liavuli.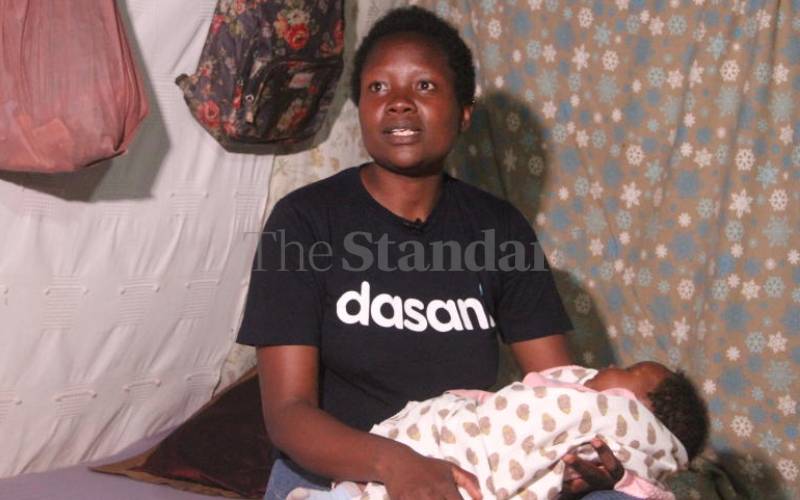 She became the talk of town after her encounter with Uhuru. Liavuli's photo with the President holding her baby had gone viral on social media.
"Watu wengi walikuwa wananipigia simu wakisema wameona mtoto wangu kwa news akiwa ameshikwa na Uhuru. (Many people were calling me saying they had seen my baby in the news being held by the President.)
"On Thursday, when I went to fetch water near the hospital, a woman approached me and said she saw my photo with the President on Twitter. I had no idea we would trend that much. It was a good experience for me."
"I wish the President can support me, even if it means helping me start a business. I have always wanted to sell clothes but I have no capital."
Uhuru had gone to commission two hospitals in Kibera, Nairobi, as part of the ongoing efforts by the national government, through NMS, to increase access to health services by city residents.
The President said the new Kibera Level Three Hospital and Undugu Highrise Hospital, constructed by NMS, would help decongest Mbagathi and Kenyatta National Hospital.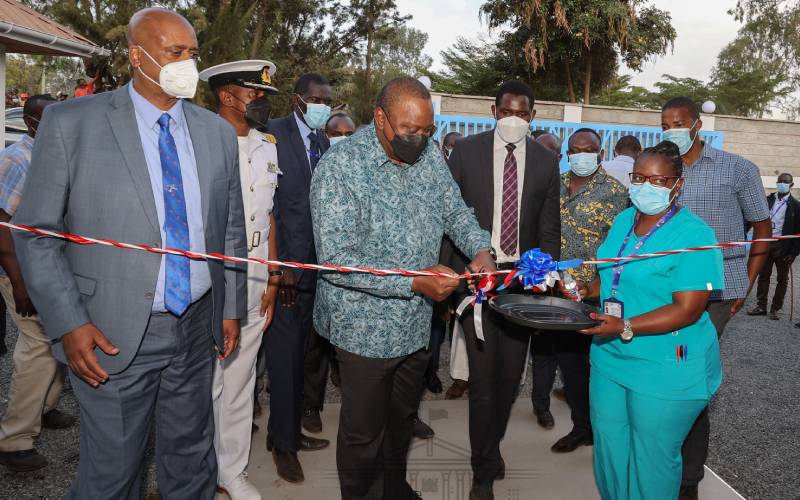 The plan to build hospitals in all informal settlements in Nairobi is also aimed at taking pressure off KNH which will now be a referral-only facility.
During the Kibera tour, the President regretted that 40 per cent of the five million people who live in Nairobi rely on KNH as their primary healthcare provider which should not be the case.
He said NMS had completed nearly half of the 28 hospitals being constructed across the city's 17 sub-counties, largely located in informal settlements and under-served neighborhoods.