How Queen's army was silenced by an invisible enemy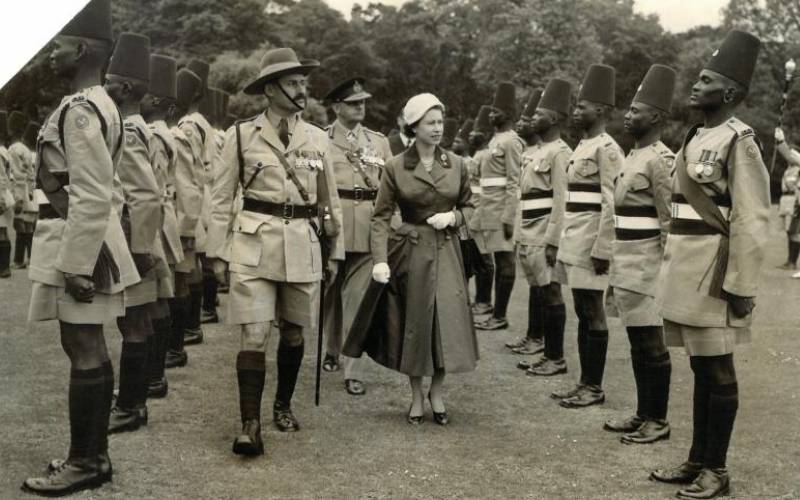 He who controls the mind can lead an elephant using a thread. This was the concept Britain employed to colonise East Africa through remote control, as it deployed just 600 white officers to command 5,000 African soldiers and indirectly govern millions of what they called natives.
Historians marvel at how Britain was able to control Africans with such few boots on such a vast region using policies crafted miles away in Buckingham Palace.
This picture of Queen Elizabeth inspecting a detachment of Kings Africa Rifles at Buckingham Palace on June 6, 1957, may offer some insights into how this feat was accomplished. On that day, Warrant officer Platoon Commander Bugozi presented her majesty with a book on the history of the regiment which had been started in 1902.
The platoon commander could not look the queen in the face as he recounted the challenges his men in KAR had gone through to fight Britain's many battles during World War II, 12 years before his historic visit.
But historian Timothy Parsons has captivating details in his article, "All Askaris are Family Men: Sex, Domesticated Discipline in Kings African Rifles, 1902-1964."
The biggest threats KAR troops faced during the world war were not the mighty tanks and the superior guns wielded by Adolf Hitler's men but microscopic bacteria, viruses and invisible parasites that attacked the soldiers below the belt.
From June 1940 to May 1941, a total of 5,461 askaris in East Africa Command required treatment from venereal diseases. This number rose dramatically to 15,000 the following year and is estimated to have cost the military a total of over 18,035,000 man-hours.
So bad was the situation in Ethiopia that VD (Venereal Disease) Company was created, comprising of soldiers grounded by the affliction and were on treatment even as they fought the bigger war.
These are the frustrations that Lieutenant colonel Michael Blundell who was commanding the Ethiopian Battalion experienced. He was convinced that the enemy came wearing a smile, cheap cosmetics and a dress.
Blundell ordered all women who were within the vicinity of his camps arrested, stripped naked and dumped 20 miles away. Still, some women stealthily stole into military camps in Addis Ababa into the welcoming embraces of their lovers.
Determined to keep the soldiers and their women apart, the colonial government drafted laws mandating police to arrest women suspected to be loitering in townships with intent to commit prostitution, especially near military camps. Soldiers with sexually transmitted diseases had to disclose the identity of their sexual partners.
The law also required women to undergo compulsory medical examinations on sexually transmitted diseases. Medical certificates were issued and those who defied this law had their houses demolished as frequently happened in Nanyuki and Jinja in Uganda.