From genocide hero to convict: The tumultuous life of 'Hotel Rwanda' legend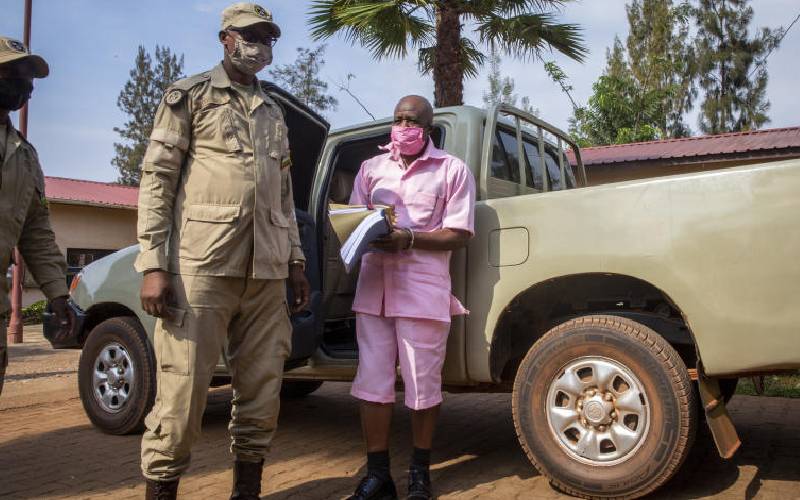 Paul Rusesabagina is seen by many as a man who did something right and saved many lives while world powers dithered as the Rwanda Genocide unfolded in 1994.
His story was brought to the world's attention by the 2005 movie, Hotel Rwanda. In the film, his character, portrayed by Hollywood star Don Cheadle, is a man of quick wit and thought, who saves hundreds from murder, thanks to his networks and street smarts.
As the manager of the Hotel Des Mille Collines, Rusesabagina is credited with saving 1,268 lives sheltering at the facility; keeping the marauding soldiers and Interahamwe militia at bay with bribes, calls to contacts and the occasional sleight of hand.
When the killing finally stopped, about one million Tutsis and moderate Hutus lay dead. Today, the Kigali Genocide Memorial holds memories of the dead, some of their remains and personal belongings; a stark reminder of when sanity abandoned humanity.
Most haunting in the museum are the human remains; bare skulls stare bank hauntingly through eyeless sockets, most cracked open from death-dealing blows.
Horrifying days
When Hotel Rwanda came out, Rusesabagina was hailed as a hero and eagerly embraced by a world trying to assuage its guilty conscience for its inaction in those horrifying 100 days between April and July 1994.
Then US President George W Bush awarded Rusesabagina America's highest civilian honour, the Presidential Medal of Freedom. He went on to receive many civil and human rights awards. Buoyed by his newfound fame, the former hotelier embarked on a career as a public speaker, and before long, found himself at loggerheads with Rwanda President Paul Kagame, the man credited with stopping the slaughter.
It is his criticism of Kagame's regime, and his membership of an opposition political party while in exile, the Rwandan Movement for Democratic Change (MRCD), and his relationship with the armed wing, National Liberation Front (FLN), that saw him arrested and charged with terrorism in Rwanda.
DW quoted the Rwandan investigation bureau spokesman, Thierry Murangira, speaking on the arrest: "Rusesabagina is suspected of being a founder or a leader or sponsor or member of violent armed extremist terror outfits... operating out of various places in the region and abroad."
"The spokesman said Rusesabagina would face several charges, such as 'terrorism, financing terrorism... arson, kidnap and murder' relating to incidents against his own countrymen on Rwandan soil in June and December 2018," reported DW following the arrest.
His arrest in August 2020 raised controversy, with his family and supporters accusing the Rwandan government of kidnapping the man.
In a Facebook post, his daughter, Carine Kanimba, said Rusesabagina "was kidnapped and taken by extraordinary rendition to Rwanda."
Rusesabagina was in Dubai when he disappeared in late August 2020 and appeared in handcuffs in Rwanda, days later. The Rwandan government denied they had kidnapped him and during the trial, the BBC reported that a former ally of Rusesabagina had claimed to have tricked the man onto a plane that he (Rusesabagina) thought was headed to Burundi.
When Rusesabagina appeared in Rwanda following his arrest, the picture was that of an old man, in pink shorts, shirt and a mask. His eyes downcast, brow ridged. He was 66 at the time.
His arrest brought scrutiny to Paul Kagame's regime and its treatment of people opposed to it, including suspected targeted assassinations.
The deaths in Southern Africa of high profile figures formerly close to the regime over the last few years have raised eyebrows, although the Rwandan government has denied involvement. The highest-profile case was that of former Rwandan intelligence chief Patrick Karegeya in Johannesburg, South Africa, in 2014.
Global uproar over arrest
When Rusesabagina's arrest came to light, international humanitarian and government bodies came out in protest. This was further fuelled by the manner he was arrested.
In December last year, members of the US Congress condemned his arrest and sent a strongly worded letter to Kagame calling for his release.
"We are writing to urge you to return Paul Rusesabagina, a US Lawful Permanent Resident and Presidential Medal of Freedom honoree, safely to the United States to be reunited with his family. As Members of the US Congress, who have a strong interest in the US – Rwandan relations, we believe that releasing Mr Rusesabagina on humanitarian grounds is both justified and appropriate since he is a cancer survivor in the midst of the Covid pandemic. He suffers from several chronic medical conditions," read the letter in part.
The European Parliament also added its voice to the debate, adopting a resolution in February this year that condemned what it called the "enforced disappearance, illegal rendition and incommunicado detention of Paul Rusesabagina".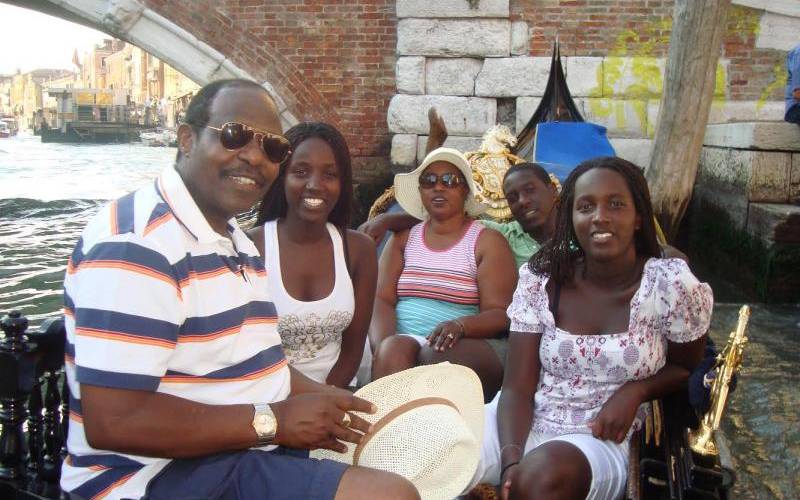 The non-binding resolution called on "Rwandan authorities to provide a complete and corroborated account of how Mr Rusesabagina was apprehended and transferred to Kigali; calls for an international, independent, transparent and credible investigation into the transfer and arrest of Mr Rusesabagina." International pressure notwithstanding, Rwanda put Rusesabagina on trial in Kigali on February 17, where he was charged alongside 20 others with at least 10 offences, including terrorism, kidnapping and being a member of a terrorist group.
When the trial started, Rusesabagina told the court he was a hostage. "He told the court that he was not Rwandan but 'a Belgian hostage'. He said that his arrest, rendition and trial were illegal. 'I was kidnapped and even now I am held hostage,'" reported BBC at the time.
Jailed for 25 years
The trial culminated with a conviction this past week and he was sentenced to 25 years in prison.
"Paul Rusesabagina, 67, was found guilty of backing a rebel group behind deadly attacks in 2018 and 2019," reported BBC. His conviction attracted just as much condemnation from around the world as did his arrest a year ago. Both the US Department of State and Belgium Foreign Ministry condemned the conviction, questioning the trial's fairness, or lack thereof.
"This verdict means nothing for us. Our father was kidnapped," his daughter Carine Kanimba told Al Jazeera. The Belgium Foreign Ministry said in a statement quoted by DW, "it must be noted that Mr Rusesabagina did not benefit from a fair and equitable trial."
And the response was swift from Kigali, with Rwanda cancelling a meeting with the Belgian Foreign Minister on the sidelines of the UN General Assembly in New York.
Rwanda decried the Belgian Foreign Ministry's comments as reflecting the "contempt shown by the Government of the Kingdom of Belgium towards the Rwandan judicial system since the start of this trial despite the significant contribution of relevant Belgian institutions to the investigation of this case."
During the trial, Rusesabagina admitted to his relationship with FLN, but defended his role.
"We formed the FLN (National Liberation Front) as an armed wing, not as a terrorist group as the prosecution keeps saying. I do not deny that the FLN committed crimes but my role was diplomacy," Al Jazeera quoted him telling the court in September 2020. Worried that he wasn't getting a fair trial or representation, he withdrew from the trial in March this year. But even as international debate simmers over Rusesabagina's trial and conviction, his family continues fighting for his return.
The most high profile of these is his daughter Carine Kanimba.
When Rusesabagina was arrested in August, she tweeted: "My father was kidnapped and is being falsely accused of crimes he didn't commit. #Kagame is known to silence critics this way by making things up. Dad has always advocated for #justice, #peace & #humanrights. Now he's the one whose rights are being violated #FreeRusesabagina."
She has been most vocal all along with his trial and after his conviction, she has continued to speak out and give interviews, at one time telling Al Jazeera; "He was dragged across international borders in violation of international law. My father knows that his rights were violated … that's why he decided to step out of the trial, and this is all political."
Almost quite as vocal is her sister Anaise Kanimba's tweets and efforts to build broad international support for their father.
What many might not know is that Carine and Anaise are Rusesabagina's nieces and adopted daughters and that their story is intricately tied to the events in Rwanda in 1994.
They are the biological children of Rusesabagina's brother-in-law and his wife, who were killed in the genocide. Their story is captured in Hotel Rwanda and the Rusesabagina's desperate search for them. As the film comes to an end, Rusesabagina's wife Tatiana (played by Sophie Okonedo) finds the two little girls in a refugee camp in a tear-jerking scene.
Anaise was only two at the time. An interview with The Washington Post earlier this year said she had no memories of the time. "She didn't know she was adopted by the Rusesabaginas until she was 6 years old. They told her what she needed to know, but didn't cloud her childhood with the brutal stories of slaughter in the streets. She learned most of that when she was 12 and saw the movie," wrote The Washington Post.
Fast forward 27 years later, the sisters are having to relive part of the horrors of their childhood, seeing the man who became their father dragged to jail.