Make Covid-19 vaccines accessible to the world, Uhuru tells UN general assembly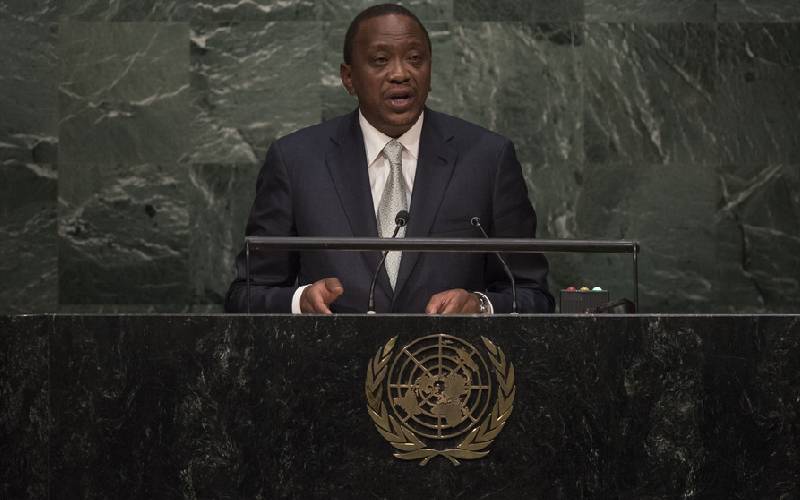 President Uhuru Kenyatta has challenged the United Nations General Assembly to intervene and ensure equitable global access to Covid-19 vaccines.
Uhuru in a pre-recorded statement at the ongoing 76th session of the General Assembly in New York said Kenya is deeply concerned on how the developed countries have handled the issue of vaccine distribution.
He said over 5000 Kenyans are among 4.7 million people who have lost their lives to the disease.
"Mr President, the pandemic has caused the deepest economic recession. Kenya responded swiftly to contain the spread that has seen a significant reduction on the human toll. We undertook measures to caution various aspects of the economy. But to rebuild successfully in line with this year's theme 'building resilience and hope to recover from covid-19, there is an urgent need for a worldwide response to enable production and access to the vaccines," Uhuru said.
He said the current global inequality to access the vaccines is a reflection that the multifetal systems need urgent repair.
Kenya has so far received over 6.3 million doses of assorted Covid-19 vaccines.
Health PS Susan Mochache last week said the Kenyan government will continue to commit funds for procurement of more vaccines by engaging manufacturers and other stakeholders both at the national and regional level to ensure all those who are eligible access vaccines
"Global equal access to the vaccines has not happened, we, therefore, must all push for concerted structural changes that should enable a quantum increase in investment and technology transfers. Not as charity, but instead driven by enlightened self-interest and solidarity," Uhuru said.
The head of state further challenged the assembly to push for tangible climate financial support with a significant portion of funds being allocated to developing countries.
He said as African nations focus on recovery from the pandemic, the UN should ensure that this economic recovery is linked to mitigating effects of climate change.
A fast-developing Africa will offer the entire world the benefit of its demographic dividend of youth and vast investment opportunities. Africa can become an engine of sustainable global growth and an exporter of peace and stability and transformative prosperity," Uhuru said.
While stressing the need for UN member states to deliver concurrently economic recovery linked to climate change action, Uhuru said these countries should aim to make clear commitments that contribute to developing country investments in green manufacturing and the infrastructure it requires.
A "Green Building Back Better" that delivers jobs and shared prosperity, will win the support of the young generation and intensify the drive towards climate change action," he said.
Uhuru further said the unequal trade and investment patterns, the outflows of illicit finance and inflows of illicit small arms and light weapons, the extraction versus production mentality remain to be major factors escalating global inequality, fragility, conflict and violence.
The head of state said many of the tools at disposal to deal with these challenges are not living up to their promise.
"One such core tool is the United Nations Security Council in which Kenya has been an elected an active member since the beginning of the year," he said.
He said this October 2021, Kenya will assume the Presidency of the Security Council where he will personally chair several signature events including how nations can make an appreciation for diversity, a core aim in promoting state-building and the pursuit of peace.
Another area of focus will be how illicit small arms and light weapons impact peacekeeping operations and how to better support and promote women peacekeepers and peacebuilders.
He said many countries are witnessing state fragility that leads to protracted crises which are driven mainly by the inability of countries to manage diversity within nations, thus offering militant and terrorist groups opportunities to create social discontent and control large territories within affected countries.
"The tools to deal with these crises are not proving adequate; so we must work to improve their capabilities. The most important task we can undertake is to increase the competence of states to manage both political and social diversity within their nation-states," he said.
Uhuru reiterated that countries must do so in a way that strengthens the trust between citizens and public institutions and citizens and their leaders.