Order! Kaparo on Raila's fifth stab at presidency, the big Laikipia lie and dancing politicians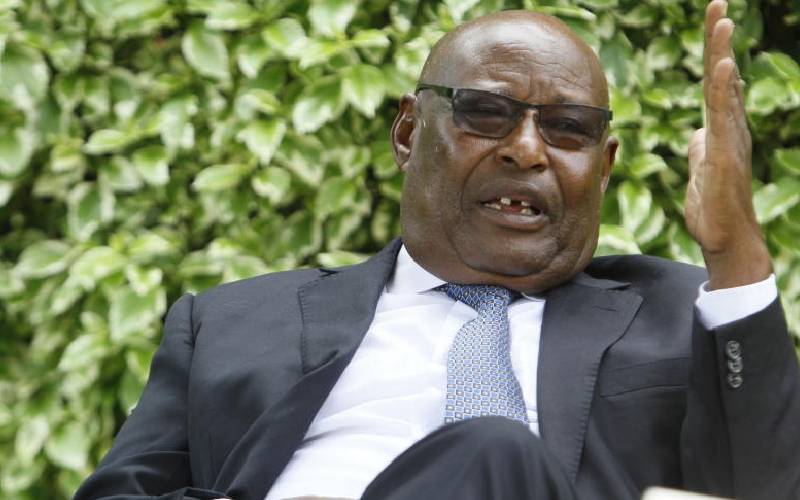 At the prime of his power, former Speaker of the National Assembly Francis ole Kaparo was the country's number three.
In 1998 when Kenya was without a vice president for several months, he was a heartbeat away from the presidency.
He had presided over Kenya's unicameral parliament for fifteen eventful years of tensions and democratic transition.
When he sank to ODM's Kenneth Marende by 105 to 101 votes on the third round of voting in 2008, it was not for want of competence. The politics of the day — a divisive election and bloody outcome — took the crown from him.
He lay low for a few years, and surged in the run up to 2013 general election, as a chairman of United Republic Party (URP), the party Deputy President William Ruto used to enter the Jubilee coalition with President Uhuru Kenyatta.
When Jubilee ascended to power, the constituent parties lost relevance, before they were finally swallowed. By then, Kaparo had moved into the National Cohesion and Integration Commission (NCIC) as the chair.
When we sought him this week, he was roaming free, as an elder statesman, tending to his private businesses. Smart, and alert to the core, he had summoned us to the City Centre, but when we got there he shifted gears to Upperhill.
"Listen, when you get to my age, you begin to realise you don't sit in one place for a long time," he exclaimed.
Three days earlier, he had turned up at a Maa community meeting and endorsed ODM leader Raila Odinga's presidential bid, but served the Maasai a bitter-sweet dose, telling them off over their premature claims to Laikipia lands.
"I wouldn't know how they reacted, but I heard claps at the end of it all. I told them I know you will never invite me to address you again, but I don't care. I honestly don't care. I am a free thinker and I say things the way I want, and the way I believe…"
Initially, he stubbornly declined to engage us on why he settled on Raila, and overlooked his former bosses, former vice presidents Kalonzo Musyoka and Musalia Mudavadi. Sizing us up, and dimming one eye to properly hit the bulls eye, he rolled it back on us:
"I don't think anyone should ask me why? I am I not a Kenyan with full rights as a voter? Is it a sin to support him? Is it against the law, and have I lied by saying he cannot harm the Maasai?"
Vintage Kaparo; the grand inquisitor. When he settled down to it, he talked of his objective knowledge of the entire constellation of present Kenyan politicians. It was apparent he detests them, the kit and caboodle of them.
He cannot come to terms with their dancing in public, their public utterances, false pride, tribal balakanization of the country and lionization of graft.
"To downgrade the noble function of leadership to dancing in public- Safari Cats or Nyakinyua Dancers-I think it's extremely disturbing, and obnoxious."
He's completely done with political parties, and won't join any for as long as he lives. He's obsessed with the slang phrase of "uta-do?" And when we asked how and why, he retorted, in his booming voice, before bursting into laughter.
"Hata wewe uta-do? Manake hakuna kitu uta-do! I am there because I am. And my views are there because I am…"
A carefree emperor, he picked his calls in between the interview, including giving elaborate directions on how a lunch chicken should be prepared, complete with a thunderous threat, and his beloved phrase: "Usipofanya hivo nitairudisha, kwani uta-do?"
You have been around for some time, where do you see the country headed, any sense of déjà vu?
I have presided over two previous change of the manner we organize our politics, the period between 1993 and 2002, and again the period between 2002 and 2007. The first period was a period of heightened political temperatures, a lot of fear, tension, hate and absolute brinkmanship. If you recall, and you can check footages, during the KANU conference of December 1991, not a single soul supported multiparty. When I took the podium on the fourth day courtesy of Hon Musyoka. I went against the grain, and I was later bailed out by the President when he supported.
How did you pull that one? It's hard to believe it was not planned?
Listen, I always say the unsayable if I believe it should be said. You cannot lead a country through lies and cowardice or sitting on the fence. If it is in the best interest of the country, it must be said. We may have a few people courageous to say it, but they are there, and it will be said.
You went on to become the Speaker of multiparty Parliament, how was it presiding the house at the time?
I had to impress on the members that they were now in a national assembly, and there was nothing personal or need for a do or die. We went out, deliberately, to create a system of leading people through competition of ideas, and consultation. I believe we almost developed that system in the period between 1993 and 2007.
How did you pull this one off, to the point of getting 100 percent vote in 2002, and losing narrowly in 2008?
I use many tricks; persuasion, friendship, cajoling if need be, but the most effective… but I should not be telling you this. This should be in my book. Anyway, I believe the most effective is getting leaders to spend time together. I remember sending mixed delegation of Opposition and government abroad, and they wouldn't talk to each other on the plane when leaving. When they came back they were good friends, and thereafter we were able to make progressive steps, in the best interests of our people.
In 2003, we began on a high, where did we go wrong?
The KANU to NARC transition was much smoother to me, and Kenyans by and large were very happy, comparable only to independence. It was easy to run the house. KANU was still in shock at losing power, and NARC was in shock at winning. As a matter of fact, KANU thought they were still in government while NARC behaved as though they were in opposition. Then in 2005, we lost it all, to divisive and controversial banana versus oranges campaigns. And that is what set the stage for 2007 when we almost lost the country for really nothing.
How did you become the chair of URP in the run up to 2013?
I don't know how… but I know I was sought, and I thought it was a good idea. I didn't attend its burial however, and neither was I invited….
As a former chair of a political party, what is your experience of parties?
They are meaningless. Of what use are they? I stopped entertaining the thought that parties are of any use, other than being vehicles to carry someone. I really have no faith in any party. I believe they are instruments of fraud, and lies to Kenyans. Kenyans you are on your own. Right now, would you know which party is in government? And what is the difference between pre-1991 days and now? What we have now are ethnic kingpins masquerading as national leaders. Every political party has an owner. The destiny is tied to the destiny of their owners.
And yet they are necessary?
The party leaders don't want to be told they are wrong, that the king is naked. If you do, you are branded disloyal and a traitor. Look at the current situation; those in government fighting each other… Distressing!
What distresses you the most in our politics?
One, our political rallies are no longer about selling ideas. The first thing our politicians do when they get on stage is to show us their dancing skills. Very discouraging. Imagine, elected leaders going to the podium not to show us their plans but to dance. It's the most stupid thing I can think of… Its distasteful. And it is only in Kenya where you will see this.
What would have happened if they did BBI reggae in your time?
It wouldn't have happened in my time. We would have summoned them before the Powers and Privileges Committee to explain why they are bringing the institution of Parliament to disrepute. The second thing I find obnoxious is the use of vulgar language in those dancing rallies. And the media encourage it….
If media blacked it out, how would you come to know of it?
You remind of the story I gave to the Maa people of a dog that continues to feast on human fasces because there is no cleverer counterpart to counsel against it. Are you saying we should continue eating our own waste, because you want us to see? You people don't frown upon it, and as a result we normalise it rather than make it obnoxious. The third is the spewing of raw hate in public discourses. We insult in rallies, funerals and now in churches as men of cloth listening and grinning. The church is adulterated.
So you reckon it's a deeper societal problem?
Oh yes. The role of public in this, especially the young people, very disheartening. They cheer, yell and later line up to get handouts. They no longer elect leaders, they elect givers. Even if you have no brains, you stand a chance if you can give. We are tortured by politicians in rallies, churches, weddings and in our very sitting rooms. There is no respite for us. And then the tribal balkanisation… Finally, the lionisation of graft by political figures. Whenever I see demos to defend known thieves, I ask myself why can't we repeal the Penal Code, and revert the country to a state of nature?
Laikipa, what is eating up your home county?
It all started in 2005 with a big lie that the long leases granted in precolonial times were coming to an end, an idea sold to people who are not well educated, people who do not understand the law and the intricacies of government. At the time, the leases were 999 years. They were later reduced to 99 by operationalisation of the 2010 Constitution, but beginning that year. Whenever leases expire, who takes back the land? It cannot be tribe. The most important thing right now would be to ask the government to purchase the land back from willing sellers and to settle those from whom the land was taken, on a priority basis. But you cannot discriminate or lock out other Kenyans and ethnic groups from that programme.
This is the same message you passed at the Maa meeting, where they receptive of it?
I don't know, and I don't care how they received it. There is no ethnic group in Kenya right now which is domiciled, exclusively, in one place or where it originally settled. We are all spread across, and for different reasons, including, wale wa kutangatanga.
Why has this lie persisted?
Because there are those who live in a life of darkness. They feel they are the only ones around… and liars have sweet tongue, very eloquent and shameless. Closer to the election, the owners of the lie come back to confuse our people, using excuses such as the current one of drought, for their own political interests.
You endorsed Raila Odinga, but what do you think of the others?
I know all political players in Kenya, not through newspaper stories. Because I know all of them, I cannot agree to throw my vote or betray my country. Raila is a Kenyan, and I want to believe he has suffered for this country longer than the rest. He has never offended me, and I believe he's better than all of them.
But in 2013 Raila was also in the race and you did not support him?
In 2013 he was not alone. As at that time, I thought those others were better than him. Between 2013 and now, its about nine years. Anyone who does not change his mind is a fool. I am not a slave to my past. I voted for the person whom I thought was the best at that time. I am a free thinker, I say things the way I want. Even now I am telling the Maa the truth.
So you feel this is Raila's time?
Feeling has got nothing to do with it. I didn't write the Bible. It says ask and it shall be given unto you. He's already out there asking for it.
What would you say of Parliament now?
I left speakership over 13 years ago. I have never commented on how it is being run. And I don't want to comment now. I leave that to Kenyans.
What is that one indelible lesson you have learned from your public life?
The fraud in politics!
What wish do you have for Kenya now?
We have never made a proper attempt to create a nation-state called Kenya. We have a conglomeration of nations, including my own Maa nation, ran together by ethnic kingpins. If you come from a small community, just shut up. You cannot be a president .. and we are stuck in this cycle of obsession with tribe, primitive accumulation of wealth, most of it illegally acquired.