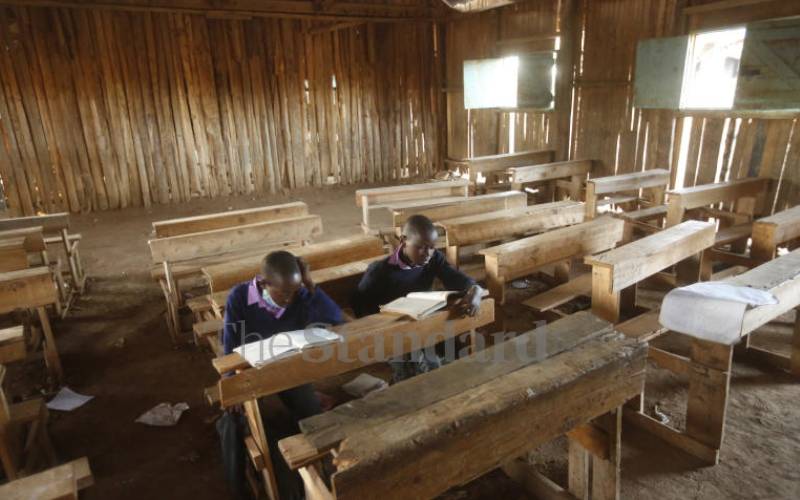 Relative calm has returned to Laikipia County after a month of violence that left eight people dead and 150 families displaced from their homes.
On Monday, schools in Ol Moran, Laikipia West recorded a low turnout of pupils, after a month of indefinite closure following a wave of insecurity perpetrated by suspected bandits and invasion by herders.
According to Laikipia West Sub County Director of Education Josephine Thuranira, Ol Moran Ward has a total of 21 primary schools out of which 16 had experienced total paralysis of learning.
The ward has five secondary schools out of which one had been closed down.
A spot check by The Standard yesterday established that a majority of the schools remained shut after learners failed to turn up despite the government's assurance of security.
Miharati, Mirigwit, Ndunyu, and Tumaini Primary Schools had no learners but there was a heavy presence of police officers and National Police Reservists (NPRs).
Miharati Primary School was the first to be closed down in early August after the first banditry attack that saw at least 50 families displaced.
At Mirigwit, which was partly razed down by suspected bandits two weeks ago, there was no sign of life.
The school is located in Mirigwit village that borders Dam Samaki area where seven houses were burnt down last week.
Tumaini Academy which lies few kilometers from Laikipia Nature Conservancy where bandits are still hiding was not reopened with a section of its pupils now learning at St Mark Catholic Church in the heavily guarded Ol Moran township.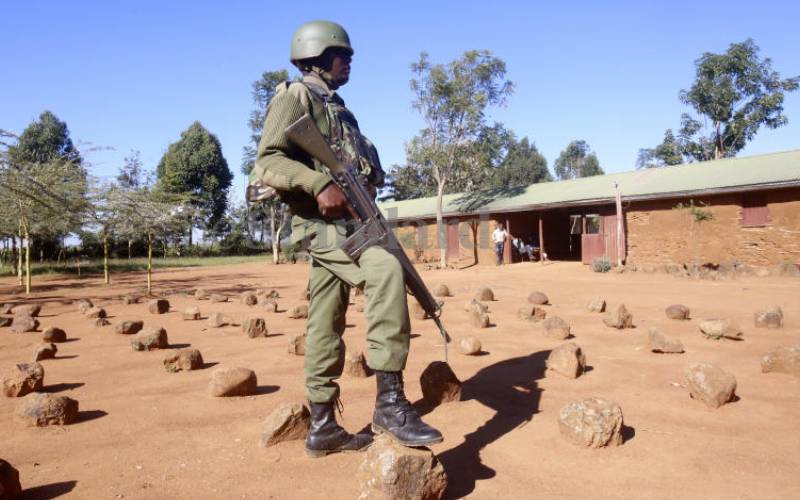 The school's administrator Peterson Muthua said that the catholic church had granted them a few halls and rooms for use as classes.
"The school's enrollment prior to the attacks was 305 pupils. Some parents had no confidence in the security status of the area around the school. We agreed to have them continue with classes at the church where only 98 pupils have reported," said Muthua.
The school which is sponsored by the Catholic Diocese of Nyahururu had a sizeable number of pupils from the pastoralist communities who have since fled the area.
"We are hopeful that as the police continue to pacify the region, parents will be confident enough to release their children back to school and those who had fled return to their homes," added Muthua.
At the church, however, the teachers and learners had to contend with an unusual learning environment as some different levels of classes had to be combined in one room.
At Tumaini Academy we caught up with Josephat Ebei, a parent at the school who explained that his visit to the facility was aimed at establishing the security status in the area before releasing his children back to school.
"I was hesitant to have them back to school before security is be guaranteed. We are fearing retaliatory attacks against us due to the ongoing police operation," said Ebei.
Ol Moran Primary School which lies at the sidelines of the heavily guarded town had a turnout of 70 learners with the school headteacher, James Tinega revealing that the facility had a total enrollment of 586.
Rift Valley Regional Commissioner George Natembeya who visited the schools said the turn up was not encouraging but expressed confidence that the numbers will increase as the State continues to supports families to return back to their homes.