What a difficult year! Wanjiku's cries on economy yet to be heard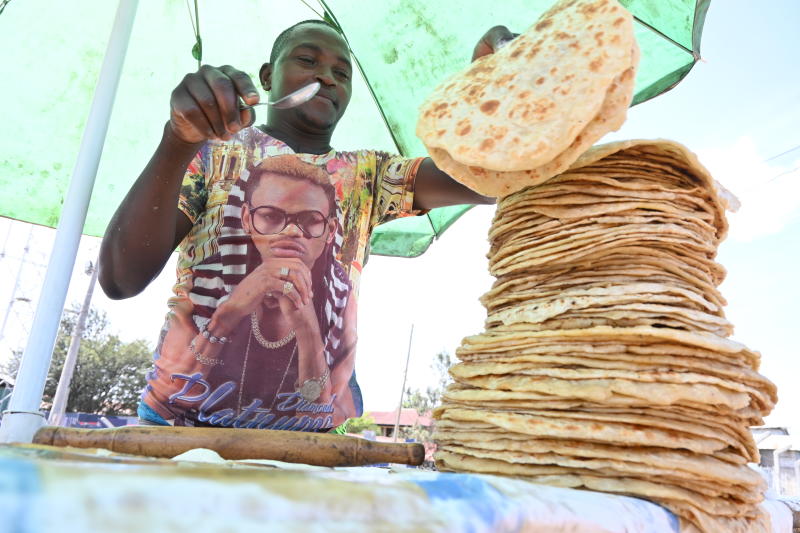 One of the main ingredients now conspicuously missing in chapatis that Elijah Muchina makes is a smile. He cannot always afford it, more or less the same way he struggles to afford cooking fat.
It has been a difficult year, he says. By the road in Hunters, Kasarani, Muchina used to roll well over 700 chapatis a day. The last year has seen the figure reduce to just under 500. This happens as customers seem to be slowly disappearing, with ingredients that he uses to make his chapatis slowly going out of reach.
"We used to buy a 10kg carton of cooking fat for Sh650. That has increased to Sh1,750. It is getting difficult," he says.
He keeps the prices of chapatis unchanged, and thus his profit margins have shrunk incredulously.
Phyllis owns a mini-mart. She has seen, in the last one year, customers transform into a totally different brand of shoppers. Unable to afford their favorite brands, a lot of people are going for cheaper options. They are now simply looking to survive.
As such, the varieties she stocks have reduced. That she also buys fewer items from manufacturers means that she cannot enjoy the discounts she used to, hurting her profit margin. It's a double-whammy.
Phyllis reckons that the shift in prices of cooking oil and petrol have been immensely damaging.
"Everything depends on crude oil and edible oils. The prices of the snacks we sell have hiked as manufacturers incur higher costs of inputs. That cost is passed down to consumers," she says.
The number of customers that she serves every day has fallen significantly since Covid-19 docked at the start of last year. It does not seem to be improving.
The only thing that keeps Faith Mutwiri, who owns a cosmetics shop, going is the optimism that those who seek beauty will do anything to get it.
Products' prices, however, have gone up. When customers come to her shop, they complain about the price increases, but there is nothing she can do about it. Haggling has become commonplace, disconcerted customers often coming back once they realise that the price hike is not necessitated by her clamour for bigger profits but is an issue in, and with, the markets.
"Prices are changing weekly. The past a year and a half have been terrible. There is no improvement even after some of the containment measures were revised," she says. Sometimes, she will accept to reduce prices, taking home almost negligible profits to accommodate the customers.
Irene Karanja runs a pharmacy. Every day, she watches as patients come in with prescriptions but are unable to afford the drugs.
"You see a patient leave and then come back after a week with the same prescription. Purchasing power has gone down and sometimes the patients cannot afford these medicines at all," she says. In such instances, she sympathises with them. She often finds herself letting them carry home the drugs on credit. Most of them do not resurface.
The increase in prices of medicines have been coming even before Covid-19 arrived, she says.
"Patients come and ask for the cheaper drugs, some of them not as effective. It has been happening for some time now."
Taxi business has taken a hit, with the transportation industry well under the weather for some time now. Covid-19 containment measures, including restriction of movement, meant less passengers for taxis. Fear of contracting the disease also prevented many more people from travelling, and Wilson Waititu Nderitu, a taxi driver from Nyeri, felt the pinch.
"Early last year, we could make up to Sh2,000 a day. Now, we take home even Sh200," he says.
The constantly rising prices of fuel have not helped matters. This, coupled with purchasing power of Kenyans being on a freefall, means that taxi drivers have had to make do with thinning profits.
"From Nyeri town to Ihururu, we used to charge Sh700. Now we charge as low as Sh500," he laments.
When releasing the Economic Survey yesterday, Treasury Cabinet Secretary acknowledged that the country has faced economic headwinds in a year when a global pandemic wreaked havoc on every sector.
"In 2020, Kenya's economy was adversely affected by the Covid-19 pandemic resulting in significant slowed down economic activities. During the review period, the government's priority was to safeguard citizens lives while at the same time cushioning the economy from the effects of Covid-19," he said.
"The restriction in movements and social distancing led to disruption in labour supply, leading to reduced demand for goods and services. Accordingly, many businesses especially service industries like tourism significantly slowed down during the second quarter of 2020."
The economic performance as measured by Real Gross Domestic Product (GDP) is estimated to have contracted by 0.3 per cent in 2020 compared to growth of 5 per cent in 2019.
Many business people are optimistic things will change and there will be a rebound of the economy. Others think it will get worse.
"The past few months and weeks have been very difficult. I do not think much is going to change," says Muchina. Irene likes to stay hopeful, though. With containment now looking like a foregone option, she hopes that business will bounce back.