Judge turns heat on DCI after DPP clears him in Tob Cohen death investigations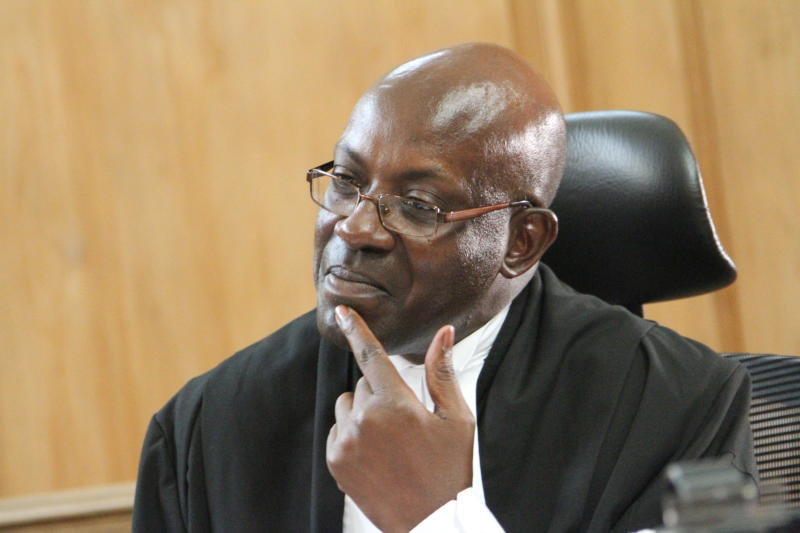 Just days after being cleared by the Director of Public Prosecutions of murder investigations, a Court of Appeal judge has trained his guns on top police brass over what he called an 'unnecessarily dramatised' arrest which injured his reputation.
Justice Sankale Ole Kantai has sued the Inspector General of Police (IG) and Directorate of Criminal Investigations (DCI) over the February 21, 2020 arrest in connection to the controversial death of Dutch businessman Tob Cohen. For 11 months, the Judge reported at DCI initially on a weekly basis and later monthly, a total of 12 times.
In the constitutional petition filed at the Constitution and Human Rights division of the High Court, the judge says he should not have been arrested in the first place if the DCI did not have evidence against him. He says his arrest was humiliating, and the cells he spent the night after arrest were in deplorable conditions.
Citing his job as a judge who handles cases where public confidence is paramount, he drew parallels to the recent arrest of his fellow judges Justice Aggrey Muchelule and Justice Said Chitembwe saying they have occasioned great anxiety amongst judicial officers, besides threatening the independence of the Judiciary.
"The respondents' actions have affected my work life and I am not able to hear and determine matters where the respondents are parties without fear of intimidation," the judge says.
The judge says on the day of his arrest, DCI officers stormed his home in six vehicles, some, he says, had blaring sirens. After recording statements, his fingerprints were taken before he was booked at Muthaiga Police station for the night.
"I spent the night in sordid conditions," he says of Muthaiga.
The following morning, his phone was taken and data on it analyzed. He says the officers did not produce any search warrant. It was not until after three months, he avers, that his phone was handed back to him.
For 17 months, he says, he has waited for his day in court until August 10 this year when Acting Deputy Director of Prosecution Victor Mule wrote a letter, saying there was no evidence to support a criminal case against him.
"Upon perusal and analysis of the evidence gathered, we are satisfied that currently, there is no sufficient evidence to prefer charges against the suspect herein. Consequently, we directed that the inquiry file be closed unless additional evidence is obtained to warrant a review of our said decision," Mule wrote in the later.
According to the judge, police informed him that they had arrested him over the Tob Cohen matter. They made him record statements arising from transactions he had undertaken for a firm known as Tobs Limited, while he was practising at Kantai and Company advocates.
He asserts that the transactions had nothing to do with the death of the businessman. His lawyer Peter Wanyama says he should never have been arrested "using the humiliating and dramatic approach that they used."
Justice Sankale cites malice in his arrest, and says several of his constitutional rights were violated in the process; He was deprived of his freedom without a just cause, his privacy was invaded without and his dignity was violated and his reputation dragged through the mud.
"I should not have been arrested in the first place if the respondents did not have any evidence connecting me to the murder of Tob Cohen," he says.
In a move that could upset the DCI modus operandi if granted, the judge wants a declaration made to the effect that arrests made without prior investigations and evidence being in place violate the suspect's constitutional rights.
He wants police prohibited from unnecessarily arresting him again, and a permanent injunction issued against them from using any information they gleaned from his phone. Justice Kantai also wants to be paid general damages for the breach of these rights, as well as his rights to privacy, human dignity and to be informed promptly of the reason for his arrest.