LSK boss challenges petition to have him declared unfit to hold office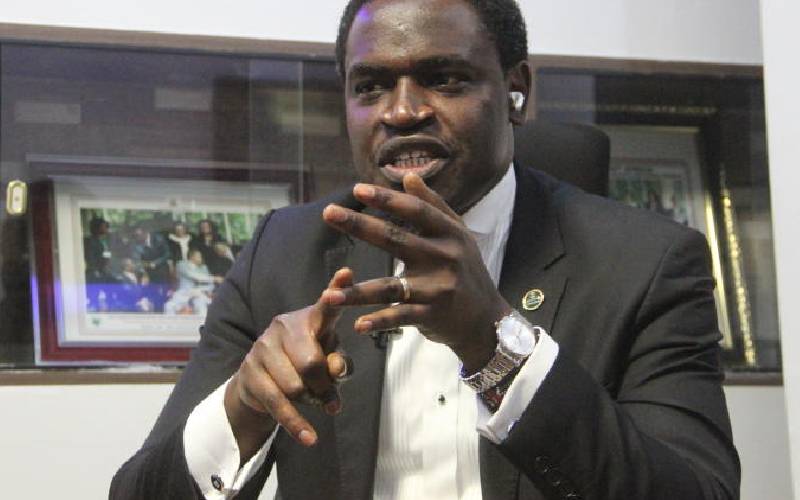 The President of the Law Society of Kenya (LSK) Nelson Havi wants a petition challenging the competency of his office dismissed.
Addressing Justice Teresia Matheka at the High Court in Nakuru yesterday, Mr Havi said that the petition filed by Lawyers Collins Odundo and John Ochola was an abuse of court process.
Havi said that the petition was sub-judice because there is a similar petition which has been filed in Nairobi under Petition E260 of 2021 and is pending determination. He said the cases were filed ten days apart but in different courts.
Court records show that while the petition in Nairobi was filed on July 5, 2021, the one in Nakuru is dated July 15.
"It is unlawful and an abuse of court process for the petitioners to gamble in different courts of the same and competent jurisdiction, on hope that their application may be allowed," Havi said.
He accused the lawyers of concealing the fact that a similar case was pending in another court of the same jurisdiction.
Havi said that the petition had been heard and determined by a similar court, hence res judicata.
According to Havi, the issues raised had been determined by Judge Pauline Nyamwea on May 7, 2021.
The judgement filed in court as evidence states that matters relating to LSK must be solved administratively through mediation, before being subjected to court processes.
"A dispute arising from LSK general meetings must be solved with alternative dispute resolution system first because there is an in built mechanism for dispute resolutions," read the ruling.
Havi submitted that the lawyers took the matter to court without exhausting all alternative dispute resolution processes.
"It is clear that any LSK member who is aggrieved by resolution in meetings must ensure such disputes are solved in subsequent general meetings," said Havi.
Havi also challenged prayers to have resolution made in LSK's annual general meeting held on June 26, 2021 quashed.
During the meeting, the LSK resolved to remove eight council members and replace them with a 'caretaker council'.
"The resolutions of June 26 were anchored on the final decision by members and can only be altered by members themselves and not court processes," he said.
In response, Mr Odundo said that the LSK is dysfunctional and cannot resolve any disputes.
He said that the only way the issues be resolved is if Havi declares himself unsuitable to hold his office or any office within the republic.
He said that the special meeting held on June 26 was illegally constituted and thus the resolution made should be invalidated and declared null and void.
"There is dysfunction within the council as there is breakdown of communication, confusion over leadership and we find it unreliable," he said.
He accused the LSK of sending its Chief Executive Officer Mercy Wambua on compulsory leave despite her being vital in arbitration exercises.
"Who will represent the members and who will be held accountable? All these questions are impossible to answer. The two councils can't work together," he said.
He said that the two petitions were different Petition filed in Nairobi
"The one in Nairobi wants LSK to be held accountable for not providing services to its members, making it impossible for members to go on with their daily duties and earn a living, while the second one wants the decision to remove council members from office quashed."
The case will be mentioned on September 6.