Why Uhuru seems to have an attachment with the Coast region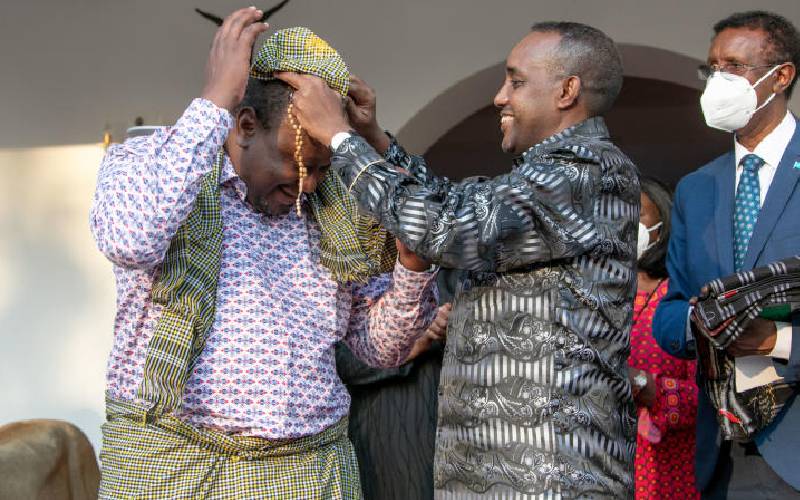 President Uhuru Kenyatta's extended stay at the Coast has been a subject of debate on social media and in political circles.
Analysts say Uhuru seems to have an attachment with the Coast just like his father did. During his reign Jomo Kenyatta always stayed at the Coast in the months of July and August.
In 2006, Uhuru blasted critics of his 29-day stay at the Coast, asking, "Is Coast not part of Kenya?"
Mzee Rajab Sumba, who was elected Mombasa Mayor in 1982, says the president appears to have some attachment to Mombasa because he partly grew up in the city.
"While they were little boys, Uhuru and his brother Muhoho used to accompany their parents to Coast every July or August for long holidays. I saw them," says Sumba.
He says although Moi made it a tradition to visit Mombasa during Christmas and New Year, he never stayed for more than two weeks.
Sumba says unlike his father who liked to travel to remote parts of the Coast to listen to folksongs, Uhuru likes to be indoors or to tour development projects during his stay in the region.
"Mzee Kenyatta and Mzee Moi also used to hold regular meetings with the region's elders and clerics to get first-hand information on what is happening but Uhuru has no time for us," he says.
Pwani University lecturer Hassan Mwakimako says Uhuru's long stay at the Coast is partly because of a "nostalgia as he partly grew up at the Coast", and to fulfil his desire to rotate the seat of power.
"He has been a firm believer of new model of governance of rotating the centre of power to other parts of the country. He started with national holidays," says Prof Mwakimako.
Former Kisauni MP Ananiah Mwabodza says given that Uhuru is exiting the presidency next year, he will also be keen to influence the Coast region's politics.
"The president's family is one of the biggest investors in Mombasa and Coast. He will be interested in the region's politics and development.
"He is also keen to make sure that those elected in Coast counties are people that will not threaten his family's investment in Taita Taveta, Mombasa, Kwale, Lamu and Kilifi," says Mwabodza.
He says after Kanu lost power in 2002, the Kenyatta family's property, especially in Taita Taveta, came under attack after a section of politicians incited squatters to invade their land.
Prof Rocha Chimera says former presidents Mwai Kibaki and Moi did not have personal attachment to the Coast like Uhuru and Kenyatta. He says Uhuru "feels at home" at the Coast than in Nairobi.
"It should be not be lost on us that Uhuru does not stay at State House Mombasa when he visists, the family has a home in Nyali. Kibaki and Moi did not have this kind of attachment," says Chimera.
Prof Halim Shauri says Coast is at the centre of the president's succession plan, given that it is a swing vote bloc that can determine who takes over from him.
"Coast is important in his succession plans. He is here to get first-hand information," says Shauri.
The sociologist says given that his reign is also coming to end, Uhuru may have decided to take things slow and work from a more relaxed environment.