Apologise by Friday or we meet in court, Fred Matiang'i tells Dennis Itumbi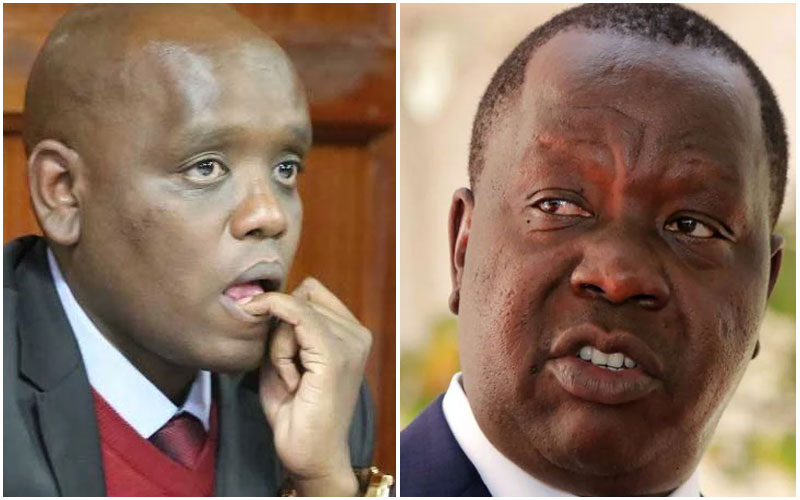 Interior Cabinet Secretary Fred Matiang'i has threatened to sue former State House digital strategist Dennis Itumbi for defamation.
In a Wednesday, August 11 demand letter addressed to Itumbi, Matiang'i, through his lawyers V.A Nyamodi & Co. Advocates, said he would sue Itumbi should he fail to admit liability and offer an apology by Friday, August 13.
Matiang'i claims that Itumbi defamed him on Twitter between July 9, 2021 and August 9, 2021.
The ex-State House digital strategist is alleged to have linked the minister to monies believed to have been lost in controversial Ruaraka land dispute.
Terming Itumbi's tweets as "highly defamatory and malicious", the Cabinet Secretary said Itumbi's posts suggested he (Matiang'i) "had been found guilty of corruption by the High Court of Kenya".
"Your tweets as well as republishing and continued exposure of the same to your 1.3 million followers caused and continues to cause injury to our client's reputation, which has resulted in him being unjustly scandalised and exposed to hatred, ridicule and contempt as a government official and a leader in his social circle," said Matiang'i's lawyer P.O. Nyamodi in the demand letter.
In June 2019, the High Court ruled that the Government paid a city businessman, Francis Mburu, Sh1.5 billion for land that belonged to the State.
The acquisition of the 13.7 acres of land for two public schools, Ruaraka High School and Drive-Inn Primary School, was executed during Fred Matiang'i's tenure as Education Cabinet Secretary.
High Court judges Brian Ebosos, Elijah Obaga and Kossy Bor said the Education ministry was misled into buying the land by the National Land Commission (NLC).
It is Itumbi's remarks linking Matiang'i to the Ruaraka land that have resulted in the CS initiating legal action against the former State House staffer.
"We are instructed to demand your immediate and unreserved reaction of all tweets referring to our client as a thief, an unconditional apology to our client and that you immediately expunge the defamatory statements from your Twitter account," said Matiang'i's lawyer P.O. Nyamodi.
"Our client further demands an apology that would be approved by him."
The CS's lawyer also sought to have Itumbi admit liability and subsequently discuss possible compensation.
"We are further instructed to demand admission of liability where upon our client shall engage you on the quantum of damages and any other retribution for your defamatory publications.
"Take notice that if you do not comply with terms of this demand letter by close of business [on] Friday, August 13, our client shall institute legal proceedings against you and at your sole liability for all attendant costs and consequences."
The Standard reached Itumbi for comment.
"I will respond to the demand letter tomorrow (Thursday, August 12)," he said.