Initiative to protect and conserve the African lion launched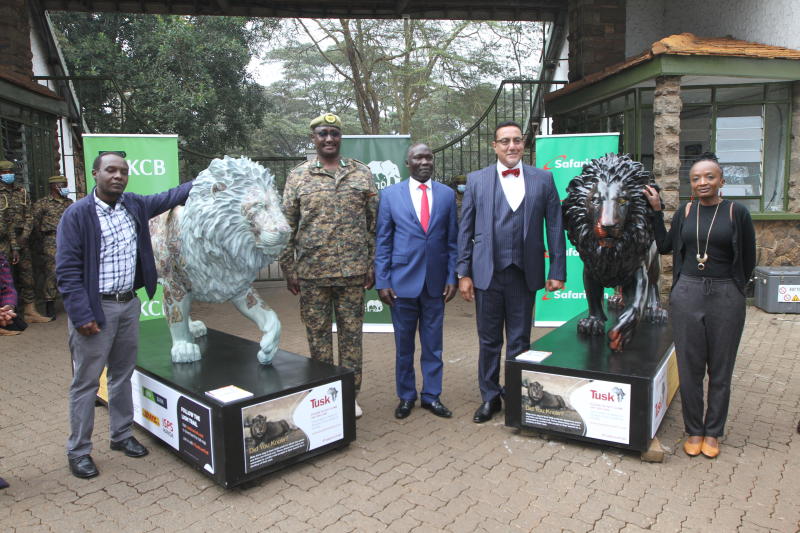 The Ministry of Tourism has launched a programme aimed at raising awareness on the plight of the African lion.
The newly launched programme, dubbed Tusk Lion Trail, aims to raise funds to support community conservation that has been affected by the Covid-19 pandemic. The initiative is being spearheaded in conjunction with a conservation organisation, Tusk.
Tourism Cabinet Secretary Najib Balala was the chief guest at the event that was held at The Kenya Wildlife Services headquarters in Nairobi, yesterday.
Speaking at the function, KWS Director General Rtd Brigadier John Waweru said: "There has notably been an increase in the number of lions countrywide, with the tally now standing at over 2,500."
Balala applauded the initiative, whose main aim is to protect the lions. "It gives me joy to see the habitat being preserved. I applaud efforts by Tusk, and we as a ministry are honoured and happy to work with them."
"Despite the challenges faced by the lions, the main ones being lack of food and diseases, it is important that we continue to preserve these animals as they give us so much pride as a country."
The event also saw the unveiling of two lion sculptures in honour of the World Lion Day.
Peterson Kamwathi and Beatrice Wanjiku are the brains behind the sculptures placed at the main entrance to the park. "It was an honour to work on this amazing piece of art," said Wanjiku.
Her counterpart Kamwathi was equally elated: "It took me a month to work on this, and I enjoyed every bit of it."
The two sculptures will be auctioned on November 9 and the money raised will go to foundations supporting this cause across the continent.
Safaricom and the Kenya Commercial Bank are among the partners supporting this cause.