Chief of Defence Forces General Kibochi defends military running civilian agencies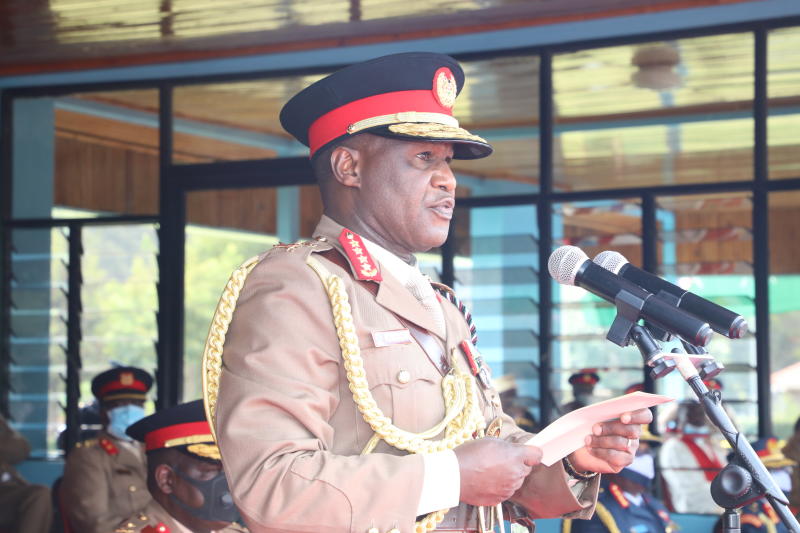 Chief of Defence Forces General Robert Kibochi has defended military personnel running civilian agencies.
In an interview with KBC on Wednesday, General Kibochi said KDF has a role to play in aiding civilian authority as part of its constitutional mandate. He said KDF had a reservoir of expertise that the nation needs to tap. The top soldier attributed this to the training military personnel acquire. "Security and development are intricately related. Security can never flourish without development and development without security," he said.
President Uhuru Kenyatta has been accused of militarising State agencies, including the appointment of Lt-Gen Mohammed Badi to head the multi-billion shilling Nairobi Metropolitan Services (NMS) last year. Badi was also co-opted to the Cabinet after jointly signing the Deed of Transfer that transferred four functions from then troubled Nairobi Governor Mike Sonko.
The President's decision to give the Kenya Meat Commission (KMC) to the military as well as the Director of the Assets Recovery Col Alice Mate to replace Muthoni Kimani alongside her intelligence officers, has raised eyebrows.
The Ethics and Anti-Corruption Commission boss Maj (rtd) Twalib Mbarak joins the long list of serving and former military officers holding senior positions in government. Endorsing the moves, Kibochi termed those claiming the president was militarising the public service as being "off the mark", saying the KDF had implemented the projects handed to them effectively and affordably.
"We turned around KMC with a budget of Sh650 million. There is a time they had been given Sh1.5 billion and they couldn't do it," he remarked. The military's involvement in KMC, he also said, would prevent contamination of meat.
On NMS, Kibochi said the military had helped facilitate the Badi-led authority. "He (Badi) has got support from us in areas he has had serious challenges. They never had any vehicles running. We used our electrical and mechanical engineers in Kahawa to go in their workshops, and came out with 200 vehicles. Is that good or bad for Nairobi," asked Kibochi.
He said their success was as a result of the "discipline, integrity and professionalism" of the military devoid of any personal interests.
The former army commander said lack of integrity had hampered service delivery, as many people employed in government agencies were out to enrich themselves. But he conceded that corruption was not unique to civilian set-ups, as some military personnel had been implicated in the vice.
Kibochi also waded into the matter of Kenyan troops in Somalia and withdrawing by December. Kenyan forces have been in the strife-torn nation for nearly a decade, first venturing as part of an operation dubbed Linda Nchi, and later as part of the African Union Mission in Somalia (Amisom).
"Amisom has been funded through a strange system where the European Union provides the African Union through a bilateral arrangement… this mission must be taken over by the United Nations Security Council and becomes a UN mission so that it may have predictable funding and predictable capabilities," he said, adding that time was ripe for Somali forces to deal with the Al-Shabaab militant group under the "tutelage of ourselves who are there". "The threat has been degraded. But has it been eliminated? Absolutely not. A lot still needs to be done," he added.
He also spoke of gender within the KDF, saying more women were rising to higher ranks, with more elevated in the recent promotions by President Kenyatta. In the changes, a woman was made Major General, four promoted to the rank of Brigadier and 17 to that of Colonel.
"We are the only military in the continent with a written gender policy that focuses on mainstreaming gender into decision-making processes," he said.
The interview was Kibochi's first since he took over office last May.