Kenyans in S Africa fear being caught up in chaos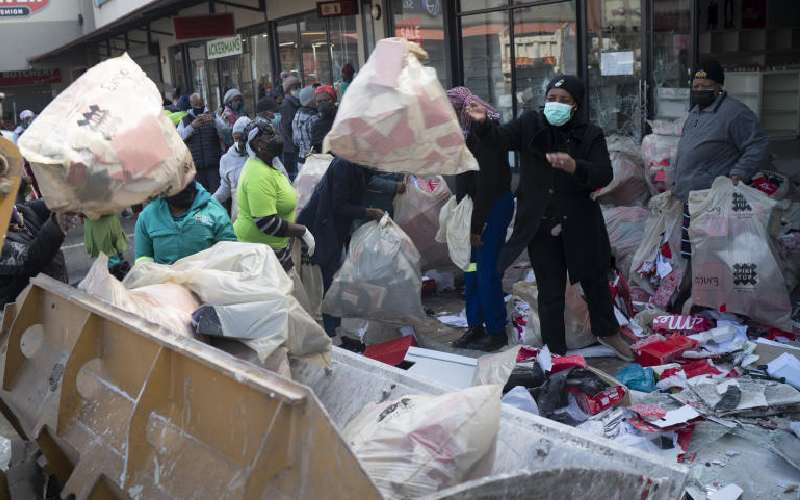 Former South African president Jacob Zuma may have his problems, but dancing is certainly not one of them.
Dressed in a leopard skin, his gyrating moves while performing the Ingoma dance with its high kicking motions are legendary.
But the constitutional court in South Africa has abruptly put an end to Zuma's "reggae" by jailing him for 15 months for contempt of court.
His imprisonment has triggered a different kind of dance in his native Kwa Zulu Natal as well as in other South African townships such as Soweto and Alexandra in Gauteng where Zuma is hailed as a saviour.
In what is being described as politically-instigated protests, thousands have taken to the streets, engaging law enforcers in running battles and looting sprees.
"Things are still very fluid here. The country is in the cusp of a civil war if the looting and destruction of property is not controlled," said a fearful Dan Karuri*, a Kenyan living on the outskirts of Durban, the key city in Zuma's homeland of Kwa Zulu Natal.
Karuri, who has been living here for the last 17 years worries that once the masses have looted the businesses, they will turn to the rich neighbourhoods where many homeowners are licensed gun-holders.
Even though Karuri does not own a gun, he did he want his photo appearing in the media for fear of victimisation.
Already, a few homes in the area have been attacked with foreigners becoming easy targets as they are always accused of taking up jobs meant for locals.
To protect himself and his family, Karuri has joined the estate's group that is keeping vigil all night in order to keep looters at bay.
"A police officer told us they were running out of ammunition. However, gun ownership among civilians is easy. I always see my neighbours loading bullets in plain sight. It is scary, especially for someone from Kenya where guns are normally in the hands of law enforcement agencies," says Karuri.
And now, Karuri and his wife are seriously considering coming back to Kenya "where we can deal with usual post-election chaos but with family and friends nearby".
According to a local journalist, communities and civil organisations are working to stop the looting and violence in their respective regions.
"No organisation or formation has so far claimed responsibility for the chaos or made demands for the 'protests'. The narrative is that this is sponsored violence," he said.
Jane Musyoki, who has lived in South Africa for close to 20 years, says the chaos are hurting the looters more than the businesses as the locals rely on the same establishments to earn a living.
"There was a case where arsonists burnt down a health centre and then some of them got injured by police and then came looking for health services. The attendant told them, 'but you just burnt down the clinic.' They went away dejected," says Musyoki.
The chaotic situation has created panic-buying of essential commodities such as fuel and perishable foods. "I just came from a shop operated by a Somali national. Corn flour that was retailing at R40 (Sh296) before the chaos now sells at R100 (Sh740). The chaos will create an economic imbalance in a country where the local majority feel left out," says Karuri.
Though she lives in a high-end suburb in Johannesburg, Mary Muthoni, a mother of two says the insecurity created by the chaos is worse than coronavirus restrictions. Like the other Kenyans, she did not want her photo in the media citing similar reasons - victimisation.
"It is worse than Covid-19. With Covid-19 restrictions, you stay indoors, you know what to do to avoid getting infected. But in such civil chaos, you cannot control the crowds outdoors, especially if they notice that you are a foreigner," she says. A tour operator in Polokwane, a city in Limpopo Province, who only gave his name as Jerry, told us on phone that with most of the fuel coming from the port city of Durban, truckers are afraid of ferrying the commodity to the interior.
However, Jerry disputes the notion that what is happening in South Africa is a protest over Zuma but organised chaos whose political ends are still sketchy.
"If you want to protest about the imprisonment, you go out in the open, with placards, even with the approval of the authorities. You want to voice your grievances in the open where your cause will be more amplified. Looting has nothing to do with organized protests but a means for some people to benefit politically," says Jerry.