No minimum sentences for sex offenders and armed robbers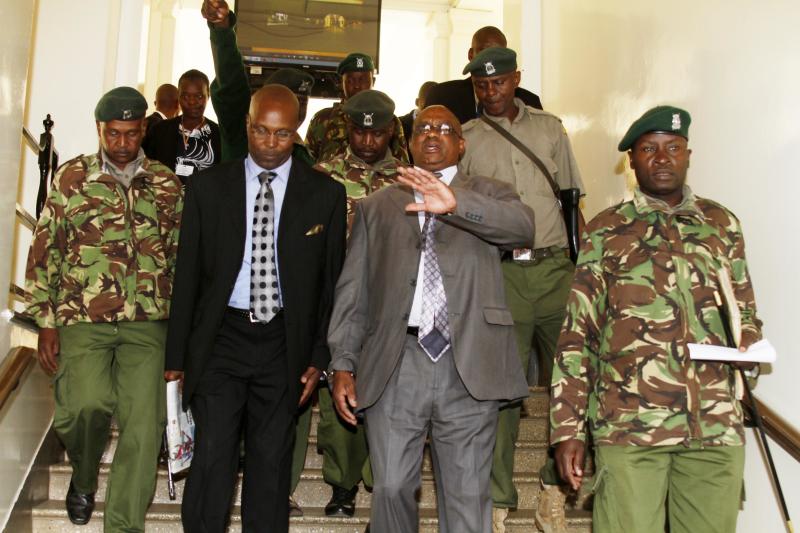 Rapists, paedophiles and armed robbers have no recourse for automatic minimum sentences upon conviction, the Supreme Court has ruled.
Courts can only impose minimum sentence prescribed by the law if the criminal upon conviction, challenges the sentence and convinces the judge that the sentence is unconstitutional.
The Supreme Court's direction arose from an appeal filed by Francis Muruatetu challenging constitutionality of mandatory death sentence meted to all murder suspects when found guilty.
After the landmark judgement in 2018, thousands of appeals were filed for re-sentencing, creating confusion among judges and magistrates on whether other sentences given to offenders in the criminal cases could benefit from this precedence.
Yesterday, the Supreme Court judges unanimously agreed that the famous Francis Muruatetu case, in which he challenged the mandatory death sentence only applies to murder cases.
In effect, the decision by Chief Justice Martha Koome, Deputy CJ Philomena Mwilu, and Justices Mohamed Ibrahim, Smokin Wanjala, William Ouko, Njoki Ndung'u, and Isaac Lenaola will affect convicts jailed over sex crimes and robbery with violence who are before lower courts seeking to be resentenced.
Justice Koome, in her session as the president of the Supreme Court said that it is only when the mandatory sentences provided for sexual offenses, robbery with violence and treason are challenged that the court will determine whether it should be left to the judges and magistrates to hand in minimum sentences.
"The decision of Muruatetu and these guidelines apply only in respect to sentences of murder, as provided under sections 203 and 204 of the Penal Code," said Justice Koome.
She continued: "While the principles of Muruatetu are arguably directly transferable to other cases of mandatory sentences, there is a live debate as to whether they are equally applicable in circumstances where the legislature merely prescribes minimum but not mandatory sentences. That live controversy will be resolved at the appropriate time when such cases reach the Supreme Court through the usual appellate process."
The court also directed that only those who have no pending appeals should be resentenced.
Earlier, Justice George Odunga in a 2019 judgment, in a case filed by Sammy Musembi, Nicholas Ndetei, Sammy Kitonga, John Muoki and Peter Mumo found that they are entitled to a remission of a third of their sentences.
The controversy the Supreme Court was yesterday clearing is the split on the application of the Sexual Offenses Act.
Courts have been re-sentencing convicts in jail for crimes such as defilement and rape, although there has been a split on whether the mandatory sentences set to deter sexual crimes against minors and women should change.
There is no harmony in the revised sentences by the courts.
The sentences which have been imposed after re-sentencing hearing range from commutation to the period served, probation, reduction of sentences to some specific period, or the preservation of the maximum sentences.
The Sexual Offences Act provides that a person convicted of defiling a minor aged between 12 and 15 should be jailed for more than 20 years, those accused of having sex with minors aged between 16 and 18 should get 15 years minimum, while those who defile children aged below 11 get life sentences.
There are judges who have held that the sentences spelled out in the Act should be enforced as they are while there are those who have reviewed sentences based on the Muruatetu case.
Justice Joel Ngugi, in a case filed by John Kagunda Kariuki, said that Muruatetu's case had opened the doors for judges and magistrates to hand sentences that are not prescribed by the law based on the circumstances of each case.
"This progressive decisional law now requires courts to pay attention to individual aspects of the case while sentencing even for convictions under the Sexual Offences Act which have prescribed minimum sentences.
"Where there are compelling reasons to depart from the prescribed minimum, which is treated as indicative of the sentence to be imposed, the court can impose a different sentence," he said in a 2019 judgment.
He however pointed out that only those who had been handed death sentences under the unconstitutional law were entitled to have a fresh hearing. Others, he said, should file a new suit to challenge the sentences.
"To reiterate, only prisoners who had been sentenced to death pursuant to mandatory provisions of the law are entitled to new sentence hearings," he said.
"For all others, they are entitled to urge the new decisional law in their appeals in a bid to get lower sentences and no more. They cannot bring new applications for re-sentencing."
Among those who have reviewed sentences based on the Muruatetu judgement is a bench led by the new Court of Appeal president Daniel Musinga and justices Kathurima M'inoti and Agnes Murgor who lowered Jared Kiota Njiiri's sentence to 30 years from a life sentence.
"In principle, we are persuaded that there is no rational reason why the reasoning of the Supreme Court in Francis Karioko Muruatetu & another V. Republic, Sc Pet. No. 16 Of 2015, which holds that the mandatory death sentence is unconstitutional for depriving the court's discretion to impose an appropriate sentence depending on the circumstances of each case, should not apply to the provisions of the Sexual Offences Act, which do exactly the same thing," they observed.
In May, Justice Mary Kasango lowered the life sentence handed to Daniel Kihara Wanjeru to 20 years. Kihara was jailed for defiling a two-year-old baby.
Supreme Court Judge Njoki Ndung'u, in a paper presented before her colleagues at a conference in Mombasa in 2019, argued that the Muruatetu case was on the death penalty hence it could not be applied in other criminal cases like defilement and rape.
Justice Njoki opined that the Sexual Offences Act does not give judicial officers an opportunity to vary the sentence meted on a sexual offender "hence anyone caught in it should not get anything lower than the prescribed jail term."
"There is need to uphold mandatory minimums where they have not been challenged and declared unconstitutional. Where there is specific and reasoned provision for minimum sentences, the courts ought to uphold them. To do otherwise means that judges are in essence imposing a lesser penalty than what is required by law without actually striking down the offending provision," she said.
In March 2019, three judges – Roselyn Nambuye, Musinga and Patrick Kiage – said time was ripe for the country to consider changing the Sexual Offences Act, citing lengthy jail terms imposed on young men convicted of defilement. They suggested that the country should lower the consent age to 16.