KEMSA advertises tender for medical supplies and vaccines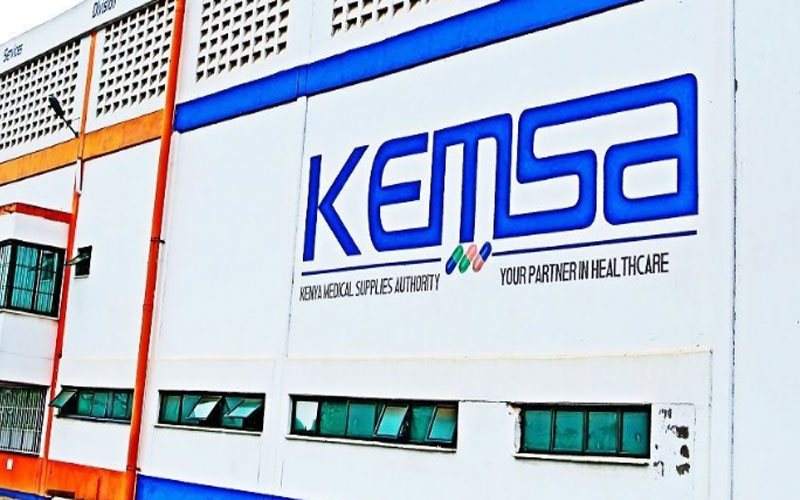 The Kenya Medical Supplies Authority (KEMSA) has advertised a tender for medical supplies that also includes vaccines.
This comes hours after President Uhuru Kenyatta informed the country that the Government had purchased 10 million doses of Covid-19. "We have ordered 10 million vaccines from Johnson and Johnson, with the first consignment arriving in Kenya in August 2021," Uhuru said adding that in the process of negotiating, the Goevrnment managed to get a lower price.
"For the proce of 10 million vaccines, we have negotiated for them to deliver 13 million vaccines," Uhuru told Kenyans in a public address on Tuesday June 29.
In an advertisement on Page 13 of the Wednesday, June 30 Standard newspaper, KEMSA says in most categories, all Kenyans are eligible to apply for the tenders as the notice is open to all. Applications must be made by July 22 and 27, 2021.
Supplies needed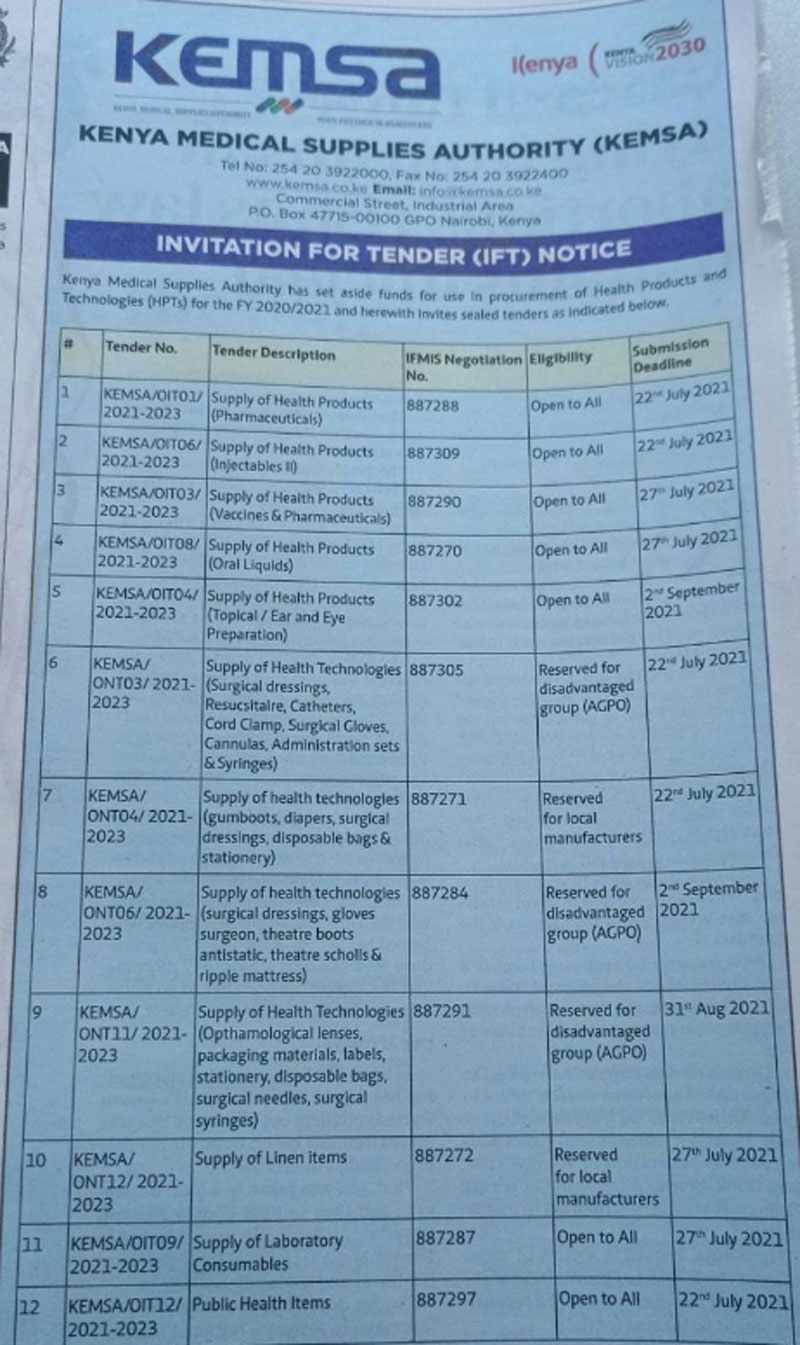 KEMSA has listed supplies for pharmaceuticals, injectable, vaccines, oral liquids, ear and eye preparation medicine, surgical dressings, surgical gloves, administration sets, syringes, diapers, gumboots, and disposable bags.
Another set of equipment needed include theatre boots, antistatic, theatre scholls, ripple mattress, which should be supplied by the disadvantaged group. Persons interested in supplying these items must place their bid by September 2, 2021.
Also needed by the medical supplies agency, are ophthalmological lenses, packaging materials, stationery, surgical needles. Those interested in bidding must make their applications by August 31, 2021. In this set, persons in the disadvantaged group are the only ones eligible to bid.
Public health items, laboratory consumables and linen items are the other equipment open for supply.
No manual submissions
Bidders have been asked to download the tender documents from the KEMSA website, or the IFMIS tender portal www.supplier.treasury.go.ke or tenders.go.ke. Manual submission of tenders won't be accepted. All tenders must be submitted through the IFMIS supplier portal.
The agency, which was recently marred by multi-billion-shilling corruption allegations in the supply of Covid-19 containment equipment, is seeking to win public trust on the back of claims that tenders were previously awarded to undeserving people in the most dishonest circumstances.
Some people who pocketed millions of shillings in the questionable tender awards said they dreamt about the tenders, prayed about them and were allowed to supply medical equipment at the inflated costs. Others said they were walking past KEMSA Headquarters and were given the tenders.