UN boss lauds Kenya's conservation efforts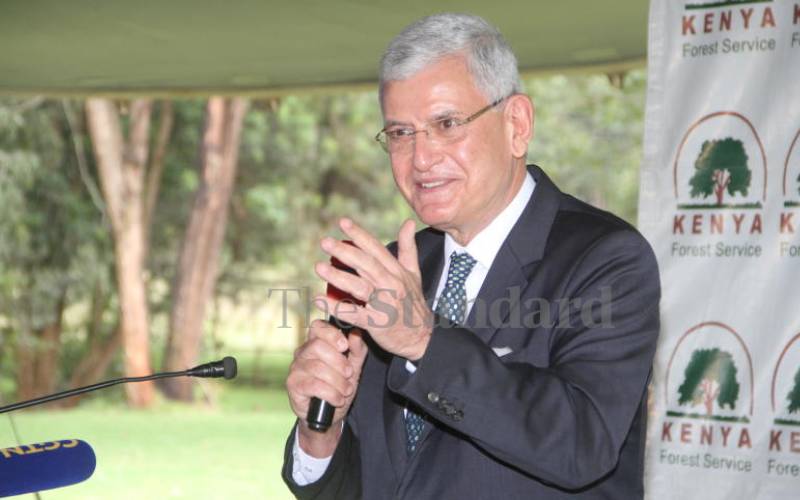 United Nations General Assembly President Volkan Bozkir has lauded the nation's efforts in conserving Karura forest.
Speaking yesterday, Bozkir said nature should be conserved for a better future, noting the essential role trees play in the environment.
Kenya targets to increase her forest cover by 10 per cent in 2022.
Mr Bozkir, who planted a tree in the forest, lauded the Ministry of Environment, Friends of Karura, and Kenya Forest Service (KFS) for efforts to ensure Karura forest and others in the city were conserved, thus providing space for people to relax and enjoy nature.
Bozkir also cited the need for countries to ensure their recovery plans in the face of the Covid-19 pandemic were aligned with Sustainable Development Goals.
"More than half of the world's Gross Domestic Product - about 44 trillion dollars - is dependent on nature and as countries around the world invest in recovery from the pandemic, we must ensure that what they do is aligned with Sustainable Development Goals," said Bozkir, who commended the late Nobel laureate, Prof Wangari Maathai, for her conservation efforts.
Environment and Forestry Cabinet Secretary Keriako Tobiko said communities were key in the conservation of forests.
''It's not too late to make peace with nature. It's either we make peace with it or perish altogether as humanity and other species,'' said Tobiko.
UNEP representative, Brenan Van Dyke, said urgent action was needed to safeguard the biodiversity of the world's forests due to the alarming rate of deforestation and degradation.
"Some 420 million hectares of forests have been lost since 1990 through other land use, but the good news is that deforestation rate has also reduced in the last three decades. But we still have a long way to go to reach the goals set," said Van Dyke.
She said 10 million hectares of forests are being lost every year due to agriculture and other human land-use activities.
KFS Chairman Peter Kinyua said conservation of forests has had many benefits to the adjacent communities through the creation of green jobs and nature-based enterprises like forest scouts and tour guide opportunities that have helped reduce pressure on natural forests.
He also said KFS was collaborating with Unep in implementing Kenya Urban Greening Initiative to upscale urban forests and help mitigate climate change.
Karura, Arboretum, Ngong, City Park, and now recently rehabilitated Michuki Park are among Kenya's urban forests.
"Successfully managed forest ecosystems can contribute immensely towards enhanced livelihoods and promote the social and economic development of the country," said Mr Kinyua.
Standard Group PLC is among those partnering with KFS in various environmental conservation programmes in the country. Also present at the event was the Group's Head of Corporate Communications Charles Kimathi.