DP William Ruto to Kenyans abroad: Put cash in real estate
Deputy President William Ruto has urged Kenyans in the Diaspora to invest in agricultural projects, affordable housing and human resource back home.
Speaking during a virtual AGM meeting of GOTABGAA International - a not-for-profit organisation registered in the US on Sunday, Dr Ruto told Kenyans in the diaspora that with proper planning, their remittance could make a huge difference.
According to data from the Central Bank, diaspora remittances shot to Sh329.41 billion in 2020, from Sh285.23 billion in 2019.
"We can possibly double that if we have clarity on what we need to do. There are many opportunities in different parts of the country, and you people in the diaspora can help us," said Ruto.
The DP cited coffee and avocado as export crops that Kenyans could invest in to boost production. "In 2016, I went to Italy and they said they could consume 50,000 tonnes of coffee from Kenya, which is basically all the coffee that we grow. We are trying to build our coffee exports," he said.
With such investment, Ruto said, the country could see an increase in coffee earnings from Sh20 billion annually to around Sh100 billion.
The DP also called upon the diaspora to invest in affordable housing, one of the big four agenda projects. The government's plan to deliver 500,000 housing units by 2022 but so far only 1,370 housing units – 0.3 per cent of the target are complete.
Ruto blamed the Building Bridges Initiative (BBI) campaigns for slow off-take of the Big Four agenda. "Unfortunately ... that programme was disrupted by the famous handshake and BBI," said the DP.
With most of the participants of the virtual AGM situated in the US, Ruto assured them that the Independent Electoral and Boundaries Commission (IEBC) was working to ensure they vote come the 2022 elections.
"If we are not distracted by BBI stories, maybe there is sufficient time for IEBC to build the necessary infrastructure to enable you guys in the diaspora to vote for your leader of choice," said Ruto.
"It's (affordable housing project) also a programme that can have a structured mechanism that can have people in the diaspora to invest in low-cost housing where you don't need to supervise or send money to anybody," added Ruto.
The DP told of the potential of the textile and leather industries, which have been limping for decades. He said the construction of the Standard Gauge Railway (SGR) to Naivasha was meant to support the crucial textile and leather value chain.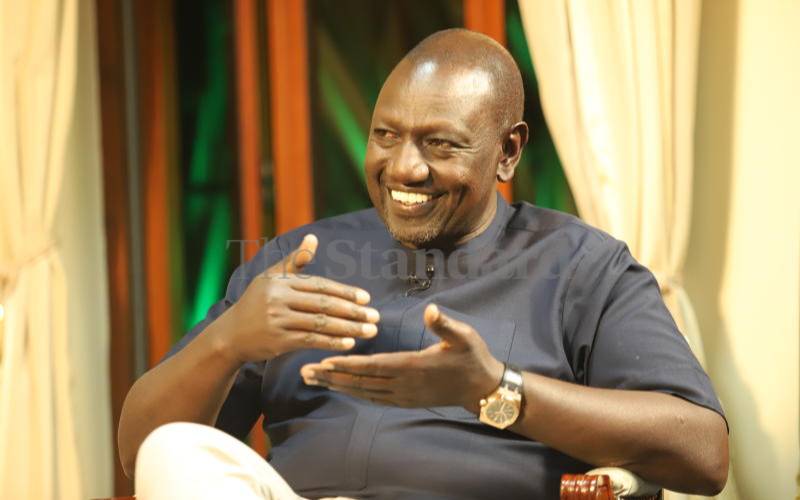 "At the moment, 80 per cent of all hides and skin are wasted as we only manage to process 20 per cent. If we were to process all the hides and skins in Kenya it would be a Sh60 billion industry," he said.
Ruto took participants through his bottom-up economic reform model. He noted that the trade imbalance between Kenya and China, which he attributed to the numerous Chinese loans borrowed to put up infrastructure, like the Sh345 billion SGR project.
"We have also insisted that we wouldn't be borrowing from the Chinese anymore. We want the Chinese to invest their money in the country," said Ruto.
Download the BBI Judgement by all seven Judges - Civil Appeal No. E291 of 2021