The 5 things Chris Kirubi said I must enjoy in life: Polycarp Igathe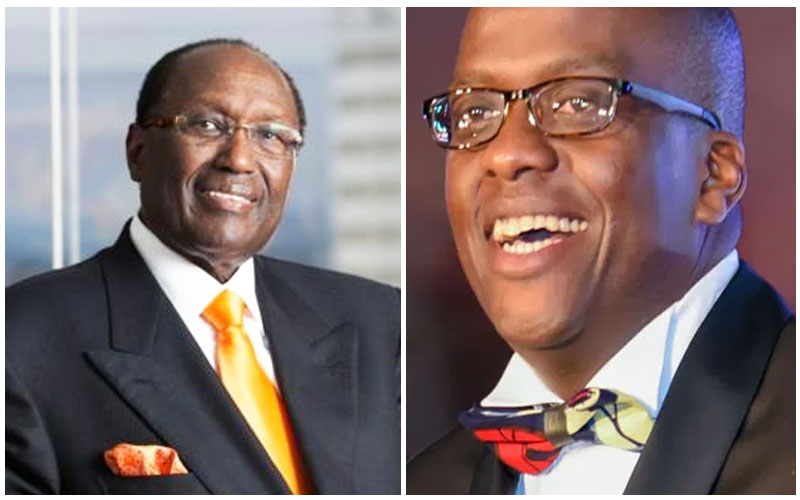 Former Nairobi Deputy Governor Polycarp Igathe has listed five things the late billionaire Chris Kirubi advised him not to compromise on in life.
"[I have] been distinctly honoured and highly privileged to have imbibed your humour, wit and wisdom over the years. My favourite is the five things one must enjoy in life; 1) What you eat; 2) What you drive; 3) How you dress; 4) Where you sleep; and 5) Who you sleep with," Igathe said in his special tribute to Kirubi.
The former DG said Kirubi treated him as his own son, and confided in him many secrets.
"You granted me a ringside seat to your epic life. I watched you triumph, battle, conquer, wrestle, box, kick and live life. And oh my word, what a life it was," he said.
Igathe recounted how Kirubi hired him as the Marketing Director of Haco Industries Kenya Limited at a tender age.
"You hired me at Haco in July 2003 as Marketing Director, reporting to Norbert Schlater the Managing Director and your son-in-law. Within six months, you promoted me to the position of Deputy Managing Director and eventually the Managing Director in October 2006. At the youthful age of 34 you entrusted me with the crown in your jewel, Haco Industries Limited," he said.
"At the start of 2013, I managed to convince you to let me join Vivo Energy Shell as the Managing Director. Thank you. To ensure I remain loyal and connected, you appointed me non-Executive Director at Sidian Bank."
How Kirubi reacted to Igathe resignation as DG
Igathe said he remembers Kirubi laughing deliriously after he (Igathe) answered him on why he decided to resign from his Deputy Governor position in January 2018, barely six months into office.
"When you asked why I resigned as DG Nairobi, I simply answered: 'In matters of the conscience, the rule of the majority does not apply 'Atticus Finch' 'To Kill a Mockingbird'. And you went into delirious laughter despite obvious discomfort from the battle with cancer. You loved books. Ultimately what was required and needed in Nairobi was delivered by your design – a city governed by a competent authority and administration. It is work in progress now with NMS. But what a sacrifice that was."
The store owner who doubted Kirubi's financial muscle
Igathe also recounted how, during one his foreign trips with Kirubi, a store owner doubted Kirubi's ability to purchase an expensive item, forcing him (seller) to confirm with Kirubi's bank the status of his financial might.
"And I shall never forget the treat of balling in Beverly Hills California, driving down the Sunset Boulevard, Hollywood with a stretch limo. Hollywood movie stars noticed a new entrant that weekend. You ate life with a big spoon. High end retail stores in the major cities of the world will miss you. And so is brands such as Bally, Rolex, Hilfiger, Puma, Bentley, Range Rover and Mercedes.
"You were born to shop. Clothes, furniture, mobile phones, perfumes, paintings and artwork was your thing. You had no problem spending what you earned. Gina and Mara were the most favourite target of your shopping sprees.
"The Los Angeles California one was epic. Took you to buy a custom-made golf set whose price I better not mention. [I] will always remember the embarrassment of the golf set shop owner when he called the bank to confirm validity of the payment card. You asked him to put the bank on speaker phone. And a banker from Switzerland told the Golf shop owner firmly and loudly that Mr. Kirubi's card can buy off your shop. And laughter ensued plus Dom Perignon bubbly for the son of the buyer of the golf shop.
"You were loud and proud about you and your achievement."
Kirubi's reaction to cancer diagnosis
Igathe also recounted Kirubi's reaction after he was diagnosed with colon cancer in 2016.
"[I] was there in hospital when it was confirmed the discomfort in your body was cancer. Dr Rajiv Goel an oncologist friend from New Delhi confirmed the same after reading and reviewing your medical reports. I was gutted. You took it in stride. We prayed for you. God listened. The care you got was first class. And what a doctor you had in Dr Goyal of Massachusetts General. Her tribute at the funeral on Saturday was angelic."
Kirubi died aged 80 on June 14, and was laid to rest at his Gatanga Farm on June 19.