EU: Kenya has potential to boost regional peace, stability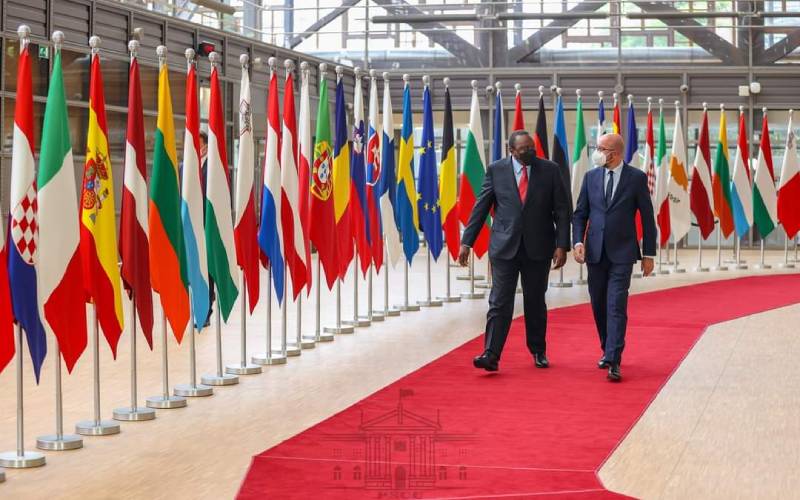 Kenya has the potential to enhance regional stability and play a role in peace and security, the EU has said.
The strategic dialogue on Monday underlined the solid bilateral and multilateral partnership between the European Union and Kenya and the interest to mutually cooperate.
Parties in the meeting added that Kenya is a strong democratic partner in the East African region and in the Horn of Africa.
"Moreover, Kenya is a key player internationally at the United Nations, the African Union and other fora."
Kenya and the European Union have sustained a consistent and long-term partnership in combating climate change and fostering peace and security.
The Strategic Dialogue between Kenya and the European Union was launched following a meeting in Brussels between President Uhuru Kenyatta and Charles Michel, the president of the European Council.
The encounter built on a meeting between the two counterparts on March 9 at State House, Nairobi, and the renewed European Union Strategy for the Horn of Africa, adopted in May.
"Building on the past achievements and joint priorities, the new framework will create a dialogue between equals focusing on common policy aims."
The policy discussions from the strategic dialogue will inform potential EU support to actions agreed with the national government.
Through the strategic dialogue, Kenya and the EU union will seek to strengthen cooperation on domestic, regional and global interest matters such as regional and multilateral cooperation; democracy, governance and human rights, gender equality; peace, security and stability; trade and climate change.
The thematic pillars of the dialogue shall be developed and adapted over time, in accordance with Kenya's and the EU's shared interests.
Technical experts will put in place a roadmap for the implementation of the strategic dialogue to be set out by the relevant services in Kenya and the EU.
"Trade relations between Kenya and the EU are an important underpinning of the strategic dialogue and the two partners will seek ways to strengthen their cooperation in this field."